In the lockdown, connect with loved ones virtually for a pub quiz without the pub! Join our Saturday night general knowledge zoom quizzes!
About this Event
In these lockdown times, connect digitally for a pub quiz without the pub!
This is our all-levels General Knowledge quiz.
Do you know the 3rd element of the periodic table?
Can you tell your Boyzone from your NSync?
Premier League team managers?
The capital of Tanzania?
The first female Speaker of the House in the US? 
The country that gives us Nollywood?
Participating:
Play as a "Physically-Together" Group Team
OR 
Play as a "Physically-Apart" Group Team
OR
Play as a single-person 
We have a "Group Team" winner and a "Solo Player" winner so individuals still have a chance at glory!
Ideally group teams should be about 2-4 people. If you're a bigger group, consider splitting up and playing against each other!
Tickets
The ticket type you buy does not define your team, it's just about the number of people you are paying for. Players under 14 are free (and under your supervision!).
The £5 "Two Together" ticket is for any set of 2 people together in the same room. 
If you are a "physically together" household of more than 2 people (excluding children) we would ask that you buy further tickets to add up to whatever number you are please! 
e.g. If there are six of you physically together, please buy 3 "Two-Together" tickets. 
If there are three of you physically together please buy 1 "Two-Together" ticket (covers x2 people) +  1 Single Player ticket (covers x1 person). 
Physically-Apart Teams
If you are forming a group team with friends/family who are not physically with you, each part of the team just buys the right ticket for them (e.g. either a single-person ticket (£3.50) or a "two-together" group ticket (£5) for each set of 2 people). 
Your 'Physically-Apart Group Team' will then have to organise how to discuss/decide on answers together via your own separate arrangement (e.g. whatsapp/facetime etc) because while you can see/speak to each other on our quiz call, you won't be able to discuss answers without being heard by everyone! 
How does it work?
Setting Up
Buy your ticket for the Quiz!(This gets you the ZOOM invitation)
Ensure you have access to two smart devices/screens.
Quiz Time
We like to make a night of it and shower/make ourselves look jazzy before calling in - but you do what's right for you!
Use the ZOOM invitation you received to video call into the Quiz 10 minutes before the start time. You choose whether you want to have your camera/mic on or off.
Enjoy the quiz with our friendly host!
It's as simple as that!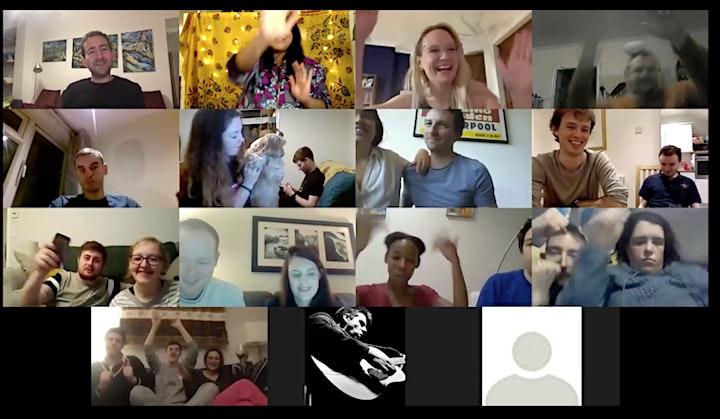 Date and Time
Location
Refund Policy