Rabbits & Robots: Debating the Rights of Animals & Artificial Intelligences
Please join us for the online workshop 'Rabbits and Robots: Debating the Rights of Animals and Artificial Intelligences'
About this event
Please join us for the next workshop in a series of online workshops organised by the Cambridge Centre for Animal Rights Law:
Rabbits and Robots: Debating the Rights of Animals and Artificial Intelligences
This workshop brings into conversation leading international experts on the rights of non-human animals and the rights of robots and artificial intelligences. Its aim is to facilitate critical discussion of the questions that arise in these fast-growing fields, to build bridges between scholars, and to allow an international audience to engage in a discussion with these scholars.
Registration for the workshop is free and open to all.
The event will take place on Zoom and all who register will be sent a Zoom invitation before the event.
Visit our website for more information.
Programme
2.00-2.15pm (BST)
Introduction
Raffael Fasel (Cambridge Centre for Animal Rights Law)
2.15-3.00pm
Keynote address: Is it acceptable to kick a robot dog? A relational approach to moral standing
Mark Coeckelbergh (University of Vienna)
3.00-3.30pm
Rights for nonhumans in the anthropocene: towards a unified framework
Joshua Gellers (University of North Florida)
3.30-3.45pm
Break
3.45-4.15pm
The new breed: what our history with animals reveals about robot rights
Kate Darling (MIT)
4.15-4.45pm
Five theses on similarities and dissimilarities of animal and AI rights
Tomasz Pietrzykowski (University of Silesia)
4.45-6.00pm
Panel discussion and Q&A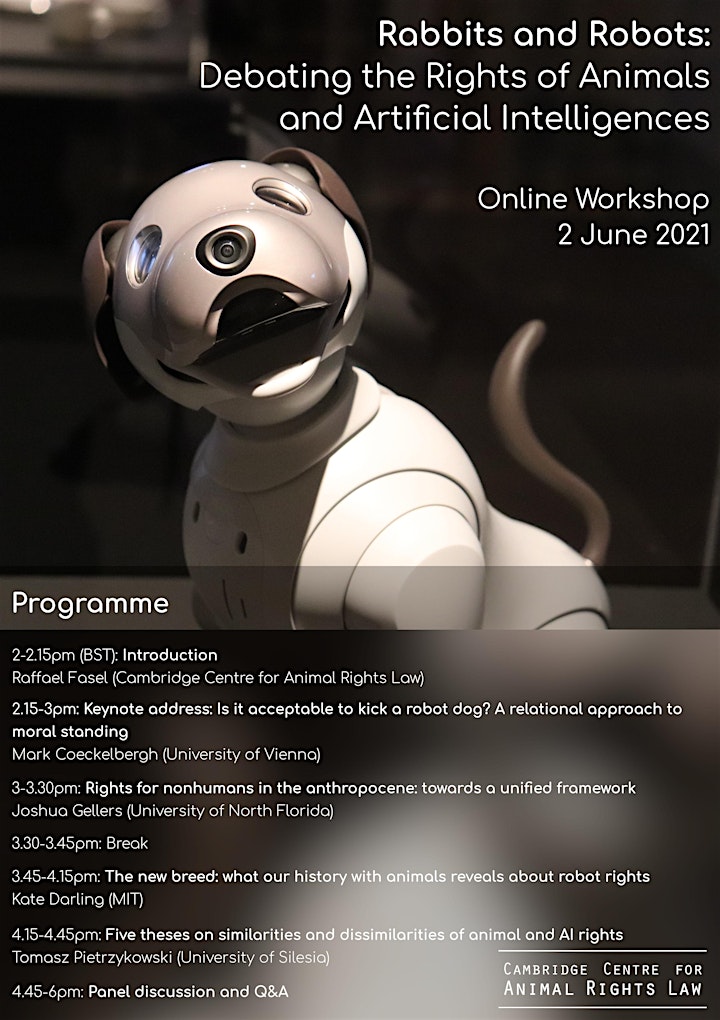 Organiser of Rabbits & Robots: Debating the Rights of Animals & Artificial Intelligences