Diasporas in Cumbria and challenges they face. An annual diaspora conference with academics, professionals and community speakers
About this event
Race 2B Conference 2021 talks on enabling race equality that impacts on;
Social -Education - Business - Health & Wellbeing
Diasporas in Cumbria and challenges they face. An annual diaspora conference with academics, professionals and community speakers
Our range of speakers cover different topics and attendees will get the opportunity to ask questions through Teams Chat.
Each speaker will speak for 20 minutes, and have 10 minutes to answer any questions put forward.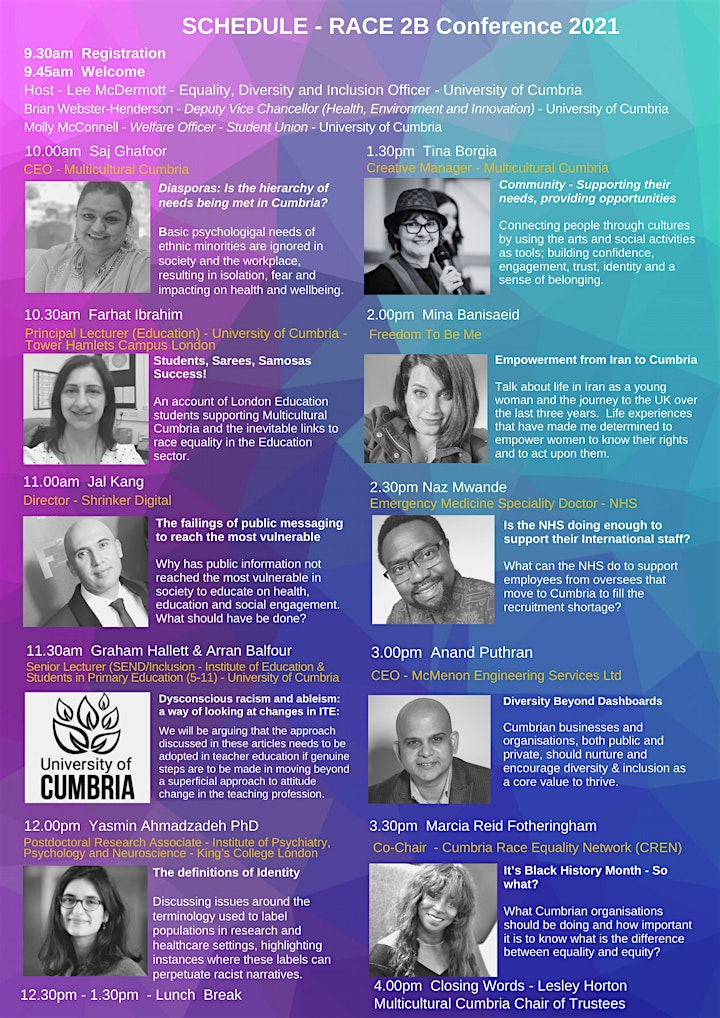 Race 2B Conference 2021 - Enabling Race Equality
Social - Education - Business - Health & Wellbeing
Hosted by Lee McDermott
9.30am Registration/Login
9.45am Welcome
Brian Webster - Deputy Vice Chancellor - (Health, Environment and Innovation) University of Cumbria
Molly Mc Connell - Welfare Officer - Student Union University of Cumbria
10.00am Saj Ghafoor - CEO - Multicultural Cumbria
Diasporas: Is the hierarchy of needs being met in Cumbria?
Basic psychologigal needs of ethnic minorities are ignored in society and the workplace, resulting in isolation, fear and impacting on health and wellbeing
10.30am Farhat Ibrahim - Prinicipal Lecurer (Education) University of Cumbria - Tower Hamlets Campus London
Students, Sarees, Samosas Success!
An account of London Education students supporting Multicultural Cumbria and the inevitable links to race equality in the Education sector.
11.00am Jal Kang -Director - Shrinker Digital
The failings of public messaging to reach the most vulnerable.
Why has public information not reached the most vulnerable society to educate on health, eduction and social engagement. What should have been done?
11.30am Graham Hallet & Arran Balfour
Senior Lecturer (SEND/Inclusion - Institute of Education & Student in Primary Education (5-11): University of Cumbria
Dysconscious racism and ableism:a way of looking at changes in ITE:
We will be arguing that the approach discussed in these articles needs to be adopted in teacher education if genuine steps are to be made in moving beyond a superficial approach to attitude change in the teaching profession.
12.00pm Yasmin Ahmadzaddeh PhD
Postdoctoral Research Associate - Institute of Psychiatry, Psychology and Neuroscience King's College London
The definitions of Identity
Discussing issues around the terminology used to label populations in research and healthcare settings, highlighting instances where these labels can perpetuate racist narratives.
12.30 - 1.30pm Lunch Break
1.30pm Tina Borgia - Creative Manager - Multicultural Cumbria
Filling the phychogigal Needs Gap
Increasing confidence and self worth by using culture as a creative tool to connect through the arts, to build trust, identity and engagement.
2.00pm Mina Banisaeid - Freedom To Be Me
Empowerment from Iran to Cumbria
Talk about life in Iran as a young woman and the journey to the UK over the last three years. Life experiences that have made me determined to empower women to know their rights and to act upon them.
2.30pm Nasibu Mwambe A & E Doctor
Is the NHS doing enough to support their International staff?
What can the NHS do to support overseas employees thst move to Cumbria to fill the recruitment shortage?
3.00pm Anand Puthran - CEO - McMenon Engineering Services Ltd
Diversity Beyond Dashboard
Cumbrian businesses and private, should nurture and encourage diversity & inclusion as a core value to thrive.
3.30pm Marcia Reid Fotheringham
Chair - Cumbria Race Equality network (CREN)
It's Black History Month, So What?
What Cumbrian organisations should be doing and how important it is to know what is the difference between equality and equity?