About this Event
Ron Rutland and James Owens will conclude their extraordinary quest: cycling over 20,000km in 231 days arriving in Tokyo from London – arriving just in time for Rugby World Cup 2019™.
ロン・ルトランドとジェームス・オーウェンは、ロンドンから東京まで231日以上をかけ2万キロ超を自転車で走破し、ラグビーワールドカップ 2019™の開幕直前に日本に到着します。
Join DHL Rugby Ambassadors and Legends of Rugby to celebrate the completion of Ron and James remarkable Race to RWC quest.
ロンとジェームスの素晴らしい冒険の旅、ラグビーワールドカップへのレースの完走を、DHLラグビーアンバサダーやラグビーレジェンドとともにお祝いするパーティに是非ご参加ください。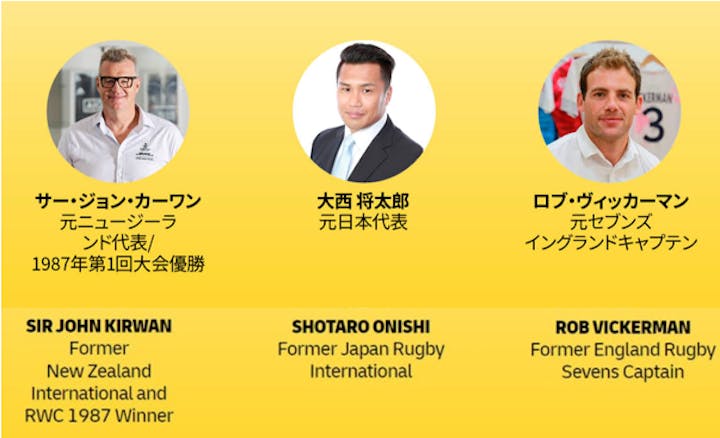 Hear the extraordinary stories first hand from a journey through 27 countries which supports ChildFund: World Rugby's principal charity partner for Rugby World Cup 2019 and DHL partner .
この旅は、ワールドラグビー公認チャリティ・パートナーであり、DHLがパートナーシップを提携するチャイルド・ファンドが運営する「チャイルド・ファンド パス・イット・バック」をサポートしており、ロンとジェームスから、27カ国を旅して来た数々の秘話を直接聞けるまたとない機会です。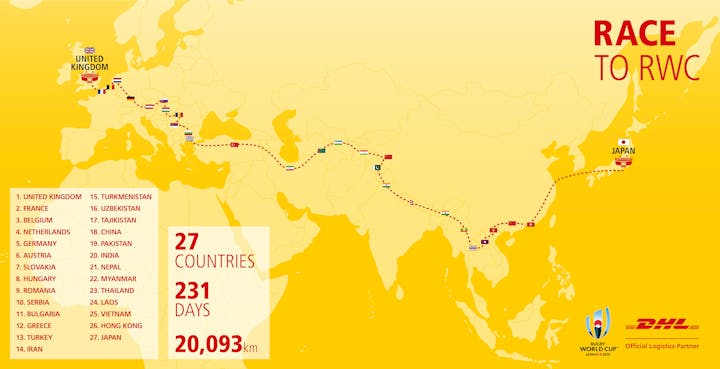 Your arrival celebration ticket includes:
チケットには以下が含まれます。
Meet & hear from Ron Rutland & James Owens
ロン・ルトランドとジェームス・オーウェンとの交流
Drinks and Canapes
ドリンクとカナッペ
Venue: Happo-En, Hakuho Kan, 1 Chome-1-1 Shirokanedai, Minato-ku, Tokyo 108-0071
会場:八芳園: 白鳳館(東京都港区白金台1丁目1−1)
Timings: 18:00-21:00
日時:2019年9月19日(木) 午後6時〜9時
For more information about Race to RWC and for donations please click here.
Race to RWC(ラグビーワールドカップへのレース)の詳細や寄付についてはこちら