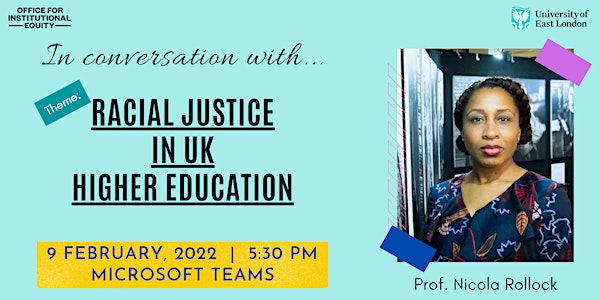 Racial Justice in Higher Education: In conversation with Nicola Rollock.
An 'in conversation' seminar with Prof. Nicola Rollock on Racial Justice in UK Higher Education.
About this event
About Prof. Rollock
Professor Nicola Rollock is an academic, consultant and public speaker specialising in racial justice in education and the workplace. In 2021 she was appointed as Professor of Social Policy and Race at King's College London. Nicola is widely known for her research which examines the career experiences of Black female Professors.
Nicola is also a Distinguished Fellow at the Faculty of Education, University of Cambridge; Senior Adviser on Race & Higher Education to the VC at the University of Cambridge and Specialist Adviser to the Home Affairs' Select Committee's Macpherson: 21 Years On Inquiry. She is also a member of the Wellcome Trust's Anti-racism Expert Group and the British Science Association's Equality, Diversity & Inclusion Advisory Group.
The Event
Following the recognition of UEL's racial equity self assessment with a Race Equality Charter (REC) Bronze award in 2019, an action plan was developed to help improve and advance on the good work already started. One of the findings from the process revealed a need for continuous awareness of the need for racial equity in UK HEIs.
This discussion aims to support us in building and sustaining a racially equitable institution. The discussion will explore:
What does racial justice currently look like in UK HEIs?
What practices and activities can enable us to build a sustainably, racially just institution?
What is the roll of ally-ship in fostering racial justice?
Join us for an evening of insightful and enlightening conversation with Prof. Nicola Rollock.
This event is for both students and staff.
Details
Date: Wednesday 9th February, 2022
Time: 5:30PM
Venue: Microsoft Teams (please click here to join the meeting)