Racial Justice in Organisations: What Are We Getting Wrong?
Racial Justice in Organisations: What Are We Getting Wrong?
About this event
With the movement for Black lives claiming renewed visibility in the United States last summer, and advancing momentum globally, people and organisations have been forced to reckon with the ongoing history of racial injustice in their midst. Indeed, some have described this past year as the year of racial awakening.
Which begs the following questions: Why weren't we already awake? What have we woken up to? Are we really awake still?
This conversation takes a critical look at how the "race agenda" has been taken up in academia and the tech industry — two sectors assumed to be spaces of progressive thought and action. We discuss what we are getting wrong, our responsibility for doing better, and strategies for getting it right.
Note: This event will be live captioned.
About the Speakers
Dr Salima Bhimani
Dr Salima Bhimani leads and enables the Other Bets, Alphabets Moonshot companies, to achieve equity, inclusion, and increased representation (EID) through systemic transformations.
She came to Alphabet as an award-winning EID practitioner of 23 years having worked in the: public sectors, private sectors, international sectors and academic sectors. Over the decades, Salima has consistently stepped into her role as a social transformation leader, innovator, and equity polymath, committed to change centering socially minoritised communities.
Dr Emily Sena
Dr Emily Sena is a neuroscientist, meta-research scientist, and Stroke Association funded senior lecturer in the Centre for Clinical Brain Sciences, University of Edinburgh.
She is co-convenor of the University of Edinburgh's Equality, Diversity, and Inclusion Race Equality and Anti-Racist (REAR) Sub-committee and highly committed to engendering and facilitating an anti-racist culture across our campus.
About the Facilitators
Dr Shaira Vadasaria is Associate Director of RACE.ED. Her research and teaching draws on interdisciplinary thought attentive to race, law, and social regulation in the broader context of settler colonial nation building.
Dr rashné limki is the Director of Equality and Diversity for the University of Edinburgh Business School. Her academic thinking and writing focuses on the operation of colonial and racial power in organisations.
Co-hosted by RACE.ED and the University of Edinburgh Business School.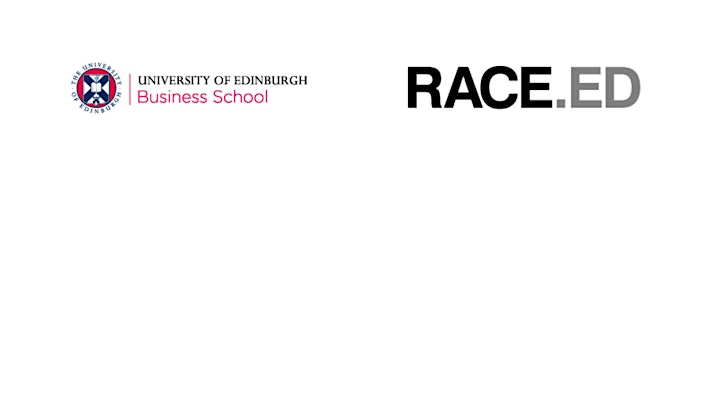 Organiser of Racial Justice in Organisations: What Are We Getting Wrong?