Radiance 2021 // Womens Conference // Tanya Chand + Other guests
About this event
Join Tanya Chand and ladies from across the nation for a refreshing time of worship, fellowship, and to grow together in God's Word. This will be a life-changing time in God's presence. Make sure you bring a friend, sister, mother and even someone who needs a community of women on fire for Jesus.
This time together is dedicated to see that every woman begins to fully walk in the power and authority that is found through discovering who she is in Christ.
Once ladies receive these truths, they are filled with passion and a fire to run with all they have to fulfil the mission that God has for them. Impacting and releasing God's power everywhere they go.
This will be taking place at the Chrysalis Theatre in Milton Keynes and the conference will be for the whole day.
We look forward to a powerful time together.
Spaces are limited, so we encourage you to book your space.
TRAVEL INFORMATION:
Nearest Stations:
- By Train: Milton Keynes Central (7 min drive to the venue)
- By Coach: Milton Keynes Coachway (5 min drive to the venue)
Nearest Hotels:
- Premier Inn Milton Keynes East (Willen Lake) hotel (3 min drive to the venue)
- Premier Inn Milton Keynes Central (Theatre District) hotel (6 min drive to the venue)
- Holiday Inn Milton Keynes East M1, JCT.14, an IHG Hotel (6 min drive to the venue)
Nearest Airports:
- London Luton Airport (29 min drive to the venue)
- Heathrow Airport (55 min drive to the venue)
- London Stansted Airport (1hr 20 min drive to the venue)
Taxis:
- AM Taxis Milton Keynes (01908 226666)
- Milton Keynes Taxis (01908 220022)
- Hub Taxi Milton Keynes (01908 477121)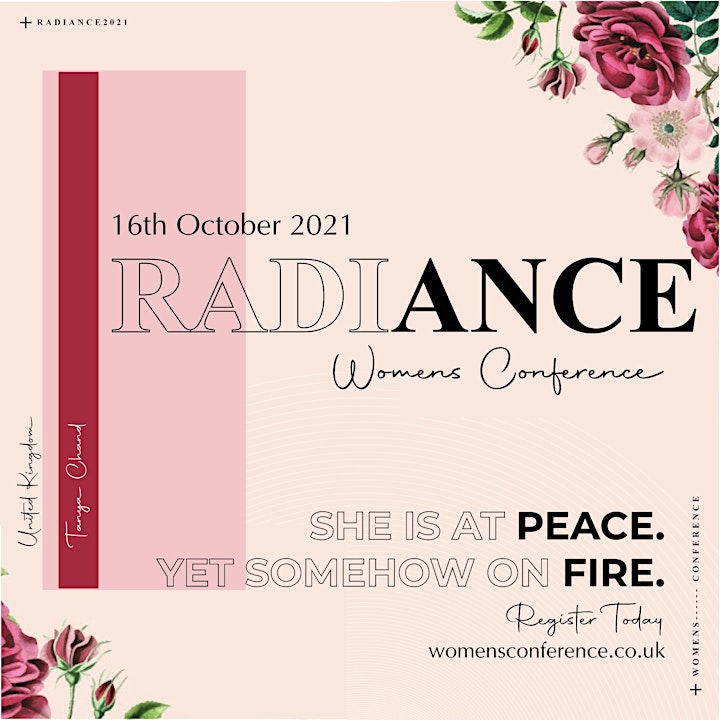 Organiser of RADIANCE WOMENS CONFERENCE 2021 // Tanya Chand
Daniel and Tanya have been called to preach the Gospel with the power of the Holy Spirit.
Walking Like Jesus is an evangelistic ministry with a prime focus of preaching the Gospel and equipping the saints for the work of the ministry. This ministry has been marked with both the power of God and the manifest presence of God from the very beginning.
Find out more at: www.walkinglikejesus.org