Description
Protest design becomes more popular each day, more relevant to everybody and everyday life. Digital technology offers more creative kinds of protest with powerful graphic languages emerging as a response to current financial and political crises.
This talk shows that many of the methods of modern protest design can be traced directly back to the Suffragettes. Over a century ago they revolutionised the political landscape of their time, creating a related visual language and even new tools in order to facilitate it.
Guest Speaker: Anil Aykan
Dr. Anıl Aykan is a London based graphic designer and independent researcher, originally from Istanbul. She graduated from the Graphic Design Department of Mimar Sinan Fine Arts University in 2005 and completed her PhD at the same university in 2014 on typography.
Between 2005 and 2014 she was a teaching assistant and tutor in several colleges in Istanbul, since 2014 she has been working as a graphic designer at Barnbrook in London.

Sylvia Pankhurst is primarily remembered as an activist in the Suffragette and Labour movements. However she also trained as an artist and was responsible for much of the graphic design of the Women's Social and Political Union, (WSPU), the foremost suffragette movement in the UK before the First World War.
Anil will guide us through WSPU's visual communication methods under Sylvia's direction and the impact they had on the development of the movement.

This is the first of four Radical Design in Action seminars
organised by the Industrial Workers of the World in London.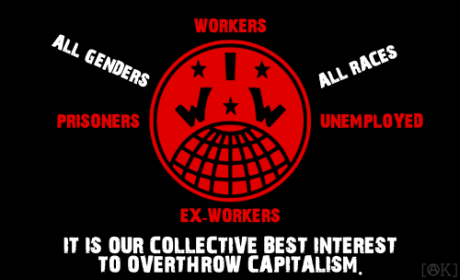 The aim of these seminars is not to see design as technique, but to understand how radical design can grow out of an active engagement in social movements.
Sylvia Pankhurst and Industrial Unionism

Following visits to the USA, Sylvia became more confident in her socialist views and eventually broke away from the more middle class movement, led by her mother and sisters to form the East London Federation of Suffragettes in 1914. This organisation developed a broader outlook beyond the Suffrage movement towards the establishment of a socialist society based on a vision of industrial unionism which placed the working class family at the centre of setting social priorities. AShe was active in the Trades Union movement, but after the defaet of the Triple Alliance on Black Friday, 1921 Sylvia became an advocate of One Big Union.

This event is free, but donations are always greatly appreciated.