Description
Celebrating our connection with the RAF, we are proud to offer a special skydiving experience day with the RAF Sports Parachute Association (RAFSPA) at RAF Weston-on-the-Green.
Whether you are keen to fulfilling a bucket list dream, overcoming a fear of heights or embarking on a new adventure, this is a unique opportunity to take on a challenge with a difference.
Join RAF personnel for a full day of exclusive 'backstage' activity – from packing parachutes, hearing about life in the service and having breakfast and lunch with the team, to the breath-taking jump itself. Become fully immersed as the next member of RAFSPA for the day!
Make a real difference with every penny you raise.
We rely on our fantastic supports for essential funds we need to carry on our important work. We are asking participants to 'jump' into fundraising for the Association. We are asking you to set a minimum target of £400 to help us fund our vital welfare work while you experience one of the most unforgettable days of your life.
Your day will include:
- Registration and welcome with free tea, coffee and a continental breakfast
- Event and safety briefings
- Full training with the professional military trained RAFSPA team
- Demonstrations and tours of the facility
- Tandem parachute with an experienced instructor
- Time with military parachute jump instructors
- Lunch and refreshments
- Free photos from the day
- Commemorative certificate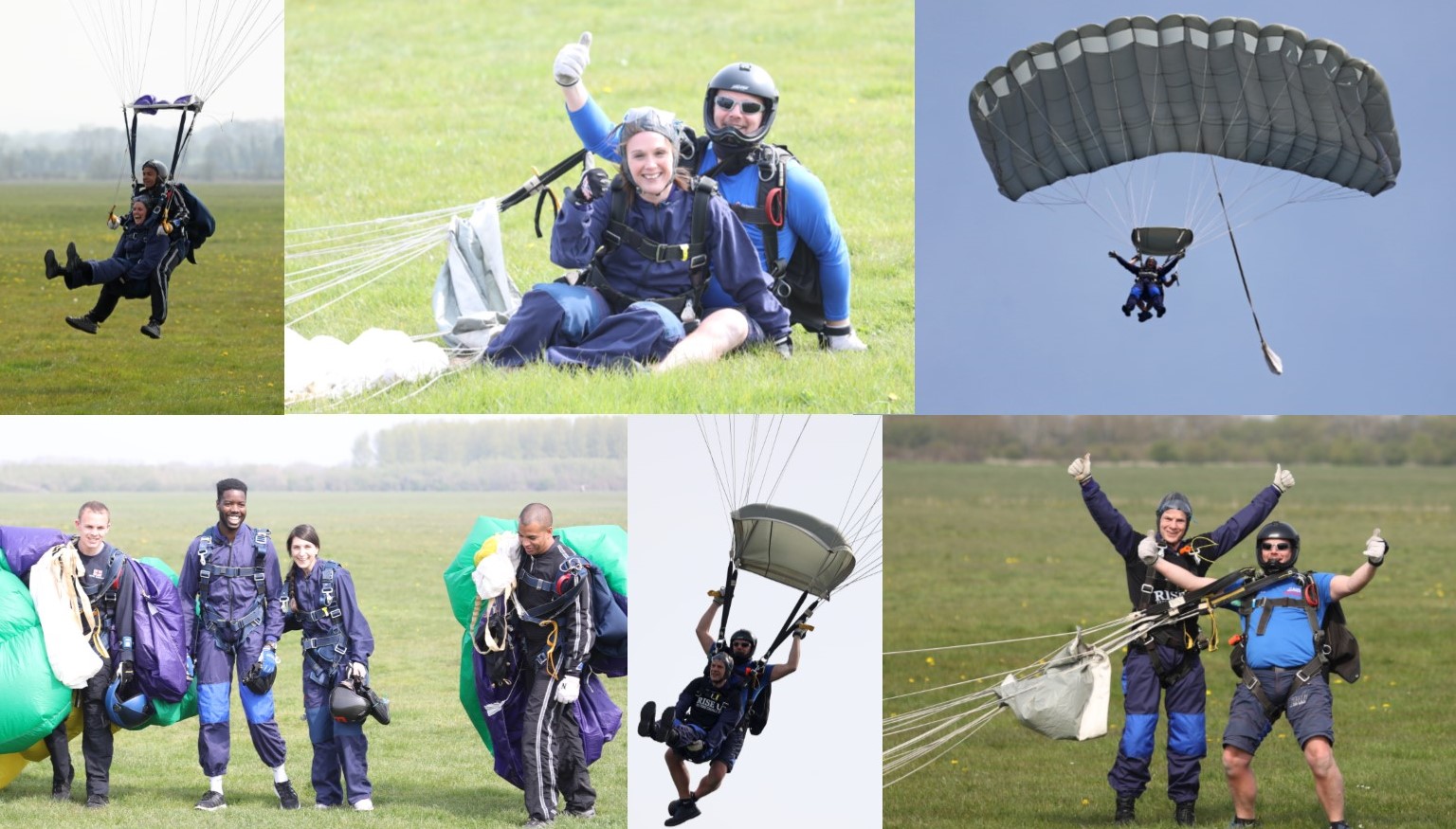 Why you should take the leap!
For an adrenaline rush like no other, parachuting is an unforgettable experience.
It's easier than you think. You dive while strapped to a professional military instructor, meaning you can enjoy the experience while the expert takes care of everything else.

You'll feel amazing. There's nothing more empowering than conquering your fears.

It's beautiful. As you experience the world from a new perspective you'll experience a unique combination of adrenaline-fuelled exhilaration and calm tranquillity.

It's a chance to experience something truly incredible. Nothing else you'll do will be quite like parachuting. The only problem is that you'll want to do it again!
Remaining dates available
- 28 September
- 26 October
Note:
Participants will be required to complete a health & fitness form and may require a doctor's letter stating their fitness to jump.
Minimum age is 16, anyone under the age of 18 will require written permission from parent/guardian.
For further information, please contact: challenges@rafa.org.uk
Click here for a sneak peak of your day
Link to the Just Giving Fundraising page to start your fundraising journey. We will keep this fundraising page open until after the event, to help those supporters who prefer to donate after the challenge date.