Join our brand-new virtual experience RAF World and explore all aspects of what life is like in the RAF!
About this event
Introducing our brand-new, free virtual experience, RAF World, which will be landing on your screens on 22nd June, 18:00-20:30.
The RAF is responsible for protecting the UK's air and space capabilities and offers a career like no other. Join us for our new and improved virtual platform where you can immerse yourself in the following:
Three new, 360° interactive global operations for you to explore and see how we work together across different roles to support around the world
Main stage interviews with the RAF Panel about life in the RAF, how to apply, and what's next for you in your career
The chance to speak to an RAF recruiter. Our experts in the field are there to answer your burning questions about a career with us
And lots more!
This is the perfect opportunity to discover what life is like in the RAF and find a career for you! Tickets are FREE, secure your spot now to join us.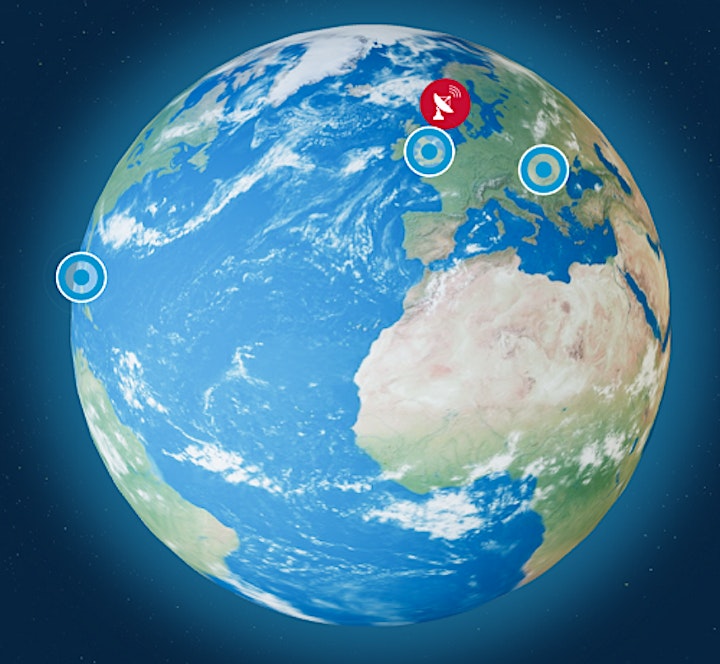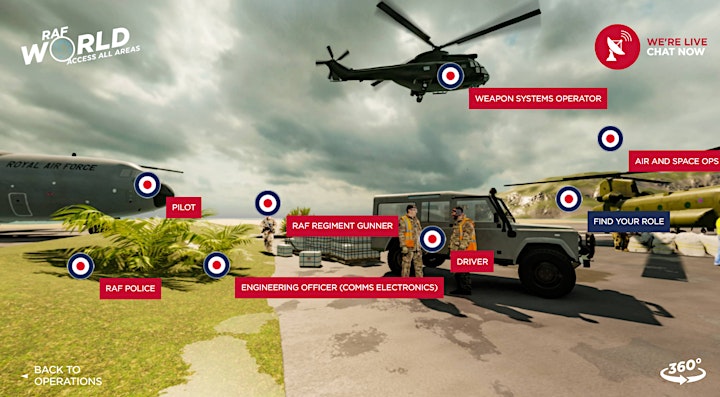 How do I join the virtual event?
An event access link and password will be sent by email ahead of the event, using the address you supplied during the registration process. Please keep an eye on your email inboxes (spam and junk folders too).
To join, click on the link enclosed in your email at the event start time. This will open the event on your default web browser. RAF World is fully mobile responsive and is accessible across any device. However, if accessing on a mobile device, please be aware that if you join a chatroom with the recruiters, this will show on Microsoft Teams and you may be asked to download the free app on your device for this.
Please note the official event stream link will only be distributed via Eventbrite to ticket holders therefore any third-party links shared on social media should not be trusted. We will never ask you to provide any card details to access the event so if you see this during the event, please report it to your cardholder.
If you have any technical difficulties, please contact us at raf@identitygroup.co.uk and a member of our team can assist.
Want more information?
If you want to learn more about the RAF, please:
Consent and Privacy
If you are registering to attend the RAF World virtual event, we would like to keep you informed of some further career and event opportunities within the RAF, with the data you've provided, as well as using your personal data for statistical purposes.
We are committed to doing all that we can to keep your data secure. To prevent unauthorised access or disclosure we have put in place technical and organisational procedures to secure the data we collect about you – for example using varying levels of encryption. We also make sure that any third parties that we deal with have an obligation to keep all personal data they process on our behalf secure.
To register your interest in a role with the RAF you must be at least 15 years and 9 months or above (Full-time RAF), or minimum 18 years (Reserve) and be a UK National based in the UK.
Please note, that you can opt-out at any time. For full details on how we use and store your personal data please view the MOD Privacy Notice.
FAQs
Is there a minimum age requirement to enter the event?
There is no minimum age requirement to attend the event, however, please be aware you must be a minimum of 15 years and 9 months old to register your interest in a role
What do I do if I register but can no longer attend?
If you register but can no longer attend, please cancel via Eventbrite
When will I receive my joining link for the event?
The joining link will be sent to you by email ahead of the event, using the address you supply during signing up. Please be sure to check all your folders including your spam/junk mail and if you haven't received this by the event date, please email raf@identitygroup.co.uk and we will be able to assist.