Description
Join us from the last hours of the night until the very early morning for a performance by internationally renowned, artist, writer and performer Caroline Bergvall.

Ragadawn is a powerful and entrancing performance interweaving music, text and voices in outdoor locations to reconnect audiences to time, place and each other. Ragadawn brings together conversations recorded in the UK and Europe with writers and singers of multiple minoritarian or pressured language, including Gaelic.
The vocal composition at the heart of the work is composed by the British Composer Gavin Bryars and performed by soprano Peyee Chen. Working with Bryars has ensured the presence of a cross-historical vocal strand that combines his long-standing interest in early vocal music and ancient European languages. Live electronic musician Verity Susman has created the Dawn Chorus of languages: a multilingual layering of voices as well as conversational snippets and outbursts that inhabit the performance. Live sound engineer Sam Grant has devised the site-specific listening set-up.
Please arrive at Sabhal Mòr Ostaig in time to get a hot drink and be seated prior to the performance starting at 5.14am.
Following the performance, there will be a communal breakfast for the audience to enjoy using locally sourced ingredients and products from Viewfield Garden Collective, Er Ya Tea and Mara Seaweed amongst others.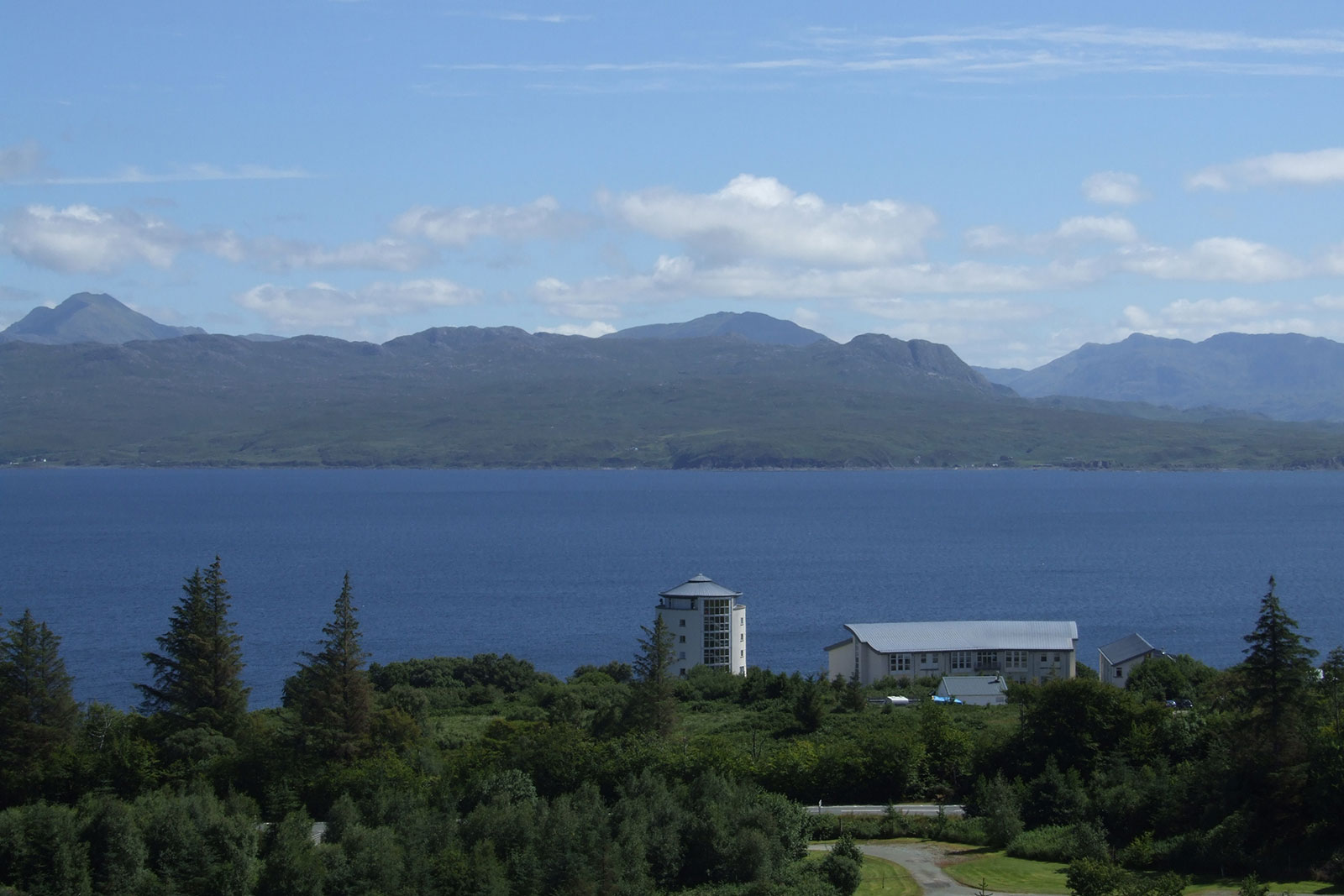 Sabhal Mòr Ostaig overlooks the Sound of Sleat towards Knoydart.

Travel
To drive to Skye you can come via Kyle of Lochalsh and the Skye Bridge or Mallaig and the Armadale Ferry. Citylink offer a bus service to the island and there is a train station in Kyle of Lochalsh. Please note that not all public transport services connect.
There is free parking available at Sabhal Mòr Ostaig.
ATLAS is offering a free bus which will pick people at Bayfield carpark in Portree at 3.45am. Spaces are limited so if you would like to reserve a seat on the bus please contact Shona via email: shona@atlasarts.org.uk at time of booking. Seats will be allocated on a first come first served basis.
Accommodation
There are lots of accommodation options for every budget from camping, to B&Bs and hotels, including Kinloch Lodge, nearby.
Documentation
The event will be documented with film and photography which may include shots of the audience. If you would like to know more about how ATLAS will use these images please read our privacy notice. If you would prefer not to be included please let a member of the ATLAS team know on arrival at the event.
Photographs courtesy: Sabhal Mòr Ostaig
#RagadawnSkye