RAI Pop-up Student Conference 2018

Thursday, 13 September 2018 at 09:00

-

Friday, 14 September 2018 at 16:00 (BST)
Event Details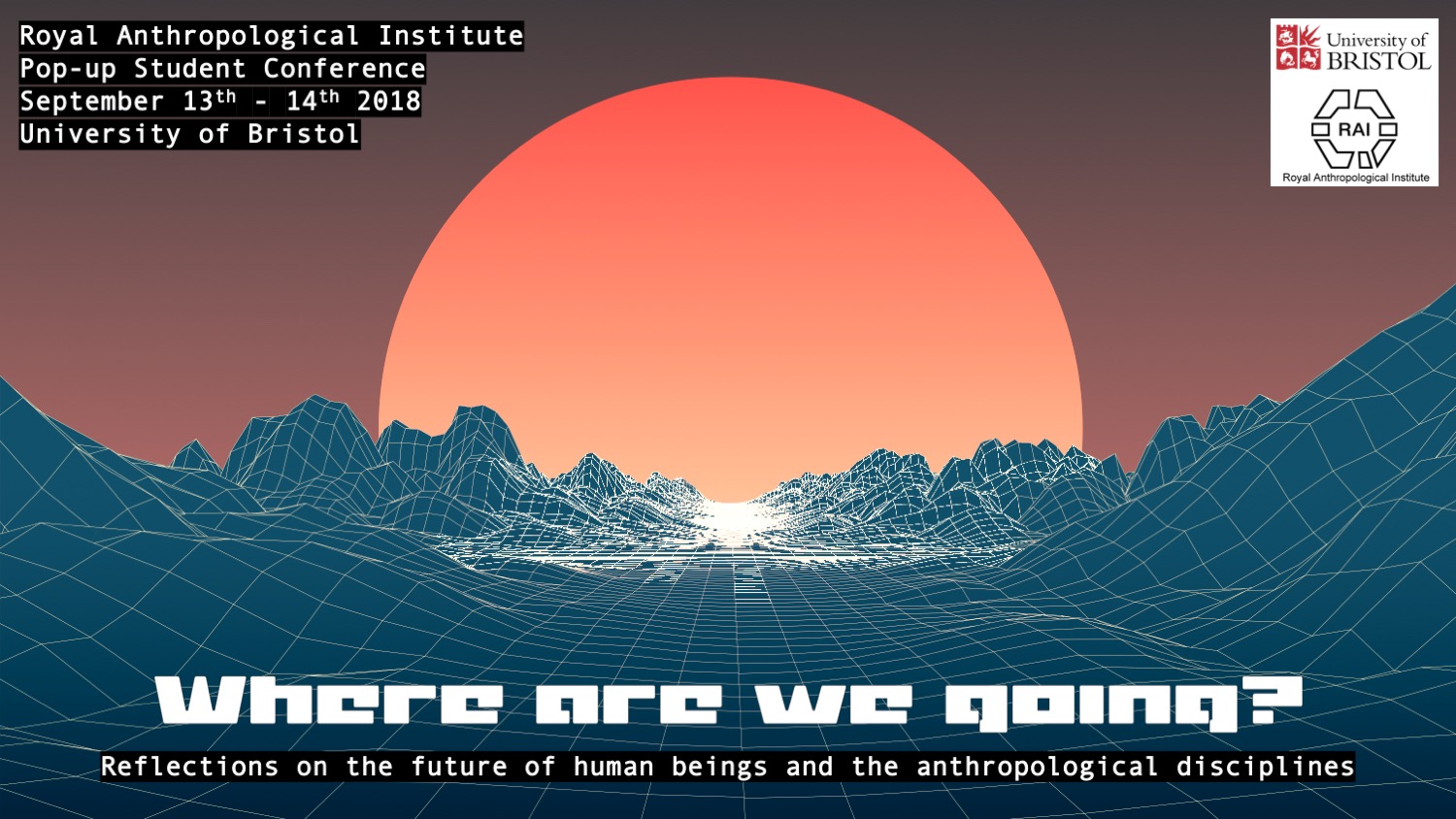 Where are we going? Reflections on the future of human beings and the anthropological disciplines 
The annual Royal Anthropological Institute (RAI) Student Conference returns for 2018 at the University of Bristol. 

We will have presentations of work by students from institutions all over the UK, offering future-focussed anthropological perspectives on a wide range of subjects including politics, identity, health, business, science, technology, education, music, popular culture, non-human animals and more. 
Keynote by Professor Graeme Were, University of Bristol:
Things to Come: Museums, Virtuality, and Digital Return in northern New Ireland, Papua New Guinea 
Please note this conference is now a 2-day event, rather than a 1-day event as previously advertised.
---
Full list of talks:
Thursday 13th September 09:30 - 16:30                             
AM                 
Opening Remarks                 
Emma Ford (RAI)   
Session 1: Politics & Identity             
Heather Munro (University of Durham) - The Haredi Women's Party, Haredi Feminism, And The Future Of Haredi Politics
Hayden Cooper (University of St Andrews) - Weaponised Nostalgia: How Bolivian White nationalists And "Indigenous" Socialists Utilise indigenous Histories
Mariko Kobayashi (London School of Economics) - Looking At Islamic Culture From Japanese Perspective             
Session 2:  Sickness & Health           
Keiko Kanno (University of Oxford) - Anthropological Approaches To Diet, Nutrition, And Health
Misheck Julian Nkhata (University of Durham) - Managing Uncertainty, Managing Diabetes: An Ethnography Of Diabetes Education In Malawi
Yuzana Khine Zaw (London School of Hygiene & Tropical Medicine) - Care And Beyond: An Anthropological Study Of Women And Informal Medicines In Yangon, Myanmar             
PM                  
Session 3:  Stage & Screen                
Sinibaldo De Rosa (University of Exeter) - Alevi Futures On Stage : Bedirhan Dehmen's Biz
Ali Blatcher (Univeristy of Central Lancaster) - Searching For Eden: An Auto-Ethnography Of A Reality Television Experience  
Session 4: Theory & Method            
Ricky Whitefield (Universty of Oxford) - Sacred Selves: Contemporary Theoretical Innovations Of Memory And Personhood
Sam Passmore (University of Bristol) - A Phylogenetic Approach To Kinship     
Session 5: Keynote speech                
Prof. Graeme Were (University of Bristol) - Things To Come: Museums, Virtuality, And Digital Return In Northern New Ireland, Papua New Guinea
---
Friday 14th September 09:30 - 16:00     
AM                 
Session 6: Science & Technology                  
Ray Williams (University of Oxford) - Old Dilemmas: What Classical Anthropology Says About The High­Tech Era
Piyarat Panlee (University of Sussex) - AI As A Way Of Life: Ethnography Of Shopping Culture In A Robotic Era
Giles Bunch (London School of Economics) - Settling The Solar System: Troubling Newspace Imaginaries And The Organising Force Of Magic.       
Session 7: Education & Institutions              
Anna Joos Lindberg (University of Manchester) - Higher Education: The Limits To New Public Management
Jiangnan Li (University of Durham) - How Far Has Chinese Students' Understanding Of Knowledge Been Transformed By Experience Of Study In The UK?
Wai Lok Ng (Brunel University London) - 'This Is My Life After All': Nurturing Subjectivity Through Freedom And Humanistic Education Against Hegemony In A Taiwanese Democratic School
Simon Bishop  (University of Bristol) - A Phenomenology of Studying Abroad 
Session 8: Visual Anthropology                     
Lidija Burcak (Goldsmiths) - Broken Skin              
PM                  
Session 9: People & Environment                 
Jordan Thomas (University of Cambridge) - Biocultural Legacies: Blurring the Lines Of Biological And Cultural Loss And Conservation in The Maya Lowlands Of Mexico
Ligia Baracat (School of Oriental and African Studies) - Contentions, existential crisis and 'the future': global climate change mitigation policy REDD+ in Acre, Brazil
Deirdre Patterson (University of Sussex) - We Survive Together: Utilizing Transnational Resources As Community Income In Kakuma Refugee Camp
Liluo Yan (University College London) - China's One Belt One Road: The Importance of Legitimacy for Private Investors
Paul Thung (Brunel University London) - Diverse Visions Of Human-Animal Futures In New Orangutan Conservation Collaborations And Emerging New Role And Tactics Of The Anthropologist         
Session 10: Anthropology & Music              
Sam Legg (University of Manchester) - #Anthropologyforthemanynotthefew: Making Anthropology More Accessible To The Public Through Song
---
Refreshments will be available throughout the day.
When & Where

University of Bristol
Lecture Theatre 3
17 Woodland Road
BS8 1UQ Bristol
United Kingdom


Thursday, 13 September 2018 at 09:00

-

Friday, 14 September 2018 at 16:00 (BST)
Add to my calendar