Description
Perfect for beginners and intermediate freedivers, the RAID Freediver course is a comprehensive introduction to our rewarding sport
Taking place over a two days, usually a weekend, the RAID Freediver course from Go Freediving covers all the fundamental freediving skills you need and offers continued development for snorkelers or spearfishers.
Starting in the classroom, you'll learn how to breathe before and after a dive, how to hold your breath safely and about the freediving equipment you'll use. You'll then move to the pool, learning how to move with ease and grace under the water, developing the skills you'll need in the open water.
In the afternoon of the first day you'll move to Vobster Quay and begin diving in open water. We'll make sure you never exceed your own limits or comfort zone – you set a pace that you're comfortable with. By the end of the weekend you could be diving to depths up to 20m in the most relaxed and safe manner possible. You'll dive submerged boats, trucks, cars and planes, through shoals of beautiful fish and learn new skills to take your freediving to the next level.

photo credit: Pash Baker
The advantage of learning to freedive at Vobster Quay is that there are no tides, no waves, no currents, and fantastic visibility due to the zebra mussels filtering the spring water. It may sometimes rain, but the diving conditions are always perfect and our courses are never cancelled due to bad weather or sea conditions.We also have the highest instructor/student ratios on our RAID Freediver courses so, coupled with our very personal approach, you're free to progress at your own pace. Taught by some of the world's most experienced instructors and providing unrivalled materials and support, no other course offers such a comprehensive package or wealth of experience. We even provide a lifetime guarantee, so after the course you have the benefit of our continued support on your freediving journey.

photo credit: Pash Baker
Course details
Your RAID Freediver course begins when you book your place, when we'll email you an information pack containing everything you need to know about the course, our suggestions for preparing, as well as information about accommodation and logistics.We'll also send you a link to the RAID Freediver theory materials and course handbook, which is provided online by RAID. All of your course materials are accessed online and they're kept up-to-date by RAID, so that after your course you'll have lifetime access to the very latest guidance and information. Home study means you can familiarise yourself with the basics at your own pace and will mean more time for you in the water over the weekend of the course.You must complete the theory and pass the final exam before the date of your booked course or you will not be allowed in the water.
Before booking please make sure you read our Terms and Conditions and medical statement
Course availability
We have a pool of incredible instructors so almost always have spaces on our courses. Please pay for the course and then email emma@gofreediving.co.uk with the date you want to attend!
We offer two options for this course:
Option 1 is the course only and includes
Pool hire
Theory material
Tuition
All freediving equipment hire including: Freediving long fins, low volume mask, snorkel, freediving weight belt, weight, neoprene socks and gloves, and freediving wetsuit
Course certification and certification card (dependent on performance)
Lifetime guarantee*
Not included
Vobster Quay entry fee (details)
Personal travel and subsistence costs


Option Two is the full weekend and includes:
2 days of freediving lessons
2 nights of accommodation at a countryside B&B
Breakfast, lunches, snacks and hot drinks
Activity transfers
Pool and quay fees
All freediving equipment
Instruction by certified freediving instructors
Course tuition and theory materials

RAID

Freediver certificate and card (dependent on performance)
Accommodation
You'll stay at Glebe House, a former rectory-turned-B&B in the countryside south of Bath. There are only four rooms in the building, so you're sure to have a peaceful and relaxing experience. Rooms are ensuite with TV, hot beverage facilities, and free wifi. Breakfast is included.
If Glebe House is fully booked, you will be accommodated in other equally relaxing and convenient accommodation near by.
Not included
Dinners are not included, but there are many options in Frome as well as in the hotel itself. You may also choose to dine in Bath if you arrive by train on Friday night.
Personal travel to Glebe House
* Lifetime guarantee details
For as long as Go Freediving is trading, we will happily answer your questions and provide advice via email, telephone or in person about freediving (within the scope of your course). So if you have any queries about kit, training, where to go freediving abroad, or how to improve your technique, we'll be there for you.
Wetsuits
Wetsuit hire is included in the price of your course for option 1 and 2, however if you have one of your own we suggest you bring it to ensure you have the best fitting suit for you. If you own a scuba wetsuit you can use that – we recommend a minimum suit thickness of 5mm. Triathlon wetsuits are not suitable as they tend to be too thin and usually don't include a hood.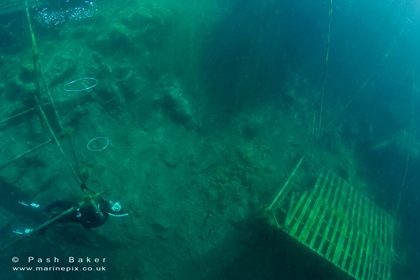 photo credit: Pash Baker
For more information visit: https://gofreediving.co.uk/go-freediving-courses/freediving-courses/raid-freediver