Sunset Sessions by BOMBAY SAPPHIRE: a fusion of cocktails, art and music at Polurrian on the Lizard, Cornwall.
About this event
Join artist and illustrator Elly Jahnz for an evening of BOMBAY SAPPHIRE Sunset cocktails, postcard design and illustration at Polurrian on the Lizard, Cornwall - a hotel terrace famous for its stunning ocean view that captures sunset as it melts behind the horizon.
The Cocktails & Create masterclass is tailored to allow guests to slow down and learn new skills, exploring their creative side via the mediums of art and mixology – the perfect way to spend time reconnecting with friends or family whilst enjoying the moment of the slowly setting sun.
The session will kick off with a demonstration from Falmouth born and bred, Elly Jahnz. Elly will show guests how to translate the beauty of a sunset memory into a work of art before guiding them in the creation of their own stunning series of postcards using a variety of art materials.
All guests will receive two drinks in the price of their ticket, including a welcome drink of a delicate and balmy BOMBAY SAPPHIRE Sunset & Tonic. This refreshingly classic cocktail with a twist is perfect for the late afternoon aperitif occasion and is garnished with an orange wheel and star anise for added zest and warmth. In the second half of the session guests will be served a BOMBAY SAPPHIRE Sunset Buck: BOMBAY SAPPHIRE Sunset gin paired with ginger ale, fresh ginger, and a squeeze of lime – a cocktail that truly emulates the sensation of the setting sun.
BOMBAY SAPPHIRE will be taking over the bar during the evening hours, with a Sunset Session DJ set to take guests from sunset right through to the hours of the night. From 8pm-11pm, guests are invited to enjoy a bespoke menu of BOMBAY SAPPHIRE Sunset creative cocktails, curated in celebration of the new BOMBAY SAPPHIRE Sunset gin that has the addition of three new botanicals – golden turmeric, Indian white cardamom and Spanish mandarin.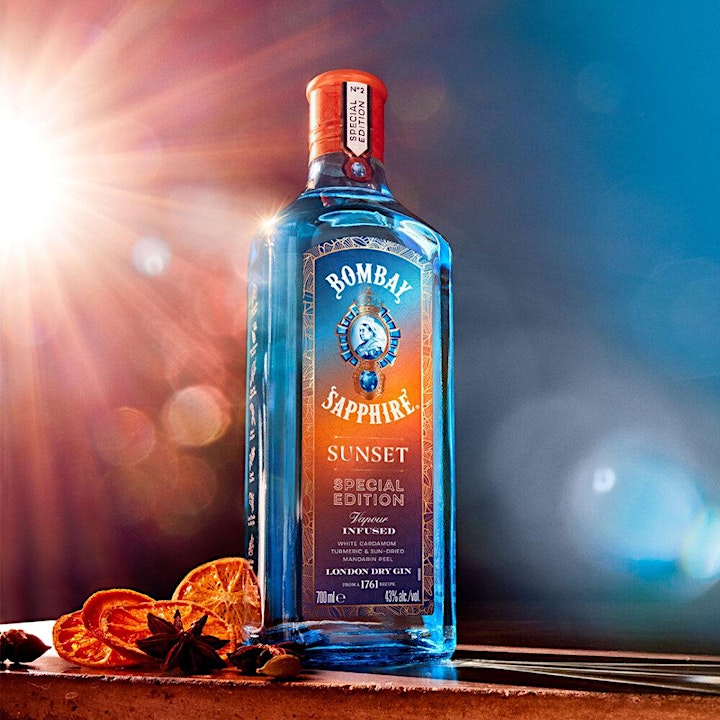 Organiser of Raise a glass to the Great British Summer Staycation with BOMBAY SAPPHIRE®