Event Information
Refund Policy
Contact the organiser to request a refund.
Eventbrite's fee is nonrefundable.
Join us for a 'home from home' two day retreat that will provide you with the foundations you need to rise up and be ready to face 2021.
About this Event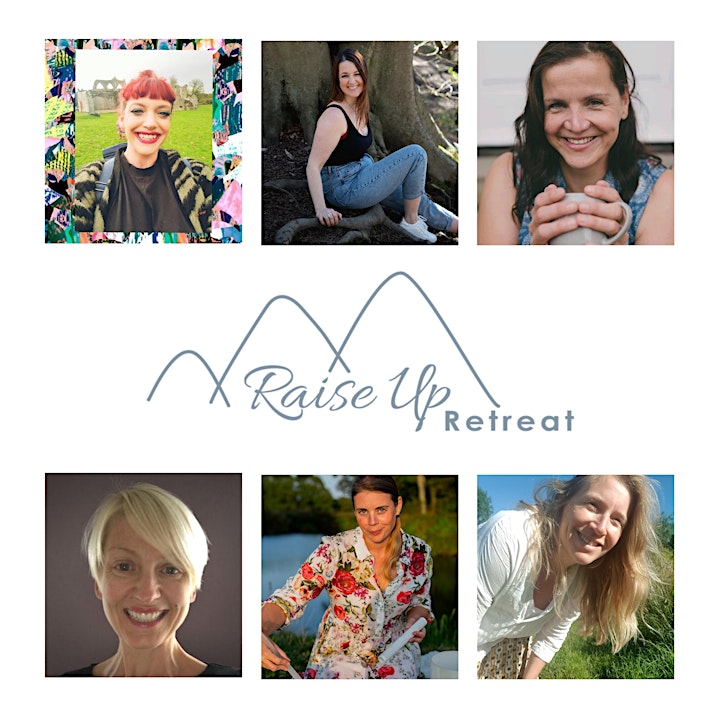 Raise Up Virtual Retreat
Join us for a 'home from home' two day retreat that will provide you with the foundations you need to rise up and be ready to face 2021.
Date: 30 & 31st January 2020
Time: Begins 9.30am on Saturday 30th January - Ends 3.15pm Sunday 31st January.
Location: The comfort of your own home
The start of a new year is challenging at the best of times, however 2021 is certainly already bringing in it's own unique twist of events. In order for us to approach the year in a grounded and centred place - now more than ever it is vital we support ourselves with powerful acts of self care.
Introducing the Raise Up Virtual RetreatOver the course of two days at the end of January, we invite you to join the Raise Up Virtual Retreat team for a series of sessions that will leave you feeling stronger in both mind and body, with a deeper connection to yourself, and feeling more recharged and replenished.
From movement, sound and self compassion, to nature's medicine, energy healing and meditation - we have created a beautiful structure of offerings that are each designed to support you in a wide variety of ways.
This virtual retreat is perfect for you if…
You want to support your physical body and your emotional wellbeing
You crave some 'you' time where someone else holds space for you
You want to start the year on a positive note and connect with likeminded people
You wish to try out a variety of different ways to connect to your mind and body
You feel a little anxious and overwhelmed about the year ahead but KNOW you need to prioritise your own self care.
You want to learn tools and ways to support yourself and build resilience
You simply want to enjoy a weekend of movement, meditation and other powerful practices to kick off 2021.
The beauty of a virtual retreat is that you can show up in your PJs if you wish, there is no travelling necessary and you can roll into bed straight after the last session off the day - hopefully with a happy and more fulfilled state of being.
The retreat schedule…We have created a structure for the two day retreat that allows for gentle meal times and an opportunity for you to also carve out some space to 'just be' if you wish. All sessions will also be recorded so if you can't make them live you can always return to them (because we know that 'life' happens!).
We really encourage you to take your time between sessions and nourish your body with delicious food and plenty of water to help ensure you end the weekend feeling clearer and restored. There will be a suggested retreat menu of healthy recipes from The Health Boost to prepare that will be sent out to all who book, before the retreat begins.
Saturday 30th January
9.30am - 10.30am - Workout with Caroline Kerslake
11am - 12pm - Breathe and Befriend with Silke Thistlewood
2 - 3pm - Energy Exploration with Dot Winter
7.30 - 8.45pm - Replenish Session with Lauren Barber
Sunday 31st January10 - 11am - Nature Connection with Tansy Jane Dowman
2 - 3.15pm - Sound Bath with Alice Rose
A little more about each session…
Workout with Caroline, Saturday 9.30-10.30am
Caroline runs Complete Fitness and Wellbeing, using exercise, massage, and self care to get the results you want. Over the last 15 years my love for exercise, self care and understanding of what women need at different life stages has grown and grown. Working with many women over the years and always learning what we need and want, my journey began and continues. I am a Personal Trainer, Massage Therapist and a Holistic Core Restore(r) coach using these elements individually or combining them, I take a holistic approach to achieving your health and fitness goals, taking into account everything going on: your work, life, likes, dislikes, needs and wants because there is a no "one size fits all" plan, we are all unique.
Using exercises from her personal training sessions and Holistic Core Restore(r) release classes, Caroline's session will begin with a warm up, to ease into the morning and then a full body workout to get the heart rate up and the muscles working with a varied mix of movements to challenge the body in all planes of motion followed by some lovely stretches and mobilisation to unwind and relax. The exercises will be suitable for all and can be regressed or progressed if desired. A pre screening form will be sent out before the session so that she is aware of any health issues and considerations needed.
Breathe and Befriend with Silke, Saturday 11am - 12pm
Silke supports mothers and self employed women through community and connection, as well as resilience and self compassion tools. She believes that at the core of our wellbeing is a sense of belonging - both to ourselves and others. At a time when connection and belonging in person is difficult to achieve, she's embraced online communities and virtual gatherings to bring people together. She is also a massage therapist with over a decade of experience.
In the Breathe and Befriend session we will spend 30 minutes optimising our breathing, allowing us to breathe fully, deeply and efficiently. There will be a range of awareness as well as breathing exercises, and a guided visualisation, leaving you relaxed and deeply nourished.
The second half of the session explores the topics of self compassion and self kindness through guided visualisations and exercises. Both together will leave you with an "in the moment" toolkit for whatever lies ahead for you in the next weeks and months. Bring a scarf or belt for the first part of the session and paper and pen for the second.
Energy Exploration with Dot, Saturday 2 - 3pm
Dorothy Winter is a spiritual healer and teacher who's been practicing for a decade. Her work is centred around abstracting and clearing stored energy in and around the human energy field. Dot wants to inspire more people to become energy conscious, to build an awareness of how energy can effect their physical, emotional and mental patterning. Dot believes trauma/s are stored within the body as energy, and had dedicated her life to empowering people to live lighter, and more embodied lives.
Dot uses a mixture of Tera-mai Gold, Egyptian Elemental rays, light language and dynamic energy manipulation techniques. Her treatments are focused on grounding, reconnecting the mind and body and regulating the nervous system. Dot is passionate about the trauma story, and believes we open new healing pathways to others by communicating and expressing our unique and authentic soul selves. When Dot isn't practicing or teaching she walks the old way, tapping into leylines and energy points near her home in West Kent with her husband and two children.
A group ceremony to reconnect, strengthen and align us to our own authentic soul voice and fearless self expression. The ceremony will comprise of working with the elements, abstracting, clearing and transmuting energy that might be holding us back from stepping forward in to our soul soul path.
You will need: something to represent Air (candle/feather/rattle/bell), Earth (soil/crystal/shell/pebble), Fire (candle/incense/oil burner/matches), water (glass of water/sea glass/shell). Some of these will double up. The candle will be significant. Please have a tray to lay these on and the candle safely fixed)."
Replenish Session with Lauren, 7.30 - 8.45pm
Lauren supports and holds space for women who desire a deeper connection with themselves. Her work stems from a grounded earthy space that is rooted in trauma informed coaching, the embodied elements of yoga and both the spiritual and scientific sides of meditation. She creates a safe and nurturing space for healing and transformation through one to one sessions and group work - bringing together an alchemy of practical tools, intuition, creativity and a sprinkle of magic.
Lauren will be sharing one of her replenishing yoga nidra sessions to provide a deep and restorative space for the mind, body and soul. Yoga Nidra is known as 'yogic sleep' and provides an opportunity for the body to fully rest and replenish. The beginning of the session will invite some space to unwind the body through some gentle movements, before settling with some soothing breathwork and lying down to experience a nourishing yoga nidra journey.
At the end of the session, there will be an optional sharing space with the chance to explore oracle cards and connection with other retreat guests if you wish.
Nature Connection with Tansy, Sunday 10 - 11am
Tansy is known as a 'People Walker ~ Nature Connector', and believes deeply that connection to Mother Nature is a direct pathway of reconnection with your soul, your inner wild woman and your true nature. As a certified Shinrin Yoku Guide and Natural Mindfulness Teacher, she is driven by a purpose to reignite our relationship with this majestic planet we inhabit. To return to our place of origin and discover a sense of belonging that is waiting for us when we are ready to acknowledge and embrace our deeper connection to the wild. Also an outdoor empowerment coach for women, Tansy walks alongside her clients on their journey of personal evolution. Nature connection is at the core of her work, her passion, even her name which is a wild flower.
In Tansy's session, she will share the power of mindful walking and nature connection work with you. We all know intuitively that being out in Nature makes us feel better, Tansy will explain why that is and share the physical and emotional benefits you can experience and talk about the spiritual aspects of this practice and its roots into our sense of belonging. Tansy will then guide you through some mindful exercises so that you begin to get an understanding of the principles and practice. After that you will be invited to take a solo mindful walk outside (or even in your garden).
Sound Bath with Alice, Sunday 4 - 3.15pm
Alice rose is a creative and kind soul who offers heart centred connection, radical rest and healing. She is a mother, a daughter and a sister of the earth, here to reclaim, remember and be ready to receive the magic in every moment.
She offers nurturing spaces for you to find your way back home, to remember, to embody and take rest. Whether you are joining her in a class, a workshop or for a 1:1 healing session she will meet you where you are in life, both humbled by and excited for what you can uncover and create together.
Join Alice Rose for a nourishing and soothing sound bath with the Alchemy crystal singing bowls. She will begin with a guided grounding breath meditation, preparing the body to lay down with ease and receive the soothing sounds of the crystal bowls. You will then be taken on a sound journey, connecting with presence and receiving deep relaxation and healing.
FAQs
How will we access the retreat?All the sessions will be held on Zoom - please make sure you have the latest software downloaded. There will be a different link for each session. Please ensure you arrive at least 5 minutes before the session begins so we can start promptly.
Do I have to be on camera? This retreat will be conducted as a meeting on Zoom but you can choose whether you would like to have your camera on or off. All participants will be muted during the sessions.
Do I need any equipment? There is nothing specific required, however we encourage you to create a nurturing space for your retreat experience and bring in things like a yoga mat, blankets and pillows for comfort - plus any other items that help you relax such as candles or essential oils.
What should I wear for the retreat? Comfort is a priority. For the movement session on Saturday morning with Caroline you will need leisure wear - however for most of the other sessions you could even be in your PJs if need be! (beauty of home retreats!)
What if I can't make all of the sessions?
Each session will be recorded so if you can't make one then you can catch up at a later date. We fully encourage you to carve out this time as 'you' time but totally understand if this is not possible.
I have an injury? Can I still do this? There will be an opportunity to share any previous issues with our retreat guides before the session begins. Please ensure you take the time to fill out the disclaimer before the retreat starts to ensure you notify and we can suggest modifications or advise if certain sessions may be better to avoid. The majority of the sessions will not require much physical movement.
I am pregnant. Can I still take part? All sessions are suitable to take part in during pregnancy, however if you are in the first trimester it is advisable not to begin any rigorous exercise sessions that you are not used to, and it is not advisable to take part in Sound Baths. Please contact us for more information.
Date and Time
Location
Refund Policy
Contact the organiser to request a refund.
Eventbrite's fee is nonrefundable.