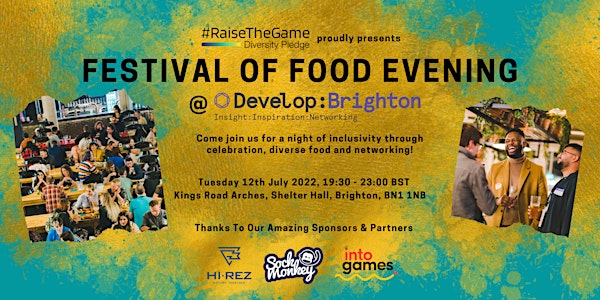 #RaiseTheGame Festival Of Food Evening @ Develop: Brighton 2022
Location
Shelter Hall
Kings Road Arches
Brighton
BN1 1NB
United Kingdom
Come join us for a night of inclusivity through celebration, diverse food and networking!
About this event
The #RaiseTheGame Pledge invites you to come & enjoy the night with us to meet others from our community and the wider games industry over good food sourced from different cultures, and socialising by the sea as part of our activity offering at Develop: Brighton 2022.
Network, mingle and connect at an event made to be as inclusive as possible; so regardless if you are a parent, someone who doesn't wish to drink and/or have accessibility needs you are welcome!
Shout-Out To Our Amazing Sponsors
Thank you to the following companies who have helped us to make the event even better for everyone through their contribution and being part of our community as #RaiseTheGame partners!

Further Information
Covid-19 Safeguarding - While the risk of Covid-19 reduces, we nevertheless feel it is vital to provide attendees with the safest possible environment while cases are still present. Working with the venue we will ensure safety measures are in place such as capacity limits are complied, hand sanitiser available during the event and located throughout the venue. We will review this aspect daily and update all attendees accordingly.
Traffic Light Name Badges - People will be able to spotlight their personal space and networking comfortability through the use of a colour coded name badges system.
Food Brought To You - Shelter Hall has 7 independent kitchens and 2 bars. For ease of ordering in a single transaction, ordering can done on your phone via QR code at the table. All food and drink ordered this way will be delivered by waiters, but as the kitchens are operated independently dishes will arrive as and when they're ready. Also all dietary requirement information will be listed within the online system the QR code takes you too!
Accessibility - The venue is fully wheelchair accessible with ramps down to the beach entrance and lift available for use to all floors including the entrance by the main road.
Game Dev Parents - Those attending with babies and small children will be happy yo know there are baby-changing facilities and plenty of highchairs available.
Use Of Outside Terrace Area - Thanks to our sponsors we are able to expand use of the Shelter Hall. The venue have asked though that all guests must remain seated when drinking outdoors in-line with their licensing restrictions. We ask that all attendees respect and follow this rule!
Contact Us
If you have any enquiries about the event, please contact Dom Shaw, EDI Coordinator at Ukie via dom@ukie.org.uk.
More about #RaiseTheGame
The #RaiseTheGame pledge is an industry-wide and holistic driven initiative managed and facilitated by Ukie aimed at helping the overall UK games industry grow and improve in all areas of equality, diversity and inclusivity (EDI). From guidance and practical advice to engagement activities like events both online and in-person, the pledge is a call to action to rally the sector together and become lead examples of inclusion to other industries.
Though the pledge is managed by Ukie, any games industry company can applied to sign-up and be involved in activities surrounding the pledge, all that is asked is a strong commitment to make a positive impact, the time to listen and consider along with the effort to implement such change. Even if you're at the start of your journey or think your company too small to make a difference - all companies no matter their size or where they are in their equality, diversity & inclusion journey are welcome.