Raising the Bar, National PMLD Conference
Description
A National Conference to launch new PMLD Sevice Standards for educational, health and social care providers, to enhance the life experiences of children and adults with profound and multiple learning disabilities.
The Core Service Standards are aimed at Commissioners and Providers of services to ensure equity of support and service provision. The conference will also interest service providers, health/social care/education professionals and family carers.
Delegates will recieve a copy of the standards with a forward written by Norman Lamb MP
*note - A few of the speakers listed below are still being confirmed - but this is the day as it currently stands.
Hosts:
Thomas Doukas - Choice Support, Michael Fullerton - Care Management Group, Annie Fergusson -The university of Northampton, PMLD Link & family carer, Joanna Grace - The Sensory Projects
Keynote speakers:
Professor Julia Goldbart Director of RIHSC, Associate Dean for Research & Professor of Developmental Disabilities, Jonathon Bryan, Eye Can Talk, Becky Loney,Founder of the Lambeth Mencap Carousel Project, Jayne Leeson, Changing Our Lives, Sarah Clayton, Postural Care Simple Stuff Works CIC, Rachel Wright, Born at the right time, Jenny Millier, CEO of PAMIS, Pat Graham a family carer and member of PAMIS.
Workshops on:
Training staff to work with individuals with PMLD, delivered by Sarah Townsend of Disability Learning
Listening to and responding to people with PMLD, delivered by Martin Goodwin of The University of Birmingham.
Safe touch, delivered by Leonie Elliott-Grave, University of Goldsmiths and Thomas Doukas, Choice Support.
Digital Passports, delivered by Maureen Phillip from PAMIS.
Sensory strategies to support mental well being, delivered by Joanna Grace of The Sensory Projects.
All in the Same Direction: A Team Approach to Personalised Care and Support, delivered by Dreenagh Lyle, Lambeth PMLD group.Implementing the standards in a care setting, delivered by Katie Reid and Erren Wheatland of Care Managament Group.
The standards and Postural Care, delivered by Sarah Clayton of Simple Stuff Works CIC
In addition to the workshops Sarah Hall from Willows Sensory Service will be sharing chocolate based sensory ideas during the lunch break.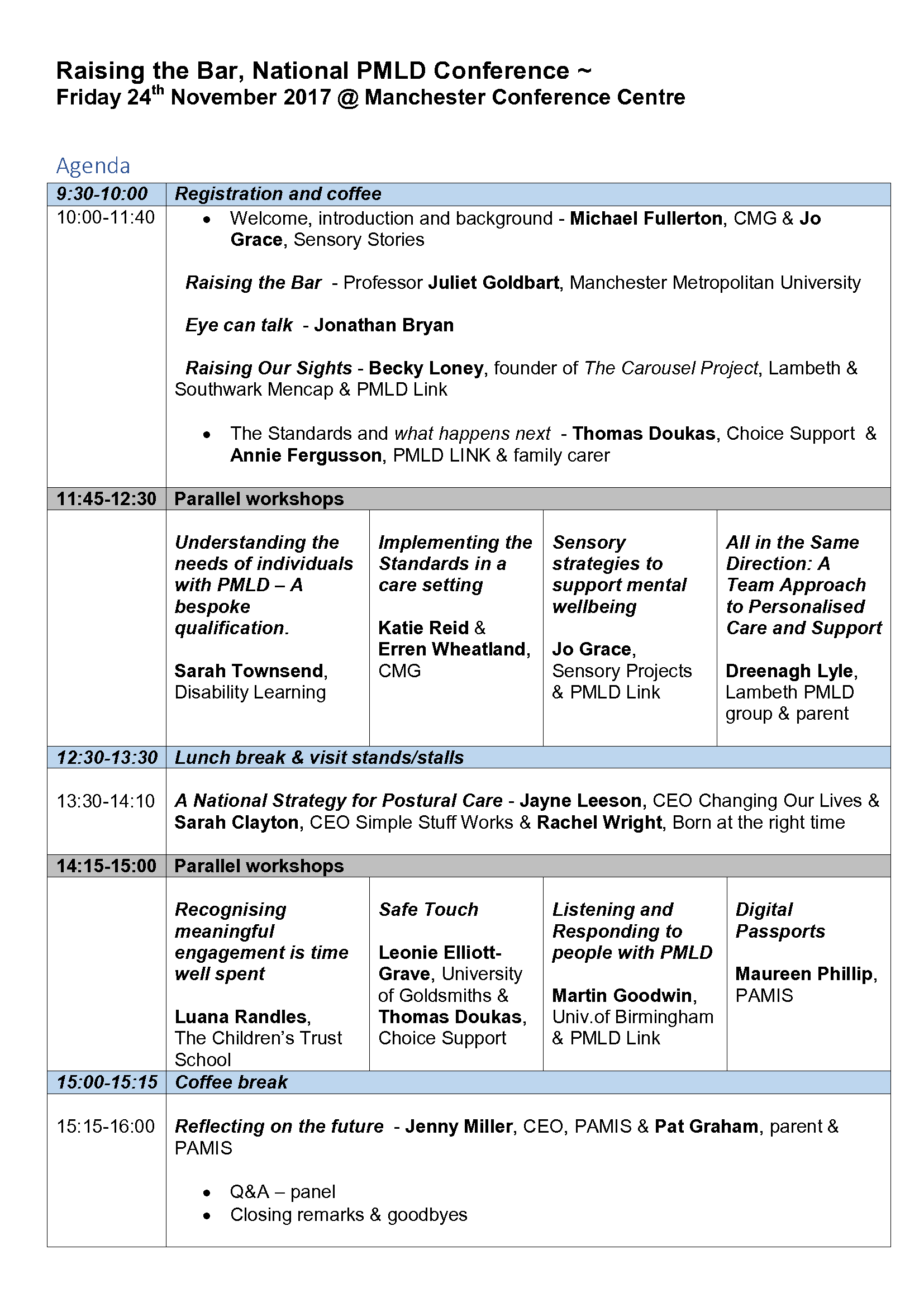 Ticket prices are to cover cost of the conference, which is being run voluntarily by the organisers and not for profit.