| | |
| --- | --- |
| | |
Event Details
Join us for a Spectacular Day
on Thursday 1st November 2018:
two events, one place, for everyone

at the iconic St George's Hall in Liverpool, UK

Organised by Universal Inclusion in partnership with 

International Council for Caring Communities

(ICCC) and Liverpool City Council in support of the ICCC International Student Design Competition Fellowships


We are supported by
Bournemouth Symphony Orchestra, Courage and Sparkle, Disability Today,  Disability Rights UK, Evermore Wellbeing, Gooseberry Pink, Jigsaw Medical, LMA Liverpool, Market Accents,  Merseyside Woman of the Year (MWOTY), Pink Shoe Club, Soundtrack Recording Studios and St George's Hall.
These events are aligned with the United Nations Sustainable Development Goals and foster the ICCC program: "Imagining the Possible".
If you require support to attend any of these events, kindly contact us directly at universal.inclusion@icloud.com.

When ordering tickets please also indicate any food sensitivities.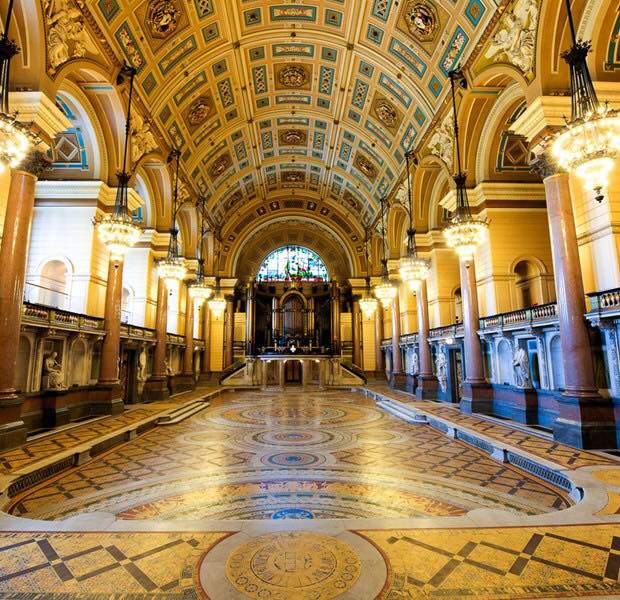 Creating The Space to Participate
Time: 2.00pm to 5.00pm
An afternoon seminar to explore how together we can create the drive required to push for a Paradigm Shift that will change rights, protections and aspirations into real and sustainable opportunities for everyone, in front of and behind the camera, on and off the stage, or in any other format or platform.
As part of the proceedings, we will join together in a collective vision which will later be included in a white paper that will be presented to the UN, local government and other interested bodies.
Speakers include:
Jacqueline Winstanley Bsc Hons
ICCC Competition Winner Fellows
Moderator: Helene Martin Gee
Master of Ceremonies: Robert Winstanley
Who should attend? 
NGOs, entrerpreneurs, private and public businesses and anyone in the cultural or arts space that has faced access challenges, has solutions and wishes to be part of a drive to #LeaveNoOneBehind.
Dress Code: Business Smart
 
VIP Sparkling Reception
Time: 5.30pm to 6.45pm
A VIP sparkling reception with the Bernie Whelan Choir will take place ahead of the evening concert, where guests will have the chance to engage with the artists and other distinguished guests while enjoying refreshments in the surroundings of the iconic and unique 160-year-old hall.

Dress Code: Business Smart / Cocktail

A Celebration of Culture & Arts
Time: 7.00pm to 10.00pm
A spectacular evening of music, awards, culture and art that demonstrates how the theory can be brought to life, capturing humanity at its best. The programme includes a dazzling show featuring awards and star performances, music and choir from
Jazz Vocalist 'King of Swing' Asa Murphy
The internationally-acclaimed theorbo and lute player Matthew Wadsworth

Elle Exxe, singer-songwriter artiste,winner of the Best Female Solo Artist at the Unsigned Music Awards in 2016
The Chinese Pagoda Arts Ensemble and Dance Group who have performed worldwide and who are the first and largest youth orchestra in Europe
James Holt, a solo artist from Bolton and is receiving attention and praise from music industry giants
Napua Davoy, a most extraordinary song stylist

with the Liverpool Media Academy Choir

During the evening, we will also hear from International Fellows who will speak about the competition they entered and won, and the impact this has had on their lives;
and we will celebrate this year's award winners for the ICCC awards for the Caring Citizen of the Humanities, recognising the contributions they have done and continue to make.
Master of Ceremonies: Ade Adepitan MBE
Who should attend? 
Anyone who is interested in cultural or arts.
#LeaveNoOneBehind.
#RaisingTheRoof2018   #ICCC #diversity  #inclusion  #culture  #disability #art #music #CitizenOfTheWorld   

Dress Code: Business Smart / Cocktail
Please note that the above programmes may be subject to changes.
---
FAQs
Is the Hall Accessible?
Please contact us directly if you have any questions.

What's the refund policy?
Refunds will be given up to seven (7) days before the event. After this date, refunds will only be given in cases of emergencies and each case will be considered individually.

Where

St George's Hall

L1 1JJ Liverpool
United Kingdom


Organiser
Universal Inclusion is leading the way in making the world a much more accessible place, one where everyone feels included. Our ethos reflects the many ways as a society we can collectively and individually change not only our own, but other people's lives, for the better - often by making simple changes to the way we do things.
At Universal Inclusion we believe in bringing our values and beliefs to life through spectacular, international, ground-breaking events.

We invite you to join us as we celebrate life's opportunities through our fabulous events.