Location
Morecambe Seafront - exact location tbc
Morecame
Morecambe
LA4 4BU
United Kingdom
Vintage by the Sea and Morecambe Artist Colony invite you to participate in the Rapid Painting Competition!
About this event
At Vintage by the Sea, the promenade will be alive with exciting sights for you to paint, from stylishly costumed revellers & flamboyant dancers to shining vintage vehicles, colourful scenes, boats, birds and of course the vintage funfair and that famous view.
On Saturday 3rd September, bring along the materials of your choice, set up in a location of your choosing and get painting!
Free entry to all artists, ages and abilities.
Please read all the information below regarding materials, registration and prizes.
If you have any questions, please contact Morecambe Artist Colony by Facebook or email the event organisers through Eventbrite.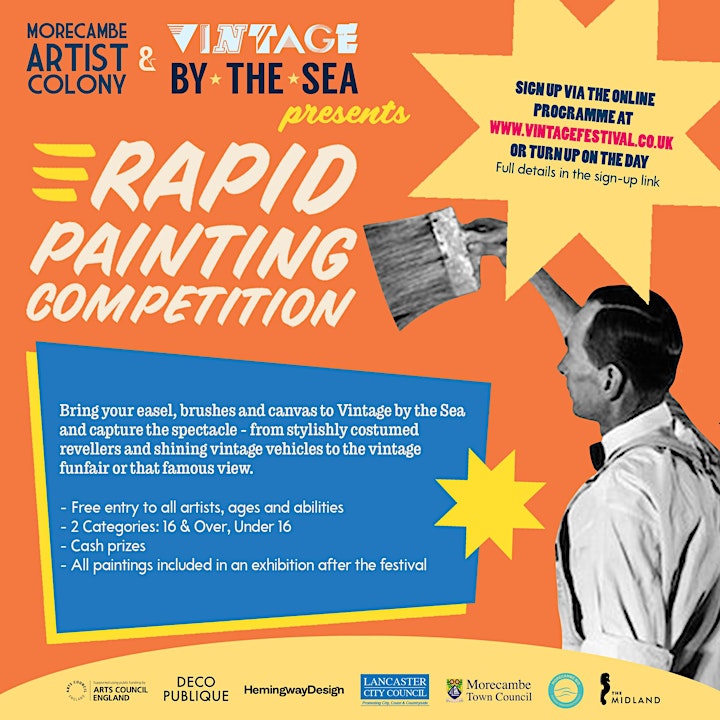 FULL INFORMATION
Categories:
There will be two categories:
Materials/mediums:
No materials will be provided so be sure to bring your own.
Paintings can be any size up to a maximum size 1200mm x 1200mm and on canvas, card or board but must be on rigid frame or mount with hanging wire/clips/string attached.
On the day:
Even if already booked online, participants must register at the Morecambe Artist Colony gazebo on Saturday from 10.00am. The festival activities start at 11am.
Don't want to book online in advance? That's fine, you can just turn up on the day, but make sure you register at the gazebo from 10.00am.
3pm - return your finished painting
4.30pm - prize giving
All paintings must be produced on the day within the specified area (1 mile square). You will be given exact detail of location boundaries when you register on Saturday morning.
Please note, in the event of bad weather, the painting competition may be moved to Sunday 4th September.
Details of the exact registration point will be emailed one week prior to the event.
Prizes:
16 and Over Category
1st place - £250 cash
2nd place - £150 cash
3rd place - £75 cash
Under 16s Category
1st prize - £50 worth of art materials
The prize winning paintings will become property of Morecambe Artist Colony and may be used for future fundraising.
After the festival weekend:
After the festival weekend, an exhibition will be held to showcase all paintings produced during the competition, location and dates tbc. You will be updated via email.
For the full Vintage by the Sea programme visit: www.vintagefestival.co.uk
ABOUT MORECAMBE ARTIST COLONY
Established in 2014 by a group of friends, MAC is a not-for-profit group of local artists and creatives, passionate about using art for the regeneration of our town by instigating, delivering and supporting curated high-quality art-led exhibitions and projects in existing, new and under-utilised spaces in Morecambe.
We currently curate exhibitions in the More Music gallery, in Morecambe's West End, and in The Stone Jetty Cafe in Central Morecambe. We have also curated exhibitions in more unusual venues across town and are always on the look out for interesting opportunities.
Key projects over the years have included the Time and Tide Bell, the art Trail for Vintage by the Sea, Lockdown Life Drawing and Art Auctions.