Description
Join EngiMake for a five hour workshop to learn professional soldering techniques and be exposed to electronic circuit design and circuit board manufacturing with RS Designspark PCB. Understand the benefits of using rapid prototyping techniques and the machines that enable them. At the end of the day you will get to take away your own soldered robot circuit board!
The session will cover
A range of soldering techniques (including through hole and surface mount)


What equipment you need and how to use it

Using Designspark PCB for design and manufacture

Printed Circuit Board (PCB) milling

Automated soldering with solder reflow oven

Prototype iteration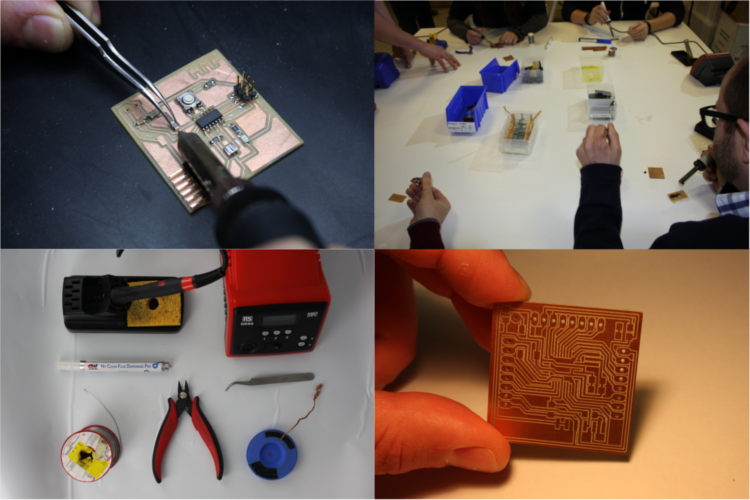 EngiMake believe that soldering is a skill that your can only "learn by doing". We will demonstrate good and bad soldering techniques before giving you the opportunity to practice on custom PCBs. We will review your handiwork and discuss improvements. We place emphasis on the individual with a teacher student ratio of 1 to 5.

What you need to bring
Just a pen and paper to make notes (no laptop!)

Who is it for
Startups needing to solder prototypes for their products

Product managers seeking to understand rapid prototyping processes

Students needing to acquire skills quickly for their course/degree

Hardware specialists needing to brush up on skills

Hobbyists who want to assemble kits through sites such as https://www.wevolver.com/ or http://www.instructables.com/

Partnerships
EngiMake's mission is to open up the world of making. Co-founders Jack Scott-Reeve and Josh Elijah are electronics engineers with experience in consumer electronics, prototyping and robotics.
RS components is a one-stop shop for electronics, electrical goods and the provider DesignSpark PCB, free and incredibly versatile electronics design software.

Refreshments are provided. Wheelchair access available.