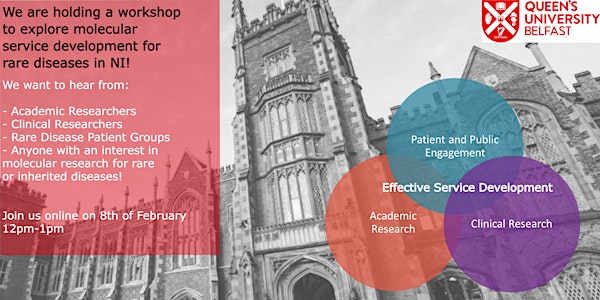 Rare Disease Collaborative Research Workshop
We are conducting a workshop to discuss the experiences of people interested in collaborative molecular research focused on rare diseases!
About this event
Collaborative molecular research between health care professionals and academics has a myriad of potential benefits for improving rare disease patient outcomes, such as improving our ability to provide a diagnosis, investigating genetic variants of unknown clinical significance, and even exploring novel patient therapies.
To maximize the benefits of such research, we are keen to hear from a variety of rare disease stakeholders. This is because individuals directly affected by rare diseases and their carers have a wealth of in-depth knowledge on their disease (i.e. patient experts!), healthcare professionals may have specialist knowledge and access to vital patient data, whilst academics and rare disease industry professionals have access to cutting edge technologies as well as resources to investigate novel molecular findings beyond what is available in a clinical setting.
We are particularly keen to have participation from the following groups:
• An individual living with a rare disease, or a care giver/family member of someone living with a rare disease
• An academic with experience in molecular rare disease research
• A health care professional involved with molecular services for rare diseases
• A representative of a rare disease patient group or rare disease industry
Within this workshop we will discuss:
• Perceived benefits of collaborative molecular research for rare diseases
• Barriers to the design of and participation in such research
• Potential methods of overcoming such barriers
Full information leaflets and consent forms will be provided via email. Consent forms must be completed prior to participation in the workshop.
Your participation will enable us to identify and address current barriers to collaborative research, as well as to facilitate multi-disciplinary service development moving towards improving patient outcomes.
Read more about QUB's rare disease research at: https://www.qub.ac.uk/sites/RareDisease/