Bojangles invites you to a night out in Chingford! Enjoy neo soul and rare grooves with delectable Caribbean eats at our dine in pub.
About this event
This August after a long-drawn hiatus Velvet Rope presents The Last of the Wicked Romancers – an exclusive musical night out when rare groove meets neo soul.
The lockdown in our town is out, and it's time to bring back the life to our night in Chingford. Bojangles is ready to welcome all you partygoers for a night of nothing but music on Saturday the 21st of August from 10PM to 4.30AM.
Featuring
Desi G
Barry White
Company Soul Sound
D Mac
Itching to grab your stilettos and your sport coats? Here's your chance! Join us at Bojangles and we can guarantee that you won't find a better spot for a night out in Chingford!
Tickets available down below or call us on 07838 297544
#dinein #Saturdays #pubs #restaurantsinchingford #dineinrestaurants #foodanddrink #food #drink #drinks #cocktails #mocktails #beer #tgif #happyhour #dining #bojangles #foodies #buffet #alacarte #courses #lockdownlifting #postlockdown #lockdownease #opennow #dance #soul #ska #rnb #rhythm #blues #rhythmnblues #music #vegetarianfriendly #walkin #cuisine #sitat #inperson #indoorseating #seating #music #alldaybreakfast #breakfastallday #morning #evening #lunch #chingford #london #DJs #chicken #kebab #lamb #hotdogs #bumperburgers #wings #party #sundayparty #barbequeparty #dinein #social #meetup #postlockdown #mostygee #equationroadshow #Fatz #DJs #house #party #dancing #socialmeetup #nightclub #nightsout #pubnight #pubnights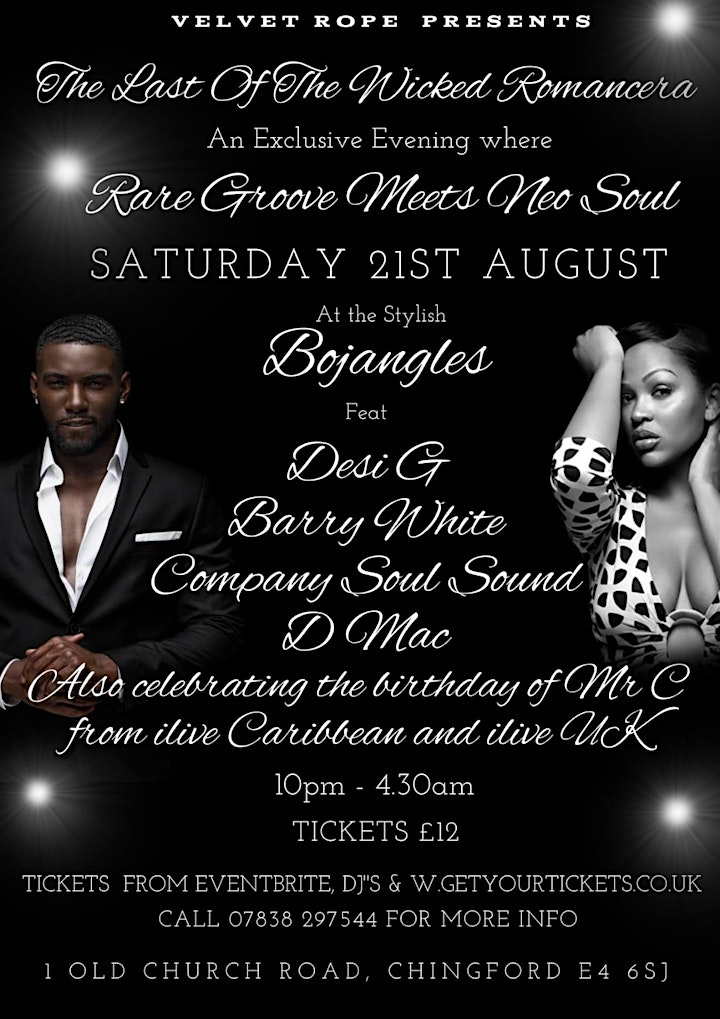 Organiser of Rare Grooves and Soul Night at Bojangles in Chingf