Sales Have Ended
Ticket sales have ended
Ticket sales have now ended for the live event. You can register to watch the on demand talks ad visit the exhibits and gallery for 30 days until 28 Dec 2020 via the RAREfest20 platform https://rarefest20.vfairs.com/en/
Sales Have Ended
Ticket sales have ended
Ticket sales have now ended for the live event. You can register to watch the on demand talks ad visit the exhibits and gallery for 30 days until 28 Dec 2020 via the RAREfest20 platform https://rarefest20.vfairs.com/en/
It's VIBRANT. It's VITAL. It's VIRTUAL! An award-winning science, tech & arts festival that is as UNIQUE as the patients it champions.
About this event
It's VIBRANT. It's VITAL. It's VIRTUAL! Join us on November 28th for RAREfest20
An award -winning festival that is as UNIQUE as the patients it champions. Featuring the brightest minds in rare disease research, the innovators of life-changing tech, the pioneers in rare disease medicine, and the patients whose powerful voices must be heard. For the experts. For the curious. For everyone. For FREE. 
Visit interactive exhibition stands, get involved with live demos, join talks and panel discussions, view rare art and films, take the scavenger hunt challenge and more…
Check out the speakers and exhibitors taking part
RAREfest20 aims to provide a window into a relatively unknown area of science and to spark curiosity. Join us online for our fully accessible virtual RAREfest! Open to everyone - patients, children, students, the experts and the curious. All welcome!
"Heartwarming, uplifting and informative, the world's first-ever festival on rare diseases drew huge crowds to the Guildhall over the weekend " - Cambridge Independent News 2018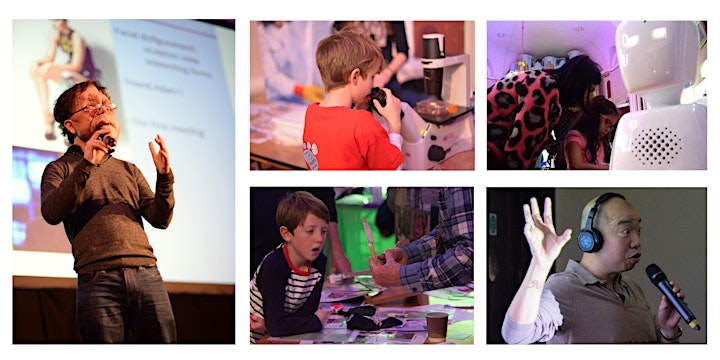 FAQs
Q. Who is this event for?
A. RAREfest is for everyone! There are talks, activities and exhibits for all ages, all levels of interest, experience and expertise. For kids, young people and adults. For the curious and the experts. Everyone welcome.
Q. Do I need to register?
A. Yes. Please register through Eventbrite. Nearer the time we'll register you on the event platform. You will then receive your login details.
Q. I have accessibility needs - how will you cater for these?
The event is fully virtual so you can attend from anywhere in the world from your comfortable space. We will use closed captioning providing live subtitles for talks and have a scribbler who'll be visually capturing the main points of talks for us to share afterwards.
Q. How can I meet other people, mingle, network and get involved?
A. There are a number of options to get involved. You can ask questions during live talks with text chat. You can text chat with all of the experts in their exhibit booths and even arrange to call or video call them through the platform. At several points during the day we'll invite everyone to join a table and a chat - about hot topics or just to mingle and meet old friends and new, cameras on, almost like the real thing!
Will I be able to take away any documentation?
A. Yes. You'll receive a virtual 'swag bag' to download documents to. You can access files in your Swag Bag for 2 weeks after the event and email them to yourself or others.
Q. Do I need to install any software to be able to attend?
A. No. This is an online event. You can participate from anywhere in the world as long as you have Internet access. The event is accessible from desktop, mobile and tablet devices.
Q. How long is the event content available for?
A. Content will be live on Sat 28 Nov and available on-demand for 30 days following.
Q. Who do I contact for troubleshooting on the day?
A. Login to the platform and visit the virtual information desk which will be manned by an actual person :-)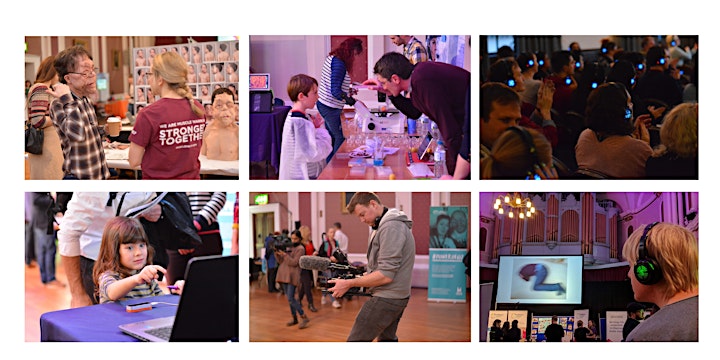 Why rare diseases? This area of science and medicine has been neglected for too long. A challenge too overwhelming and difficult to overcome...3.5 million people with over 8000 rare diseases in the UK alone, 350 million worldwide. But things are changing, progress is picking up a pace and we want to celebrate that with you.
Genomics, genome-sequencing, CRISPR, Artificial Intelligence, robots, powerful patient voices and more research is bringing about a sea change in interest, awareness and hope for a brighter future for those affected.
Did you know that although individually rare, collectively rare diseases affect 1 in 17 people, with over 50% affecting children? Awareness of rare disease is lacking. RAREfest is the only exhibition bringing together all stakeholders with the aim of educating, engaging and empowering people to challenge this status quo. Be the change you want to see in the world and join us!
RAREfest20 speaker Dr Giles Yeo recently shared his thoughts with Cambridge Rare Disease Network (CRDN) about why he's taking part in #RAREfest20, a unique rare disease event that he says "drives better science."
You can read Giles' full interview here https://lnkd.in/gy-7i7j to find out about his talk, why RAREfest and how his research into rare diseases of obesity helps us better understand the more common causes
Giles Yeo is a geneticist with nearly 20 years' experience studying obesity and his current research focuses on why some people are lean and some obese, and the influence of genes on our feeding behaviour. Giles is also a broadcaster and author, presenting science documentaries for the BBC's Horizon and Trust Me I'm A Doctor' series. His first book Gene Eating: The Science of Obesity and the Truth About Diets was published in December 2018. He was awarded an MBE this year for services to research, engagement and communications.
Date and time
Location
Refund policy