RAUCOUS Comedy! A celebration of comedy from rising stars and established performers brought to you live from MOTH Club!
About this event
Expect a fast paced and electric night of comedy featuring some of the most exciting names on the circuit today, including Andrew Mensah, Matt Hutchinson, Prince Abdi, Tamer Kattan, Arielle Souma with MC Aurie Styla!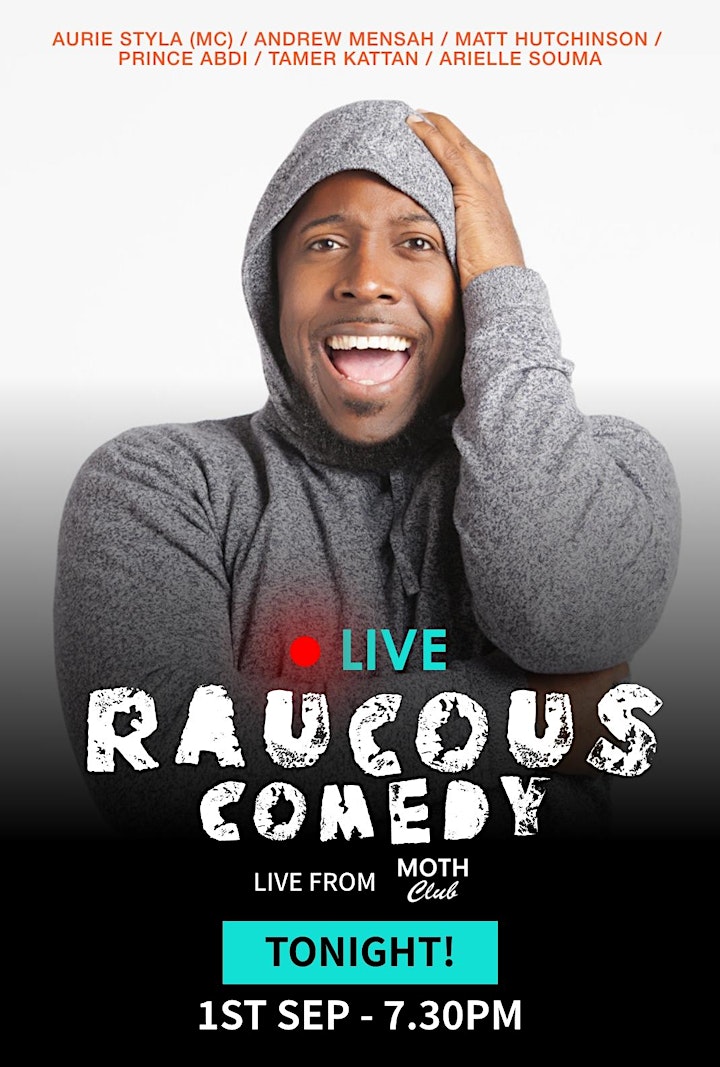 Aurie Styla
Aurie Styla is a stand-up comedian, actor, presenter and comedy promoter from London.
Having started stand-up comedy back in 2010, Aurie has tirelessly honed his craft and his likeable charisma has earned him fans in the thousands.
Starting out as a function host, he quickly became a favourite of many universities across the UK for his easy going nature and quick wit. He was a regular master of ceremonies for both club and comedy nights before deciding to turn his attention solely towards stand-up.
Aurie has worked with many notable comedians both as a fellow performer and also as a promoter for his phenomenally popular 'Comedy Mania' events. His consistency and warm persona sees him regularly employed as a warm up comedian for the major broadcasters and on shows such as The Big Narstie show and The Mo Gilligan Show. Alongside his comedy work, he's also worked with the likes of Will.I.Am, Benedict Cumberbatch, Wayne Rooney, Robin Van-Persie as well as corporate work for, amongst others, Facebook and Da Bounce in Holland.
In 2016, Aurie self-produced and toured his first live stand-up comedy special 'Working... Hardly!', around the UK, with all dates completely sold out. In 2017, he toured his second 'Straight Up!' again with all shows sold out. Due to overwhelming demand, both tours were extended. He's currently touring his third show 'Just Like that'
Aurie Currently presents on BBC Radio London, every Monday night from 8pm - 10pm and is the co lead in the 2019 horror comedy "Are We Dead Yet?'
Andrew Mensah
Andrew Mensah is a stand-up comedian, presenter and actor from London.
Having only begun his comedy career in 2018, Andrew has quickly gained plaudits and was recently crowned winner of The Cavendish Arms Summer Competition 2019.
His relatable style and ability to speak on his life experience in an unapologetic manner has established him as one of the most exciting emerging comedians on the circuit today.
Alongside his fledgling stand-up career, Andrew is also the host of BT Sport's hit show 'What I Wore' where he interviews footballer's based on their lives and careers. Andrew was originally hired at BT Sport as an apprentice and worked his way up to the digital team where he was instrumental in creating and pitching the format of 'What I Wore'. Having impressed so much in the development process, he was given the opportunity to present the pilot, an opportunity with which he has grabbed and has not looked back from. Andrew has interviewed many high profile footballers including: Steven Gerrard; Gareth Bale; Rio Ferdinand; Robin Van Persie; Pep Guardiola and many more. Accumulating a total of 10 Million views across all social media platforms.
Through 'What I Wore', Andrew has gone on to become a highly sought after and knowledgeable sports presenter. He has conducted sit down interviews with emerging stars like Callum Hudson Odoi, Tammy Abraham, James Maddison and his ground breaking interview with his cousin Ebere Eze on the estate they grew up on did huge numbers on social media with over a million views across YouTube and Twitter.
Andrew was also the voiceover for BT Sport's 2020 promotion and starred in the BT WWE launch campaign with Ric Flair.
Matt Hutchinson
Matt is a doctor - this has made his parents very proud. He's also a stand-up comedian, this has made his parents very confused. They have relaxed a bit, now he performs in clubs they have actually heard of – including the Comedy Store, Backyard and Covent Garden.
He sometimes meets them half way, and performs science comedy as part of the Science Showoff Talent Factory, in venues including the Science Museum.
Back when he was younger and still trying to be cool, he was a DJ – playing in places including the Secret Garden party, Ministry of Sound and Egg London. 2 of his productions were broadcast on XFM (now Radio X). He now brings these skills to comedy – with the show "Mixtape, a comedy block party". This mixed bill show enjoyed a successful run at the 2017 Edinburgh Fringe and will be making a return at London venue in the near future.
In 2018 he was a finalist in the Leicester Square New Comedian. He has previously been a semi-finalist in the BBC New Comedy Award, Amused Moose New Comic Award and So You Think You Are Funny.
"An assured presence" – Chortle
"Safe hands" – Chortle, and some patients
Prince Abdi
Prince ABDI is an international touring comedian from south London. He has a unique story telling angle that makes him one of the most busy comedians on the circuit. Originally from Somalia, Prince grew up and south London. Prince played for the reserve millwall football club. After a horrendous injury, he packed it in and started doing stand up Comedy. Prince has never looked back since with appearances on ITV, CH4, BBC1, Comedy Central and HBO.
Prince Abdi has supported the likes of Chris rock, Dave Chappelle, Trevor Noah to name a few.
Tamer Kattan
Tamer Kattan is a powerhouse of a headliner with international experiences touring for UN troops in Afghanistan, performing at the American University in Cairo during the Egyptian revolution, and all over Europe. Most recently he was featured on Seth Rogen's Hilarity for Charity event with Todd Glass and Hannibal Buress, won The World Series of Comedy as well as Comedy Knockout on truTV. His credits include Fox, HULU, Netflix, Amazon & truTV. In 2021 he joined the writing staff of the soon to be released animated series "Tantrum Jesus" as Writer/Producer and Voice over artist.
Terms & Conditions
Anyone entering the venue must be 18+.
Organiser of RAUCOUS Comedy!
About the Organisers: NextUp
At NextUp, our mission is to amplify the power of comedy whilst supporting comedians and the wider comedy community in as many ways as possible.
We primarily do this through our subscription-video-on-demand platform dubbed 'The Netflix of UK stand-up' by Engadget but since COVID-19, we've also run the following initiatives:
A Just Giving fundraising campaign to financially support comedians who need it most. At the time of writing it's raised over £120,000.
A live-streaming service called NextUp Now that gives comedians a virtual live-streaming stage to perform and earn revenue from.
Doubling our commission payouts to any venue or comedian who promotes our video subscription service, helping them earn easy additional revenue.
Ticketed live gigs via Zoom that present comedians a 'closed-door' comedy club-like scenario to practice their material and earn revenue from.
It's going to be a while before live comedy returns to its normal state but we're determined in the meantime to create a working model that benefits everyone and we'd like to thank you for your supporting this festival, and live comedy.
Learn more about how the magic happens here.