About this Event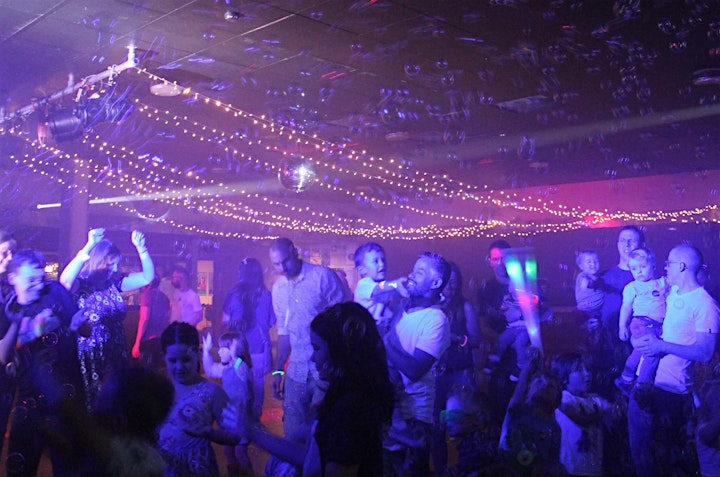 At Ravin' Rascals, a white Christmas is guaranteed!
York's favourite rave-themed family disco is returning to The Crescent on Sunday the 8th of December for an afternoon of energetic festive fun!
DJ Rascal's awesome snow machine will be bringing a white Christmas indoors. Boogie to some great tunes with your family while enjoying an indoor snow storm! (Don't worry, the snow is non-allergenic, easy to dissolve, and won't stain your clothes.)
But that's not all. With smoke machines, glow sticks, UV paint, giant colouring, a baby ball pool, glitter face paint, a huge bubble machine, energetic party leaders AND endless dance and Christmas classics, there will be no shortage of exciting activities to entertain every member of the family.
Ravin' Rascals provides a safe environment for kids to let loose, play and socialise with like-minded young ravers. And with all our favourite tunes - including plenty of Christmas hits - our next event offers a unique opportunity for parents and children to party together as a family.
Ravin' Rascals' Christmas event will take place on Sunday the 8th at The Crescent Club in York. The fun starts at 2pm, and ends at 4pm. This event is aimed at children 7 and under, but older siblings are also welcome to join in on the fun.
Tickets cost £8.50 per person (babes in arms go free). We also offer a variety of family or group tickets. Included in your ticket price is a free ice cream and a UV tattoo of your choice!
Join us for an afternoon of fantastically festive family fun!
For more info, please visit ravin-rascals.co.uk
Terms & Conditions:
- All adults and walking children require their own ticket.
- Children must have adult supervision at all times.
- There can be a max of 3 children per adult.
- If you'd like to bring more than 3 adults per child, please email info@ravin-rascals.co.uk for pre-approval.
- For non-walking babies, we strongly advise the use of baby slings or carriers.
For more info, please visit ravin-rascals.co.uk