A sisterhood event that invites you to come behind the veil to the raw truths about marriage and singleness when you reaching towards God
About this event
This limited spaces sisterhood event is like no other.
A time to discuss the raw truths about marriage and singleness , the pain, the struggles, issues, the conflicts, the journey, the heartbreaks, the lonliness, desires and temptation, overcoming this all to obtain the promise of God for every union and marital destiny.
Navigating single hood and the marriage journey as a Christian woman can seem difficult and confusing, it can seem like we fail with every effort but shining a light on myths, speaking truthfully and dividing the word of God will lead you to walking towards the beauty and purpose that of singleness and marriage. It is time to end your frustration and reposition yourself to receive the fullness of God regarding your marital experience. Nothing is off the table as we reach towards heaven for our healing and fight to obtain the promise of God not on our own but with an army of women of faith like you.
The hope of the enemy is that you will walk this journey in isolation so that he can magnify your pain and make victory seem like an illusion but God is sending you an army of women (sisters), to walk this walk together with you, birthing hope, healing and a turnaround . God has you in mind and your testimony is waiting for you.
See you at RAW
Singleness- Friday| May 7th 2021| 8:00pm GMT
Marriage - Saturday| May 8th 2021 |12noon GMT
The link for entry will be sent to all ticket holders please look out for this email and check you spam/junk mail.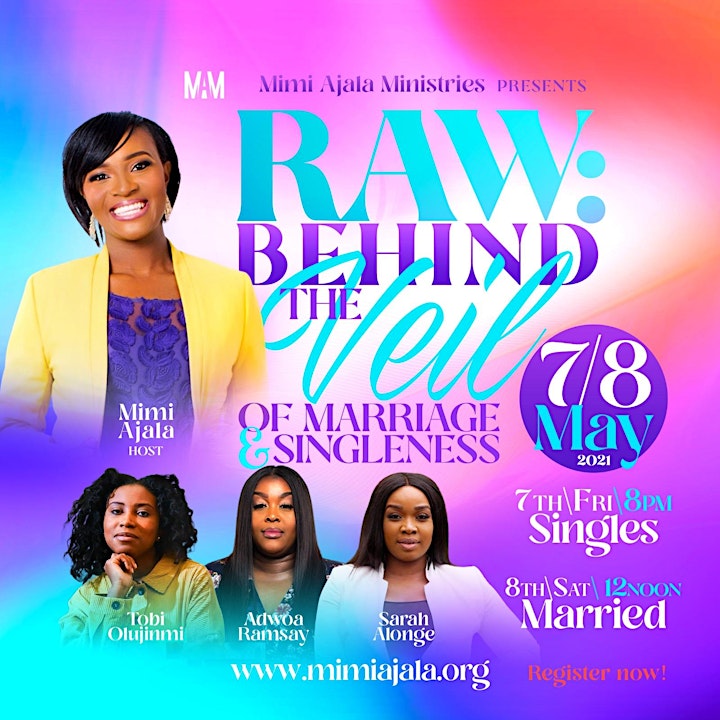 Date and time
Location
Refund policy