Description
TICKETS STILL AVAILABLE ON THE GATE IN CASH



DAY TICKETS £30 on the gate (£25 con) Under 16 FREE
Friday 27th 9am-11pm
Saturday 28th 9am-11pm
Sunday 29th 9am-7pm
CAMPING
Weekend Camping £120 on the gate (£70 con) Thursday to Sunday
Saturday & Sunday Day & Camp Saturday Night £80 on the gate (£60 con)Under 16 FREE
Campervan/Caravan Pass £40 (if there is space)
SEE WEBSITE FOR FULL TIME TABLE AND ALL INFO www.rawfestuk.net

Join us for another wonderful weekend being in nature while enjoying amazing raw and vegan food, wild plant foraging, expert talks, healing workshops, yoga, dance and live music.
For anyone interested in healthy, natural living and wants inspiration and to meet many other like minded people.
ALL

the Talks, Demos, Foraging Walks, Yoga, Workshops, Music & Kids Activities are

FREE
All you need to buy is food (you are welcome to also bring your own), Massages/Healing/Readings and there will also be stalls selling jewellery and other trinkets. Bring cash but a few stall can now take cards. Online tickets are only available until 19th July, then it will be only cash tickets on the gate.
Come and Experience a weekend of:
Raw, Vegan & Organic Food



Wild Food Foraging Walks
Raw Chocolate, Exotic Fruit & Herbal Elixirs
Freshly Made Food, Juices & Smoothies
Expert Talks in Health, Nutrition & Healin
Raw Food Recipe Demos
Yoga, Dance, Ecstatic Dance & Qi Gong
Meditation, Healing & Sound Workshops
Massage, Natural Therapies & Readings
Live Music, DJs & Campfire Every Night
Kids own Area & Activities

, Kids come FREE
Dogs Welcome
No Alcohol, Smoking, Drugs or Junk Food!
(there is a smoking area)



Our ethos is raw, vegan, green, sustainable and family friendly.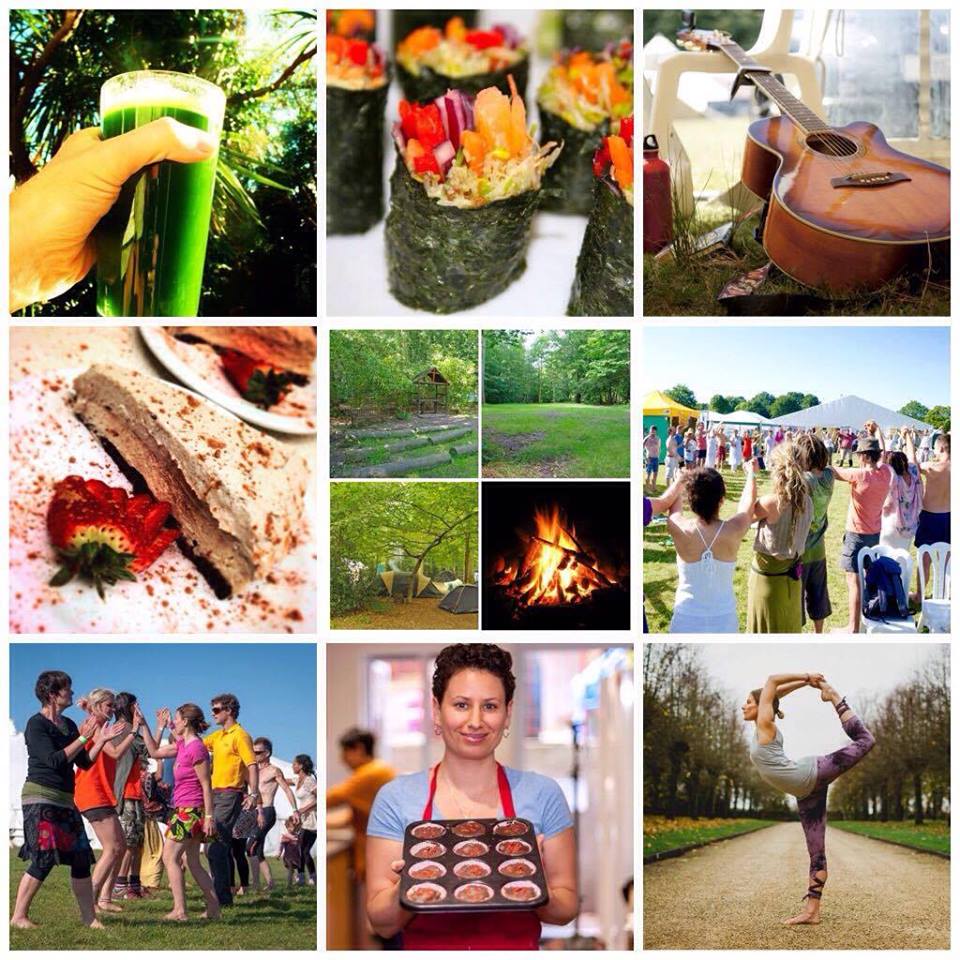 Information
You do NOT need to print out your ticket, your name and email you used will be at the gate when you arrive if you bought it online. You will then get a wrist band so you can come and go as you please. There is FREE alkaline water to drink, so just bring reusable bottles to fill up. There is a strict no smoking, not drugs and no alcohol at this festival. If you smoke please use the special smoking area or you will be asked to leave the site.
Campers: You can arrive from 5pm on Thursday 26th you can arrive other days but the gates will be closed from 11pm each night and open from 8am each morning. See our camping for more information CAMPING PAGE
Day Tickets: You can come in from 9am Friday 27th (there may be someone in the gate earlier if you are an early riser!) the main activities start from 9.30am each day. You will get a wrist band for that day, if you booked to come in on more than 1 day you will be given all the wrist bands you need. You can stay until 11pm, all the music and activities end at 10.30pm.
​
Day Ticket Times:
Friday 27th 9am -11pm
Saturday 28th 9am-11pm
Sunday 29th 9am -7pm