TWO live Raw Food Workshops - on 3rd December 2020 & 28th January 2022. Workshop #1 Raw Food Noel and #2 Detox with Raw Food
About this event
WORKSHOP #1 Raw Food Noel on Friday 3rd December 2021
Anita aka Sistahintheraw will demonstrate how to make healthy raw vegan mince pies, with baobab cashew cream and a spicy Jamaican sorrel drink. All of which you'll be tasting on the day.
My raw mince pies have been featured on Channel 4s Christmas Come Dine With Me Special (2012) and went down a treat. 💚
WORKSHOP #1 Detox with Raw Food on Friday 28th January 2022
Many of us feel the affects of Christmas indulgence well into the new year. In this workshop, Anita will show you how to make simple and delicious raw food dishes that wont add pounds to your wasitline or over-burden your your digestive system.
You can also get a free copy of my one day juicing guide when you sign up at www.sistahintheraw.com Great for kicking off the New Year and for general health.
GENERAL
Both workshops can be booked together now (to receive a discount), or individually.
Raw vegan cuisine is created from natural ingredients, using various techniques that does not 'cook' by using heat which can often reduce the health benefits of the various nutrients and enzymes that are already present. The aim is to produce nutrient-rich cuisine that nourishes your body at a cellular level. This is not a diet, it is a complete wholistic lifestyle that creates better balance, health and longevity when practised correctly.
However, in these fun demo workshops which last for approx two hours: 11am - 1pm, you'll be able ask Anita losts of questions. You will receive the recipes, a goodie bag and you get to taste the recipe too!
ALLERGEN NOTE
These recipes are gluten free. Nuts are used in these recipes.
ABOUT YOUR GUIDE
Anita has been teaching and coaching about the raw food lifesyle of fifteen years. She is passionate about the health and wellbeing which can be obtained from following a wholistic raw vegan lifestyle, which she loves to share with others. So she teaches, works as a privte chef and loves to collaborate with other great foodies.
She was trained as a Health Educator at The Hippocrates Insititute in Floria, graduated in Culinary Arts Science and Business Managament at Westminster Kingsway College (London), Live Food Chef at the Sunfired Instutute, Panama. She holds certification in Vegan Nutrition, Living on Live Food Instruction, Food Hygiene, Understanding Nutrition and Health, and as a Healthy Eating tutor.
In addition, Anita is an ordained Interfaith Minister and qualified Spiritual Cpunsellor and meditation Teacher.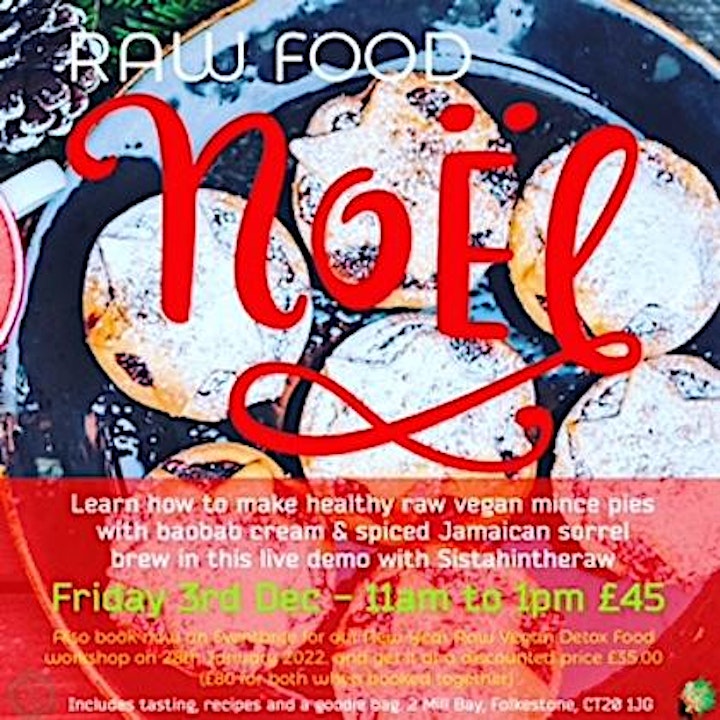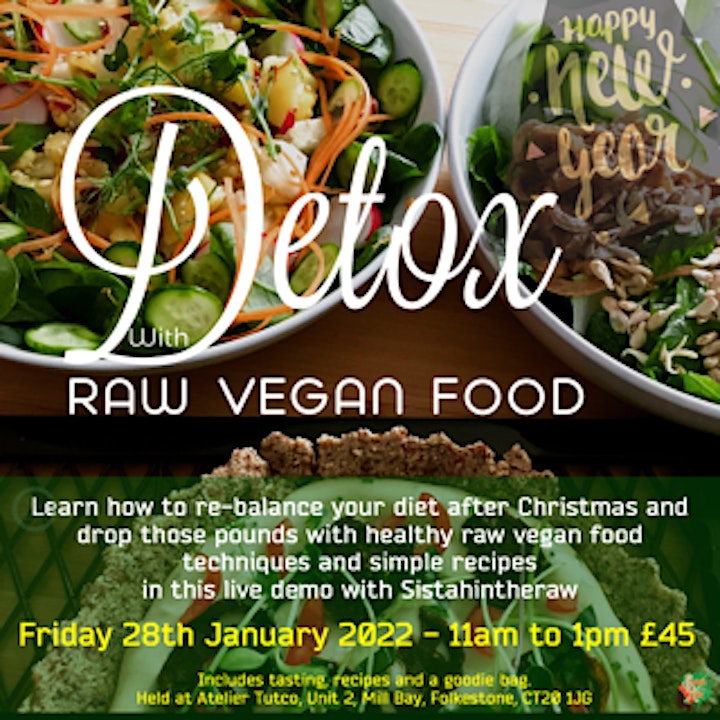 Organiser of Raw Food Noel
Sistahintheraw - an Integrative Holistic Health Consultant
Rev. Anita McKenzie is Sistahintheraw. She is an holistic health Lifestyle Consultant and an Interfaith Minister. She presents a uniquely integrated and experiential exploration process for her clients, holistically guided by her life experience and training.