About this Event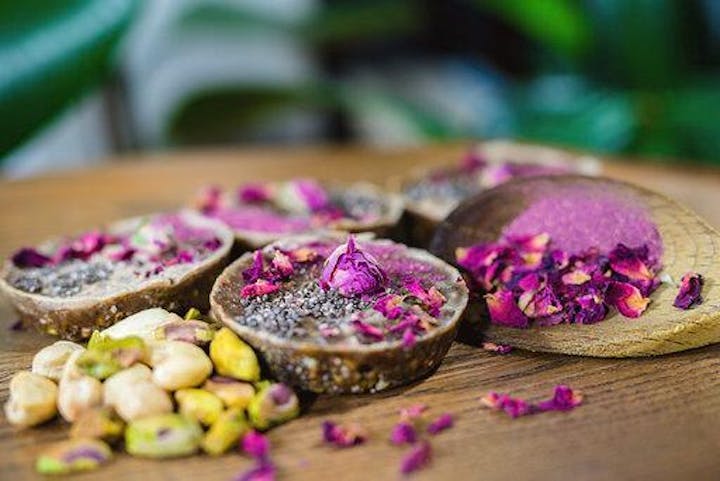 Why join us?
Be nourished and healed with delicious vegan meals and daily workshops
Learn how to make your own delicious raw energy snacks
Celebrate your body with detoxing and healing yoga and meditation classes
Connect to nature and yourself
Join Jason and Danielle as they join together to create a Rawsome Yoga Retreat in Rural France. Rawsome is a London based company specialising in raw vegan food which is delicious, nutritious and full of whole food plant-powered ingredients.
This retreat will not only include yoga and meditation, it will offer you the chance to learn how to create variety in your kitchen through plant-based seasonal, wholesome, healthy vegan cooking, principles of integrative nutrition, and clean eating.
Rejuvenate and restore yourself with this cleansing retreat designed to increase your understanding on nutrition and connect you to yourself to create life lone positive habits which will transform your life.
In the depths of the valley in rural France, surrounded by lush forests and energizing rivers you are in the perfect location to relight, heal and re-energise.
What makes our retreat so special?
Our retreat is located in a beautifully rural location in Limousin, France. This retreat was created from a family dream to create a safe and energising space for people to explore the area and themselves.
The abundance of nature and beautiful scenery is a wonderful setting to help you de-stress, become a conscious observer of your mind & ignite the desire within you in a non-attached way.
The team is passionate about supporting the development and transformation of people's lives and have given everything to allow their vision to materialise.
• Daily yoga practice
• Daily meditation sessions
• Experience 2 vegan workshops
• Introduction to yoga philosophy and health coaching
• Daily healthy vegan meals
• 3 nights accommodation
Description
Enjoy a long weekend trip away to the beautiful region of Limousin, an area of stunning natural beauty, clean country air, and energising waters.
You will enjoy locally sourced and nutritious meals lovingly prepared by Jason. The dishes that can be enjoyed by all, you will also learn how to combine ingredients to create a plate of goodness that you can be grateful for. There will be no diets, no fads, nothing fancy, and nothing fake. Simply home cooking that is plant-based, fresh, healthy.
You'll start each day with the sunrise yoga session, breakfast, and *daily cooking demonstrations and presentations that will surprise and inform you on how to form good habits and how to create a healthy home menu for yourself and the whole family.
*Daily cooking demonstrations: one meal and one snack included in weekend retreat
Meals
All our vegan meals come from locally sourced or home grown produce. We prepare all of our meal mindfully and will cater for dietary needs on request
Location
Santé Yoga creates personalised Yoga & Fitness Retreats, providing you with a truly unique experience. We respect that everyone is on their own individual journey. Therefore, we strive to provide specifically tailored retreats to help you along you're path of self-discovery.
Santé Yoga's team are here to serve you. Whether you're a complete beginner or an experienced practitioner, we are here to help guide you towards the best version of yourself.
Moulin de Chamont is a romantic 1800's French Workers Mill House nestled in the idyllic National Park of Limousin. The meditative sound of the crystal clear river, La Combade and an array of colourful local birds sets the scene perfectly. We have the ideal retreat environment to relax your mind and offer space to rediscover your own rhythm. This will empower you to unlock the hidden potential within.
• FREE airport pickup and drop-off...because we want to meet you as soon as possible
• 4 x days, 3 x nights in beautiful and rural accommodation in France
• All Retreat content
• Delicious, nutritious meals prepared by Jason- all locally sourced or grown on our land
• Smaller groups that will help you synthesize the deep transformations that occur during retreats
• Sunrise yoga with a mountain top view
Day 1: Arrival day
• 16:00 Arrival and warm welcomes, welcome juice, and tour
• 18:00 Evening yoga and meditation practice
• 19:30 Dinner
• 21:00 Meditation
Day 2 - 3: Full retreat days
• 07:00 Wake up
• 07:30 Morning yoga and meditation practice
• 09:00 Breakfast and juice
• 10:30 Free time and therapies (extra)
• 13:00 Lunch
• 14:30 Rawsome Workshop
• 18.00 Evening Restorative or Yin yoga session
• 19:30 Dinner
• 21:00 Meditation
Day 4: Departure day
• 07:00 Wake up
• 07:30 Morning yoga and meditation practice
• 09:30 Breakfast and juice
• 13:00 Closing circle and departure
Cancellation Policy
A reservation requires a deposit of 25% of the total price.
The deposit is fully refundable if the booking is cancelled up to 30 days before the arrival date.
The rest of the payment should be paid 14 days before arrival.