REGINA MONOLOGUES BY RAY EVANS - PLUS MYSTERY GUEST!!
About this event
REGINA MONOLOGUES by RAY EVANS
SYNOPSIS
After falling madly in love with Queen Elizabeth during a visit to Robert Dudley's pile in Kenilworth in 1575, she forty-two-years old, he just eleven years old. We fast forward to 1604, eavesdrop on their reunion at Greenwich Palace. The Queen now sixty-two, is fascinated by this successful playwright, who brings her all the scandal doing the rounds in London, a respite in her tedious life, banned from trips outside her palaces, for fear of her life. Learn how he featured her in his comedy The Midsummer Night's Dream, along with other hitherto undisclosed and hilarious contemporary gossip!
Players: Ray Evans plus a mystery guest actress, the play in two parts, interval 15 minutes, curtain up 7.00pm, curtain down, 9.30 pm.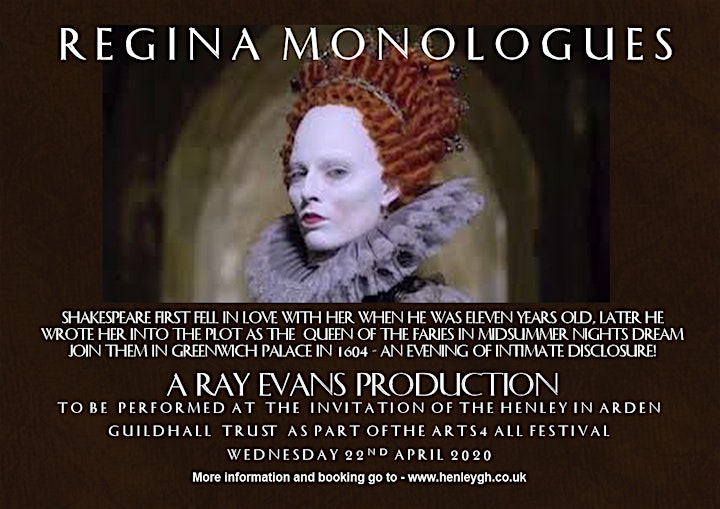 Organiser of RAY EVANS - REGINA MONOLOGUES - UNRESERVED SEATING
(REGISTERED CHARITY NUMBER 1185264)
We are an independent, not-for-profit charity committed to enriching the cultural life of Henley-in-Arden and further afield and bring this event to you in association with Henley Arts4All.
www.HenleyArts4All.Co.Uk
All your support for the Trust - from ticket sale profit, donations and membership fees to room hire and refreshment sale profit helps to fund the Guild Hall Trust. This includes our own programme of indoor and outdoor live performance, community events, historical enactments and learning opportunities as well as taking care of the Guild Hall buildings and gardens so that they can be enjoyed today and for generations to come.