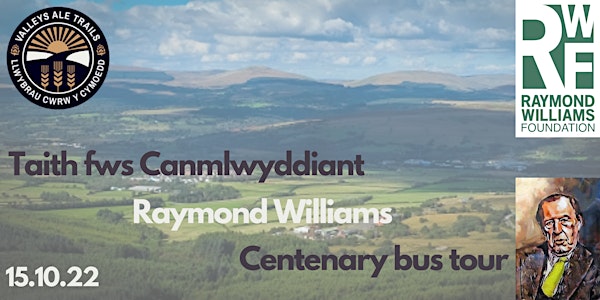 Raymond Williams - Centenary bus tour | Taith fws canmlwyddiant
Location
starting in Abergavenny | dechrau yn Y Fenni
Pandy
Abergavenny
NP7
United Kingdom
Refund policy
Refunds up to 7 days before event
A uniquely immersive experience – in the company of guest speakers - visiting locations related to the life and works of Raymond Williams
About this event
Introduction
In the centenary year of his birth the Raymond Williams Centenary bus tour will offer people with a new or growing interest in Williams a uniquely immersive experience – in the company of guest speakers and prominent writers – of biographical locations in south east Wales.
Format
The tour will start in Abergavenny and end in Cardiff at St Fagans Museum of Welsh History and transport will be provided. In between it will visit Williams' birthplace Pandy and the crucible of industrial Wales, Merthyr Tydfil, stopping off at each.
Lunch will be provided.
The tone of the tour will be accessible, informal and non-academic geared towards those with a new or growing interest in Raymond Williams.
Reduced price tickets are available for:
students
unwaged and recipients of Universal Credit
aged 16-18 years
The tour will call at Cardiff Central and Abergavenny train stations at the end of the day for people to catch homebound trains.
Sponsorship
Opportunities are available for organisations in all sectors to sponsor the tour and help mark the Centenary of a special Welshman, the resurgent interest in whom offers much hope and inspiration in our attempts to grapple with the challenges of our time.
More details here.
Contact Valleys Ale Trails on 07749 279481 or post@valleysaletrails.wales to discuss further.
Speakers
Speakers from the world of literature, media and politics will discuss in an accessible and non-academic way how Williams' teachings and influence have shaped their work, and will invite those on the tour to consider Williams' teachings in the context of their own lives: their work and workplaces, cultural activity, community organising, and politics.
Writer, Guardian columnist and broadcaster Jude Rogers
Writer and teacher Darren Chetty
Former Plaid Cymru leader Leanne Wood
Writer, independent academic, trade unionist and contributing editor of The Welsh Agenda Merlin Gable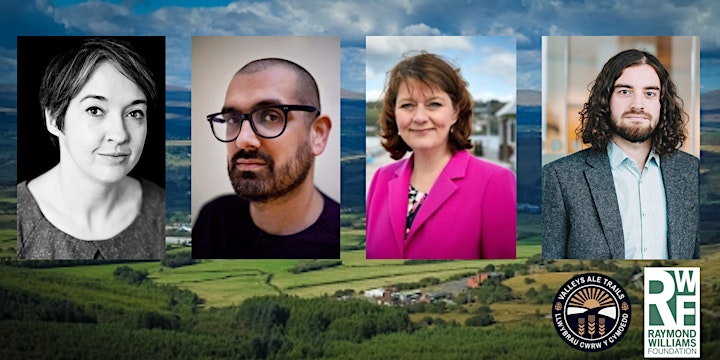 Cost
Tickets are available at a special early bird offer strictly until the end of August 2022, after which they will be only available at full price. Discounts are available for students, those aged 16-18, unwaged, and Universal Credit recipients.
Prices
Early bird full price £19.50
Tickets are available at a special early bird offer strictly until the end of August 2022, after which they will be only available at the full price of £33
Full-time students/unwaged/UC/aged 16-18 £9.50
These prices are fixed for the duration tickets are available but are limited in number. Proof of status will be required when joining the tour on the day.
Pay-it-forward option
We have a limited number of free tickets available for those who cannot afford to pay. The pay-it-forward option is for those who would like to make a voluntary contribution (whether they buy a ticket or not) that helps cover in full or in part the costs of additional free places .
____________________________________
In addition, everyone who signs up for the Exploring Raymond Williams Country tour will receive a complimentary copy of Red Pepper, the quarterly socialist magazine and website of left politics and culture, that draws on feminist, green and anti-racist politics. Other offers are still being negotiated.
More about the speakers
Writer, The Guardian columnist and broadcaster Jude Rogers:
"While Border Country is a book deeply rooted in a sense of place, it is also a book about movement away from one's roots, as well as the effects of those roots when a person returns. I left my childhood home in Swansea to study Culture and Society at university in England before returning to Wales, and invite you to explore ideas of social mobility in Raymond Williams' work, and how themes of travel illuminated that experience for him, as they still do for readers today."
Jude has written before about the psycho-geography of Williams' Border Country for Visit Wales: https://www.visitwales.com/things-do/culture/cultural-activities/border-country-literary-itinerary
Writer and teacher Darren Chetty:
"In his 1975 essay 'Welsh Culture', Raymond Williams begins with these words, "When we hear the word 'culture', some of us reach for our fancy dress." Williams' observation that Welsh culture is often something performed rather than observed in the day-to-day, leads him to ask 'Where is it now, this Wales? Where is the real identity, the real culture?'.
These questions are taken up in different ways in Welsh (Plural): Essays on The Future of Wales, the 2022 book I co-edited. Our central question 'Can you imagine Welshness as both distinct and inclusive?' is one that Williams himself appears to be wrestling with. He warns of the dangers of constructing identity out of myths and illusions – of the Welsh race, the Celts – and of notions of purity that are when we think of a Welsh Volk. St Fagans National Museum of History , then St Fagans Folk museum, is described by Williams as 'a lovely place'. He asks us to consider what is, and what should be selected for inclusion in museum – for this speaks to our understanding of Welsh culture and indeed Welshness itself. It is fitting that I'll speaking about these issues at this site."
Former Plaid Cymru leader Leanne Wood:
"Raymond Williams looks down onto Merthyr Tydfil from Dowlais Top, bows his head in memory, remembering the Merthyr Rising, then he raises it again. What does it mean to raise our heads again in 2022? How do we take the best traditions of our past with us, without becoming nostalgic? Which strains of Welsh political radicalism should inform our future actions?
In response to a question about political alliances between the left in urban and post industrial areas, Williams said "you can't make much of an alliance out of negatives, the only real basis of alliances is agreement on positive proposals for transcending the negatives."
Former leader of Plaid Cymru and valleys socialist Leanne Wood travels from the Rhondda to Merthyr's Redhouse, where Keir Hardie first spoke to the electorate in 1900, to consider what we can learn for today from Raymond's writings and interviews to unite and align the green, minority nationalist and socialist forces in the way that he imagined. What could a new socialism look like? Is the May Day Manifesto a good model for building alliances of positives?"
Writer and contributing editor of The Welsh Agenda Merlin Gable:
"Behind the home of Raymond Williams's birth in Pandy is something that betrays a different kind of birth - that of a new, very different social and economic formation as the early stages of the industrial revolution changed south Wales forever. It is a small scrap of tramroad, once running from the canal to the west to Hereford to the east, whose path was swallowed up by the 'old' road through Pandy, as the modern railway line made the tramroad defunct.
This road, of course, has now itself been swallowed up by the modern A465 which bisects the village. Excavating these ghosts, I will take us through an imaginative journey - in Williams's prose and in the landscape around us - to think about how Williams's border country may have been more complicated, and less pastoral, than we tend to assume."
Merlin has written previously on the links between land and identity and the myths that intertwine them: https://www.iwa.wales/agenda/2022/03/what-myths-will-carry-us-forward/.
Background
In the centenary year since last August, a special programme of activities has celebrated Raymond Williams' life, work, and influence; and has aimed to reintroduce some of Williams' key ideas to contemporary public spaces and fora.
The Raymond Williams Centenary bus tour draws this programme to a close and it is aimed primarily at those people with a growing enthusiasm for and curiosity in Williams, in particular people involved in/with:
adult education
community organising and activism
trade unionism
arts and cultural activity
further and higher education; or,
merely lovers of literature
The tour is in partnership with the Raymond Williams Foundation whose mission is to help continue what Williams termed the 'Long Revolution' (also the title of Williams' seminal 1961 book) towards 'an educated and participating democracy' through supporting self-organised adult education and collective community-based learning.
The Raymond Williams Centenary bus tour is supported by Red Pepper , a quarterly magazine and website of left politics and culture. Each edition carries a feature called 'Keywords' inspired by Raymond Williams.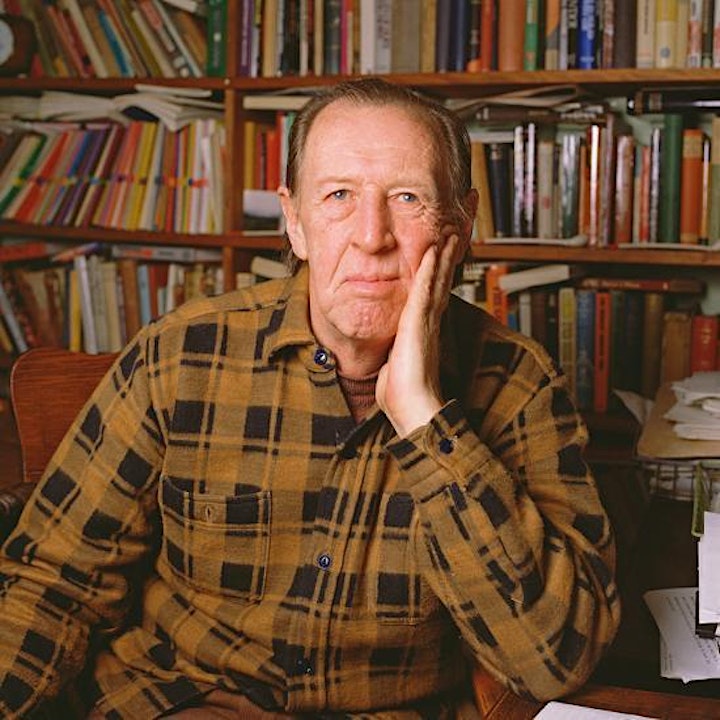 By joining the tour you agree to be added to the Valleys Ale Trails mailing list to receive details of future events. You will be able to remove yourself from this at a later date. We promise not to share your details with any third party.