Description
(Please scroll down for English)

Cynhadledd RCE Cymru yn y gogledd
Ar Fedi'r 6ed yn Neuadd Reichel, Prifysgol Bangor bydd cyfle i bobl y gogledd glywed mwy am RCE Cymru ac yn cael gwahoddiad i ddod at ei gilydd i greu cylchoedd o ddiddordeb perthnasol yn lleol.
Bwriad yr RCE yw rhoi cyhoeddusrwydd i bethau sy'n digwydd yn barod a dod a rhoi cyfle i bobl greu grŵpiau o gwmpas pynciau newydd os dymunant ac i roi llwyfan cenedlaethol a rhyngwladol i'r grŵpiau hynny.
Dyma'r cylchoedd diddordeb sy'n bodoli'n barod:
Yr economi gylchol
Prifysgolion a Cholegau Iach
Adfywio
Addysgu a Dysgu
Mae cyfathrebu yn thema drawsbynciol
Mae cylchoedd eraill ar y gweill:
Addysgu ar gyfer system fwyd well
Prescripsiynu Cymdeithasol
Iaith a Diwylliant
Seinfyrddau ar gyfer y Byrddau Gwasanaethau Cyhoeddus
Mae sgôp ar gyfer dod â grwpiau ynni cymunedol i'r gorlan a bwlch anferth o ran arloesi a mentergarwch os oes diddordeb gan unrhyw un.
Mae'r rheolau'n syml.
Rydym yma i helpu nid bod yn y ffordd, cydweithio nid cystadlu, cynnwys nid eithrio ac yn bwysicach na dim gwneud gwaith bob dydd pawb yn haws nid creu mwy o waith.
Rhaglen ddrafft
11.45 – 12.30 Cofrestru a chinio
12.30 – 12.50 Croeso a chyflwyniad: Dr. Einir Young, Cyfarwyddwr Cynaliadwyedd, Prifysgol Bangor
12.50 – 14.10 Trosolwg o'r cylchoedd diddordeb

14.10 – 14:40 Creu RCE Cymru sy'n gweithio i ni
14:40 – 15:20 Canolbwyntio ar y cylchoedd diddordeb
15.20 – 15.50 Blaenoriaethau ac ymrwymiadau wedi adnabod gan y cylchoedd diddordeb.
Edrych ymlaen at gynhadledd RCE Cymru yng Nghaerdydd ar y 7fed o Dachwedd.
15.50 – 16.00 Sylwadau cloi
16.00 – 16.30 Rhwydweithio
...................................................................................................................................................................
RCE Cymru's conference in the north
On 6th September in Neuadd Reichel, Bangor University people from the north will be introduced to RCE Cymru and invited to join forces to create circles of interest with a local flavour.
RCE Cymru's aim is to provide publicity to existing groups and encourage people to create new groups of interest around new topics, if they so wish and to give those groups a Welsh and international platform.
These circles of interest are already being formed:
The circular economy
Healthy Universities and Colleges
Regeneration
Teaching and Learning
Communication is a cross-cutting theme.
Other circles are brewing:
Education for a better food system
Social Prescribing
Language and Culture
Sounding boards for the Public Service Boards
There is scope for community energy groups to join if they so wish and there's gaping hole labelled 'innovation and enterprise' if anyone is interested.
The rules of engagement are as follows:
We are here to help not hinder, to collaborate not compete, to involve not exclude and more importantly to enhance the day job not create more work.
Draft programme
11.45 – 12.30 Registration and lunch
12.30 – 12.50 Welcome & Introduction: Dr. Einir Young, Director of Sustainability, Bangor University
12.50 – 14.10 Overview of the circles of interest

14.10 – 14:40 Creating an RCE Cymru that will work for us
14:40 – 15:20 Focus on circles of interest

15.20 – 15.50 Priorities and commitments identified by circles of interest.
Looking forward to RCE Cymru conference in Cardiff on 7th of November.
15.50 – 16.00 Closing remarks
16.00 – 16.30 Networking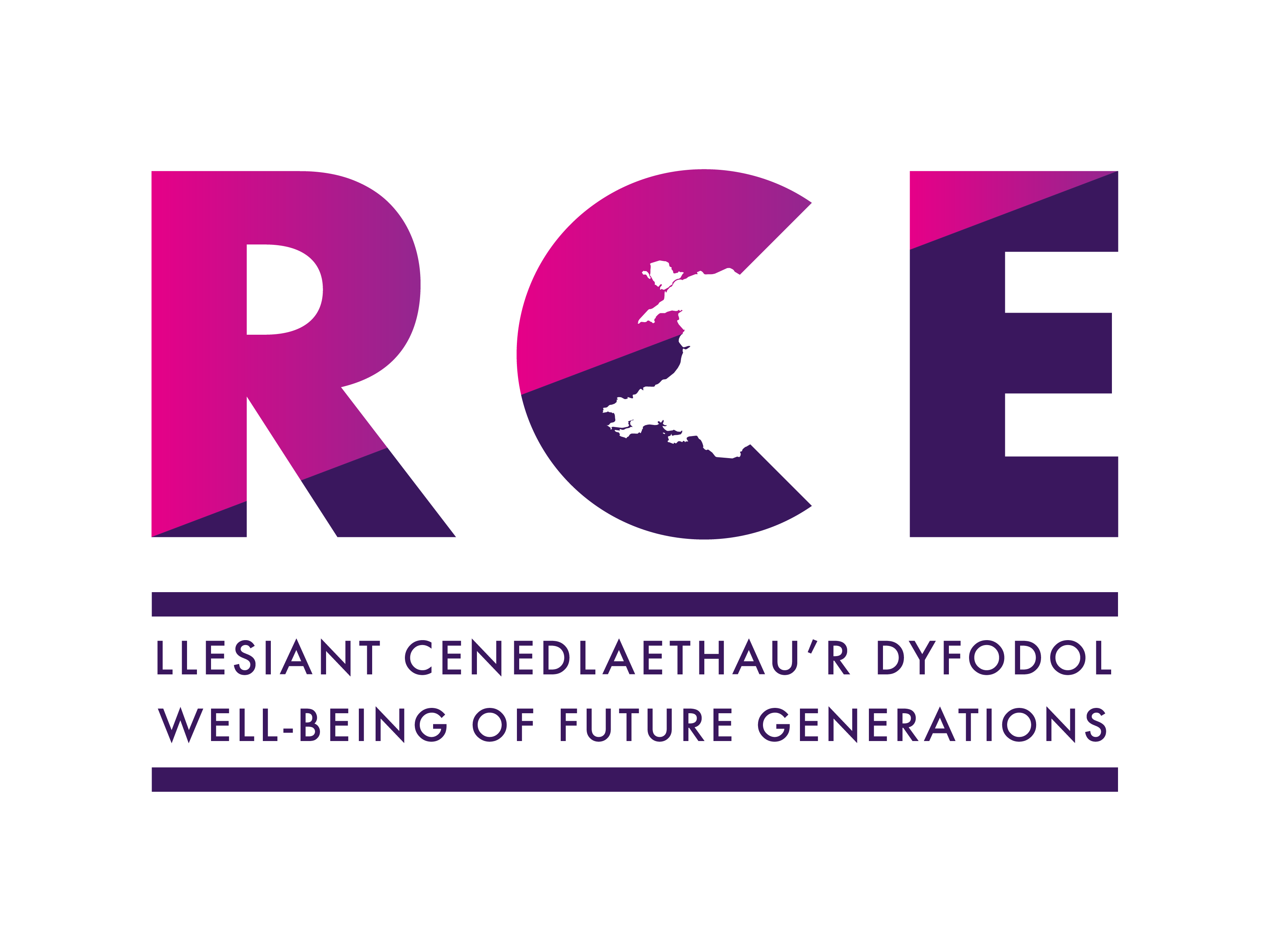 (Please scroll down for English)
Y Lab Cynaliadwyedd yw canolbwynt proffil uchel cynaliadwyedd Prifysgol Bangor. Mae'n rhan o Wasanaethau Corfforaethol y Brifysgol ochr yn ochr â'r timau Cynllunio, Llywodraethu ac Adnoddau Dynol, sy'n adlewyrchu pwysigrwydd cynaliadwyedd o ran cynllunio strategol, busnes, materion cydymffurfio, datblygu polisi, gweithrediad a phartneriaethau. Mae'r Cyfarwyddwr Cynaliadwyedd yn adrodd i'r Cyfarwyddwr Gwasanaethau Corfforaethol sydd hefyd yn dal swydd Ysgrifennydd y Brifysgol. Y Lab Cynaliadwyedd sy'n gyfrifol am gyd-lynu Tîm Perfformiad Amgylcheddol y Campws.
Mae'r Lab Cynaliadwyedd yn anelu at:
Fabwysiadu a hyrwyddo'r pum ffordd o weithio er mwyn cyflawni nodau llesiant Cymru a Nodau Datblygu Cynaliadwy y Cenhedloedd Unedig
Sicrhau'r safonau perfformiad amgylcheddol uchaf (cynnal ein achrediad ISO14001)
Gyfrannu at gwricwlwm sy'n adlewyrchu ymroddiad y Brifysgol i ddatblygu cynaliadwy a dinasyddiaeth fyd-eang
Hyrwyddo cynaliadwyedd mewn gweithgareddau ymchwil, busnes a menter
Hyrwyddo ethos o 'Gymraeg i bawb' a normaleiddio'r profiad o fyw mewn amgylchedd amlieithog
Hyrwyddo adrodd integredig er mwyn cyfathrebu llwyddiant
Cyd-weithio gyda Phrifysgolion eraill Cymru i wireddu RCE-Cymru
---
The Sustainability Lab is a high-profile focal point, leading on sustainability within Bangor University.  It is part of Corporate Services alongside Planning, Governance and HR, reflecting the importance of sustainability in terms of strategic planning, business intelligence, compliance issues, policy development, operations and partnerships. The Director of Sustainability reports to the Director of Corporate Services who also holds the role of University Secretary. The Campus Environmental Performance Team is co-ordinated by The Sustainability Lab.
The Sustainability Lab aims to:
Embrace and promote the five ways of working to achieve Wales' well-being goals and the UN Sustainable Development Goals
Ensure the highest standards of environmental performance (maintaining our ISO14001 accreditation)
Contribute to a curriculum that reflects the University's commitment to sustainable development and global citizenship
Promote sustainability in research, business and enterprise activities
Promote an ethos of 'Welsh is for everyone' and normalising experience of living in a multi-lingual environment
Promote integrated reporting to communicate success
Collaborate with the other Universities in Wales to make RCE-Cymru a reality