Explore the Royal College of Physicians' fascinating museum and current exhibition after hours.
About this event
At our Museum Lates you can explore our fascinating collections, visit our exhibition and hear from our curatorial team.
In light of the current uncertainty around the COVID-19 situation, we are asking those who would like to join this Museum Late on Thursday 3 February 2022 to register in advance. COVID-19 guidance will then determine our ability to run this event, and registered attendees will be informed the week before if the late will run.
As part of our new COVID-19 measures we are also offering two time slots for attending the Museum Late; 5.30pm – 6.45pm and 6.45pm – 8pm. It's important that you arrive during your time slot.
Join a curator introduction
Enjoy a free curator introduction to temporary exhibition RCP Unseen: the history of medicine like you've never seen before. Introductions are available at 6pm and 7pm.
In RCP Unseen we display some of our riches for the very first time. Delve into our collections to discover never-seen-before curiosities, and explore previously hidden stories from the history of medicine and beyond...
Explore our collections
When visiting look out for our:
portraits and silver, which are displayed throughout the building
fascinating Symons collection of artefacts which would have been used by physicians and for self-care in the home
Prujean chest of 17th century surgical instruments
extraordinary set of 17th-century human remains - John Finch's anatomical tables which give a fascinating insight into dissection and discovery in anatomy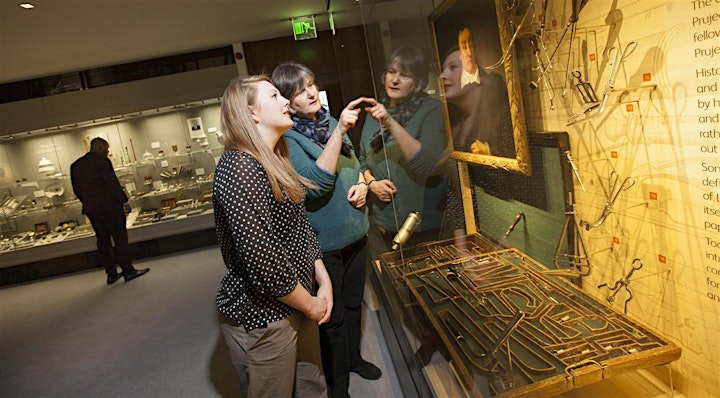 Plan your visit
Admission to our Museum Late is free, please just arrive during your ticket time slot.
Museum Lates will usually run on the first Thursday of the month but check our website for details.
On arrival please sign in at our reception desk where you will be given directions and details of available rooms and exhibitions, and will be given a visitor badge.
If you change your mind about visiting please let us know so we can make tickets available for others to visit. There are two ways to cancel your ticket: 
Follow the instructions via Eventbrite  
Email history@rcp.ac.uk
The Royal College of Physicians (RCP) museum is located at 11 St Andrews Place, Regent's Park, London NW1 4LE.
The RCP aims to be welcoming and accessible to all.
Find out more about our facilities and access
COVID-19 measures
*Masks for staff and guests within our building are mandatory unless you are exempt.*
We are taking some other measures to make your visit safe and enjoyable and ask that you please do what you can too.
We have
Limits on the number of visitors each day.
An NHS Track & Trace QR code where you can check in to our venue at reception.
Hygiene stations located throughout the building.
Thermal scanners to check your temperature at the entrance.
Staff taking lateral flow tests regularly before coming onsite.
We ask that you:
Allow space between you and other people so everyone can feel comfortable.
Stay at home if you have COVID-19 symptoms.
We will be monitoring the COVID-19 situation and if anything changes that would affect our event we will update this information and inform ticket holders straight away.