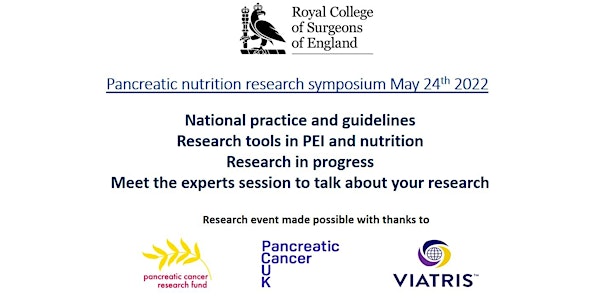 RCS pancreas nutrition research symposium Tuesday 24th May
Location
Royal College of Surgeons of England
38-43 Lincoln's Inn Fields
London
WC2A 3PE
United Kingdom
One day face to face event to discuss UK pancreatic nutrition research
About this event
This event brings together colleagues and friends from across the UK to discuss completed, ongoing and planned pancreatic nutrition research.
Highlights include a session to discuss pertinent research tools (quality of life questionnaires, the C13 breath test for PEI, nutrition assessments and cancer cachexia) in nutrition as well as national guidelines, practice and active research projects.
If you have a research proposal, want advice for a project or advice on a career in research there is an informal session 9-10am PLEASE BOOK ADDITIONAL TICKETS FOR THIS SESSION
Book early to avoid disappointment as places are limited.