Description
You are warmly invited to join us for RCVS Fellowship Day, to be held on Friday, 5 October 2018 from 9.30am in the prestigious surroundings of The Royal Institution in London.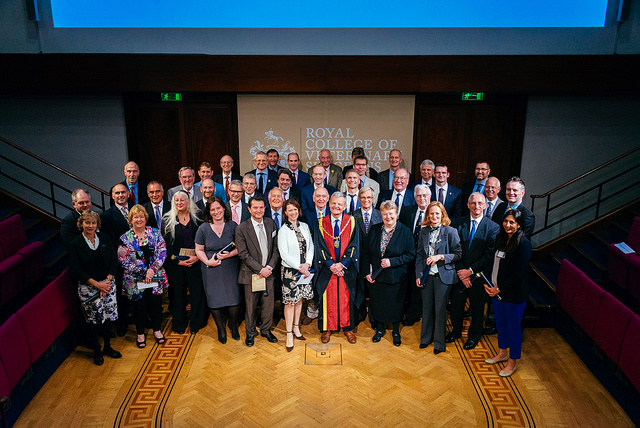 In what promises to be a fascinating and insightful day, we shall be welcoming the third cohort of Fellows to be awarded under the new RCVS Fellowship initiative as well as providing a forum for Fellows to meet and exchange their views and ideas.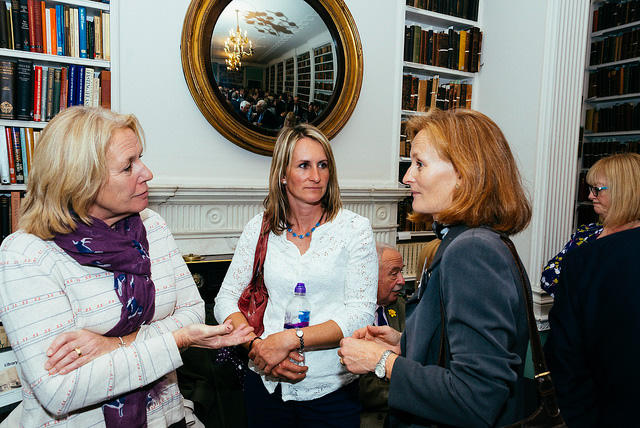 This year we will have two keynote speakers: Christine Middlemiss, the UK's Chief Veterinary Officer, and the physicist, broadcaster and writer Jim Al-Khalili who is also Professor of Public Engagement in Science at the University of Surrey.
---
We are also inviting Fellows to participate in a 'Fellows in Focus' session in which any FRCVS can give a 10-minute talk on an interesting topic of their choice.
If you wish to give a presentation please fill in our online form.

---
Tickets to the event are available on a first-come, first-served basis, and may be reserved by clicking on the green 'Register' button above.
We look forward to seeing you on the day.

09.30 – Registration and refreshments
10.00 – Introduction and welcome – Nick Bacon, Chair, RCVS Fellowship Board
10.10 – Presentation of new RCVS Fellowships – Amanda Boag, RCVS President
10.45 – Guest speaker – Christine Middlemiss, Chief Veterinary Officer
11.15 – Fellows in Focus
12.30 – Lunch
13.30 – Tbc
14.15 – Keynote speaker – Jim Al-Khalili, Author, Broadcaster and Professor of Public Engagement in Science
15.15 – Closing remarks – Nick Bacon
15.30 – Drinks reception
17.00 – Close

Launched in April 2016, the aim of the new Fellowship initiative is to advance and develop clinical and professional standards by providing a resource of independent knowledge for the benefit of the veterinary profession.
The criteria for achieving Fellowship include sustained contribution to scholarship; producing a body of creative work that has been disseminated to others; indisputable advancement of their subject; providing leadership to the profession; and, advancement of the public understanding of the profession.

Christine Middlemiss

Christine Middlemiss is the UK's Chief Veterinary Officer.
She was appointed on 1 March 2018 having been working as the CVO in New South Wales, Australia since July 2016 where she led major improvements to biosecurity across many farming sectors. This work included implementation of new outcome focused, risk based biosecurity legislation; online animal certification processes; improving evidence and risk based disease control approaches.
Prior to moving to Australia, Christine led Defra's Animal Traceability and Public Health policy team, and also previously surveillance including detection and response to new and emerging diseases such as Schmallenberg and Porcine Epidemic Diarrhoea. She is an experienced veterinarian.
Before joining the UK government services in 2008, Christine worked in private practice with specific interest in research, meat processing and livestock genetics for a number of years in Scotland and the north of England prior to joining the Animal Health Agency (now part of Animal and Plant Health Agency) as a Divisional Veterinary Manager in Scotland.
Christine comes from a farming family in the Borders of Scotland, with a background in beef cattle and sheep.
Jim Al-Khalili
Jim Al-Khalili obtained his PhD in theoretical nuclear physics from Surrey in 1989. He spent two years as an SERC Postdoctoral Fellow at University College London before returning to Surrey in 1991. He was appointed lecturer in 1992 and, in 1994, awarded an EPSRC Advanced Research Fellowship for five years following which he reverted to a full time lecturer in the Department at Surrey. He was elected Fellow of the Institute of Physics in 2000 and promoted to Senior Lecturer in 2001. In 2003, he was elected onto the Council of the BA (British Association for the Advancement of Science). He was promoted to professor of physics in 2005. Despite his profile as a public scientist, Jim continues to teach undergraduate physics and carry out research. He has published almost a hundred papers in nuclear physics, quantum mechanics and quantum biology.
Jim is a well-known science communicator, author and broadcaster. He has written eleven popular science books, between them translated into 26 languages. His book on quantum biology, written with Surrey colleague Johnjoe McFadden, Life on the Edge, has been shortlisted for the 2015 Royal Society Winton Prize. He is a regular presenter of TV science documentaries, including the Bafta nominated BBC series, Chemistry: A Volatile History. But he is probably best known as presenter of the weekly BBC Radio 4 programme, The Life Scientific. He is a recipient of the Royal Society Michael Faraday medal, the Institute of Physics Kelvin Medal and the Stephen Hawking Medal. He has honorary doctorates from Royal Holloway, the University of London (2013), University of Bradford (2014), University of Portsmouth (2015), The Open University (2015), the University of York (2017) and the University of Roehampton (2018). He received an OBE in 2007 for 'services to science'.