Sales Have Ended
Ticket sales have ended
Thank you for your booking, please check your EMAIL for the Zoom link to enter the event. Stay safe and look forward to meeting you for a shared creative experience. Movement Art Exchange
Sales Have Ended
Ticket sales have ended
Thank you for your booking, please check your EMAIL for the Zoom link to enter the event. Stay safe and look forward to meeting you for a shared creative experience. Movement Art Exchange
A fun, creative and uplifting movement, art and dance experience, exploring the art of Self-care from the comfort of your own living room.
About this event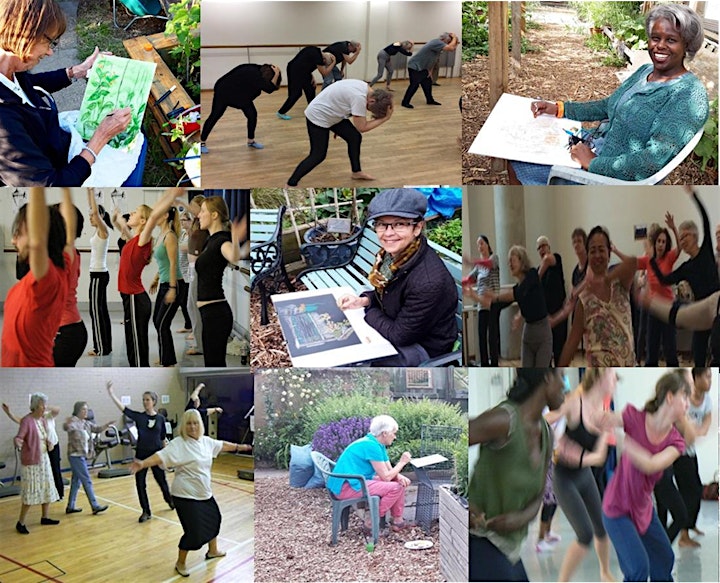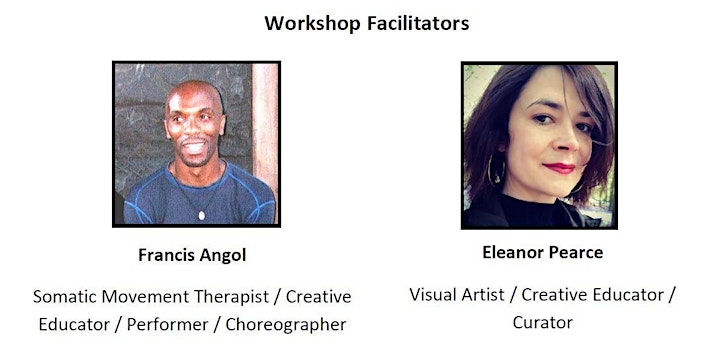 Movement Art Exchange brings to you Re-energise. An exciting health and wellbeing programme brought to you by professional artists Francis Angol and Eleanor Pearce.
Join them to engage mind and body in a fun, creative and uplifting therapeutic movement, art and dance experience for adults from the comfort of your own living room. Using nature as a source of inspiration, Movement Art Exchange will get you moving and interacting again, helping you to get to grips with the 'new normal', to help you reach a place of optimum wellbeing.
PROGRAMME DETAILS:
Programme 1: Sunday 11th July, 11am to 1.30pm ( Day retreat workshop)
Programme 2: Every Monday from 19th July to 9th August, 6.30pm to 8pm (4 weeks course programme)
This is an online programme consisting of a mixture of art and dance activities, taking you through a range of movement, painting and drawing exercises, accompanied by great music that will relax, energise and destress your mind and body.
WHAT YOU WILL EXPERIENCE:
The sessions will allow participants to creatively explore their physicality, based around a chosen theme from nature, allowing them to learn and discover their body's capacity for self-care. In the movement / dance sessions, you will take part in simple, gentle, and uncomplicated movement and dance exercises that will encourage you to engage more freely with your body. Using an engaging collection of great music, you will be able to move freely, access the imagination, energise the body, and relax the mind.
In the art sessions, you will use drawing, painting, and collage techniques to explore the theme of nature and the natural environment. Participants will use the movement experience as a stimulus for the art. As well as working from observation to create representative art, participants will be encouraged to develop their work imaginatively in a tactile and expressive way. Participants will improve their hand/eye coordination and see their drawing and painting skills develop as the sessions progress. The group will work both on individual pieces and collaboratively to create larger scale paintings that bring everybody's efforts together.
The experience will enable all to better engage with their body, and more freely access the imagination to regain a sense of self for a more active and balanced life of freedom and ease.
Our classes offer a friendly, supportive and non-judgemental virtual space for participants to try new things and meet new people, while having fun and learning.
So get your mind and body active, and discover your body's capacity for self-care from the comfort of your own living room!
_______________________________________________________________________________________
SUITABILITY:
The session is structured for a mixed ability class, however if you have any concerns please contact Francis or Eleanor at: movementartexchange@gmail.com / tel: 07944 815654
WHAT YOU WILL NEED:
Please wear clothing that does not restrict your movement and allows you to adapt to changes in your body temperature. Bare feet, anti-grip socks or any other soft foot wear that does not restrict your movement or compromises your health and safety.
3 or more sheets of white paper, we recommend A3 and above to allow you to freely experiment with freedom and ease.
Anything to draw with - charcoal, pencils, pen, soft pastels, oil pastels or whatever you have in your home.
JOINING THE SESSION:
AN EMAIL HAS BEEN SETUP WITH THE ZOOM LINK, THIS WILL ARRIVE IN YOUR INBOX 1 DAY BEFORE, AND AGAIN 1 HOUR BEFORE THE EVENT STARTS. IF YOU CANNOT FIND THE EMAIL, PLEASE CHECK YOUR JUNK FOLDER.
If you need further assistance with anything please EMAIL us directly at movementartexchange@gmail.com
So stay safe and in good spirits, and look forward to meeting you for a creative shared experience on the day.
SESSION FACILITATORS: ______________________________________________________________________________________
ELEANOR PEARCE:
I have 18 years experience of bringing art to the community.Since graduating from Middlesex University with a First Class Honours degree in Fine Art,I have exhibited my drawing, painting and performance art work regularly. In keeping with my commitment to giving the wider community access to art, I have been pleased to accept invitations to exhibit my work in sites of historical interest, such as The Caledonian Park Clocktower, London, Perrot's Folly, Birmingham, and St Pancras Church Crypt, London. Mymost recent solo exhibition Towards Unity(2020) was held The Gate Library, in Newham, London.
As Director of Art at Islington Arts Factory (2006 – 2020) Iled and delivered arts educational programmes for adults and children, andcurated IAF's annual exhibition programme across its two galleries, including regular exhibitions in-house such as Metamorphose, for emerging artists, Summer Salon, the annual large scale open exhibition, the fundraising Art Auction and MakeArt - an exhibition showcasing art by young people aged 4 -18.
Since 2017, I have partnered with Newham Council to bring art educational programmes to the borough. My work at the Gate Library Newham has included teachingadult art classes, an art club for the over 50s, family workshops for Newham Heritage Month, Party in the Park, and the launch event for Bloomin' Forest Gate.To date, I have organised three exhibitions to showcase my student's work within the borough.In August 2020, following the end of the first Covid–19 Lockdown I launched a successfuloutdoor programme of art classes for my students at The Forest Gate Community Garden and The Grove Guesthouse entitled Art in the Garden.
Eleanor Pearce: Approach to Teaching:
As an artist, art teacher and curator I am committed to passing on my skills and opening up a world of creativity for my students. I thrive on the unique dynamic offered by workshop settings, where people come together to learn something new. Art is an innately rewarding activity. Students come to class with nothing, and leave with work they can be proud of. The results are to be found not just in the beautiful art work produced, but also in the improved confidence and self-esteem of students.As well as developing artistic skill and enjoyment, workshops bring people together through their shared interests. The time they spend together is unique. There is a level of empathy and emotional support that develops as people get to know each other. I focus on the innate meditative aspect to making art, where one gets lost in a moment, and all there is will be the artist, the subject and the materials. During these moments worries disappear, giving space for reflection and harmony.
My classes provide drawing, painting and collage activities. Participants will experiment with charcoal, pastel and paint, on a variety of surfaces, learning about colour, expression and mark making to create representative art as well as abstract pieces.
FRANCIS ANGOL:
I have been working in the field of dance for over 30 years. I am a performing artist, choreographer, Lecturer in dance at University of Surrey, Freelance Somatic Movement Educator/Therapist and Community Dance Practitioner. My work has contributed to the enrichment of British dance culture through the production of a range of training programmes, classes, courses and performance works, which I had the pleasure in producing.
Over the span of my career I have performed and taught on a national and international level, working with a range of audiences and individuals of different abilities within further and higher education, and professional practice. I have also worked extensively within community dance as a freelance creative educator. Assistant Director / Choreographer at Badejo Arts dance company (1997 – 2002), and for the last fifteen years as Director of Dance at Islington Arts Factory(2006 – 2020), responsible for the organisation's dance department. I have worked for many years as the resident dance tutor for the over 60's dance and wellbeing programme , in addition to delivering other dance classes and courses at London's City Literary Institute, a position which I still hold additional to teaching.
To further explore and develop my work, I founded Movement Angol Dance, a London based company that works with movement and dance as a basis for creative living, learning and wellbeing. Through the company I developed my own therapeutic movement practice - BodyRhythms. This is a Somatic based movement practice that taps into the regenerative properties of movement and dance to help people raise awareness of their body. Since qualifying as a Somatic movement educator / therapist, I have led a number of workshops and retreat programmes that have actively improved people's health outcomes, and ability to self- actualise for a more fluid engagement with life and their body.
My professional dance and teaching career has allowed me to gain and develop a vast knowledge and understanding of dance. It is with this knowledge that I enable people, by creating opportunities for intercultural exchange and dialogue through movement and dance. My work synthesises cultural traditions with contemporary norms to offer individuals a space for self-actualisation through exploration and expression. I strive to encourage change by influencing the future, through impacting the present with work that is accessible, inclusive and is physical and mentally empowering.
Francis Angol: Approach to Teaching
The approach taken to my work is deeply rooted in the spirituality of the self, a way of life that taps into the unspoken rhythmic dialogue of mind and body, to form a unique cultural synthesis in movement form. The practice is a way of allowing the individual to journey through a widening field of possibilities, allowing self-expression to organically unfold, offering individuals a fresh and creative approach to engaging with their body. My approach awakens the inner self through a dialogue of movement, rhythm, dance, imagery and the imagination. As a performer / choreographer and creative educator, I work to synthesise my accumulated knowledge of dance and the arts, with that of my lived experience, to help individuals bring about clarity, meaning and understanding to their physical and mental body, so that they can reach a place of optimum physical and mental wellbeing.