Re-framing The Moment: legacies of the 1982 Blk Art Group Conference
Event Information
Location
Lecture Theatre, University of Wolverhampton, Millenium Campus (MC) Building
Wulfruna Street
Wolverhampton
WV1 1LY
United Kingdom
Description
TICKETS AVAILABLE AT REGISTRATION.
PLEASE NOTE THAT WE CAN ONLY TAKE CASH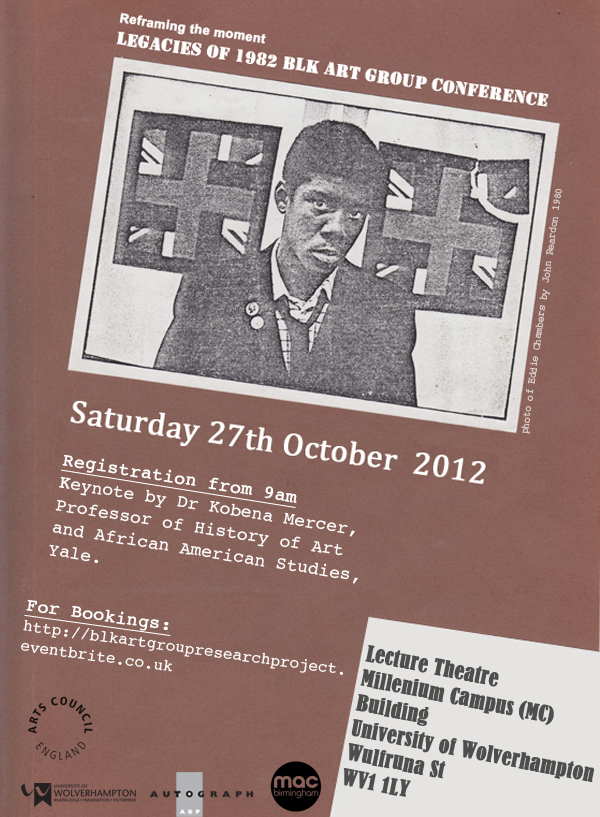 On Thursday 28th October 1982 a group of radical black art students hosted The First National Convention of Black Art at Wolverhampton Polytechnic. Their purpose was to discuss 'the form, function and future of black art'. Thirty years later almost to the day, on Saturday 27th October 2012 a group of artists, curators, art historians and academics will gather, once again in Wolverhampton, to share scholarship and research the 'black art movement' of the 1980s, its core debates, precursors and legacies.
Conference Host: Marlene Smith
Conference Chair: Paul Goodwin

This very full day begins with a keynote lecture by Dr Kobena Mercer, Professor in History of Art and African American Studies, Yale University. Perforations:Mapping the BLK Art Group into a diasporic model of art history by looking at 'translations' of US Black Arts Movement ideas and the prevalence of a cut-and-mix aesthetic.
The day is then divided into four parts:
PART ONE: RAIDING THE ARCHIVE consists of three presentations that use archival documents, video footage and audio recordings to investigate and present ideas about the histories and historiographies of the 'black art movement'.
Papers from Courtney J. Martin, Keith Piper and Anjalie Dalal-Clayton

PART TWO: ARTWORKS is a series of presentations that examine and discuss a single artwork, an artist's body of work or a group of artworks.
Papers from Sonia Boyce, Amna Malik, Rina Arya and Ella S. Mills

PART THREE: REASONINGS where presenters from earlier sessions will join a plenary panel of Conference Respondents: David Dibosa, Lubaina Himid, Roshini Kempadoo and Shaheen Merali, to review the day's themes and discussions.
Mark Sealy, Director of Autograph ABP, curator and conference partner, will end the formal part of the day with some closing remarks and introduce PART FOUR.
PART FOUR: SOCIAL begins with a complimentary bus journey to Birmingham's MAC for a drinks reception and a special viewing of By The Rivers of Birninam, the first major retrospective of work by documentary photographer, Vanley Burke.
There is a conference after-party at a venue to be announced.
TICKETS
Waged: £20 plus booking fee.
Concession: £7 plus booking fee. ID will be required at registration

Contributor: Those wishing to make a donation to the project may choose to pay more then £20 for their ticket.

For a full programme, travel and accommodation information and to join the mailing list for future events,
visit

blkartgroup.info,

email blkartgroupresearchproject@gmail.com

or use the "contact the organiser" button on this page.

This event is brought to you by the BLK Art Group Research Project, in association with Autograph ABP, the University of Wolverhampton and MAC. Supported using public funding by Arts Council England
Date and time
Location
Lecture Theatre, University of Wolverhampton, Millenium Campus (MC) Building
Wulfruna Street
Wolverhampton
WV1 1LY
United Kingdom
Organiser of Re-framing The Moment: legacies of the 1982 Blk Art Group Conference
Blk Art Group Research Project is an unincorporated group. Its members are Claudette Johnson, Keith Piper and Marlene Smith, former members of The BLK Art Group (1979-84).They work alongside other artists, researchers and academics to realise the aims of the project.
Taking a renewed examination of the archives and historical legacies of 'The Blk Art Group' (1979-1984) as it's starting point, this project exists to promote debate, enquiry, scholarship and understanding of what has become known as 'The Black Art Movement ' of the 1980's. The project will bring together a body of work contextualising, documenting and critiquing this movement and the social, cultural and political epoch which gave rise to it.