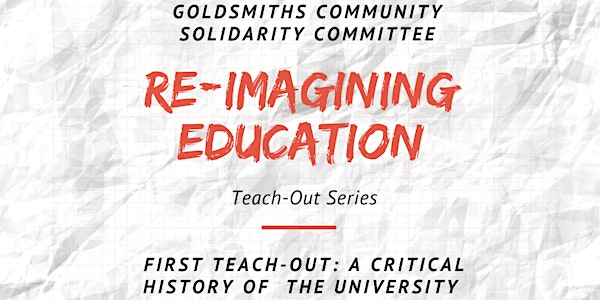 Re-Imagining Education Teach-Out: A Critical History of the University
Re-Imagining Education Teach-Out Series: A Critical History of the University
About this event
Goldsmiths Community Solidarity is an alliance of students, staff, and community members collectively organising in Goldsmiths and in Lewisham, South East London. Our teach-out series aims to foster community-focussed political education that grounds the ongoing fights for our working and learning conditions and archives our struggles. The teach-outs draw inspiration from spaces we create at picket lines and during industrial action. We bring together students, staff, community members to re-think the university and to imagine and realise liberatory, radical, and alternative spaces of education and learning.
In our first teach-out, A Critical History of the University, we will ask - What and who is the University for? We will address numerous topics such as the coloniality and neoliberalisation of the university, whiteness, racism, and ableism in institutions, the role of the university in enabling militarised violence, climate destruction, and settler colonialism, and the worsening working and learning conditions of students and staff. We will focus on the university in a broader sense but also address how these issues manifest at Goldsmiths and how we can fight them together.
The speakers will be a mix of students, staff, and community members from Goldsmiths and Lewisham, South East London. The event is open to all but prioritises those with links to Goldsmiths and Lewisham.
Organiser of Re-Imagining Education Teach-Out: A Critical History of the University