FREE talk by w'air - Re-imagining the Future of Sustainable Fabric Care
About this event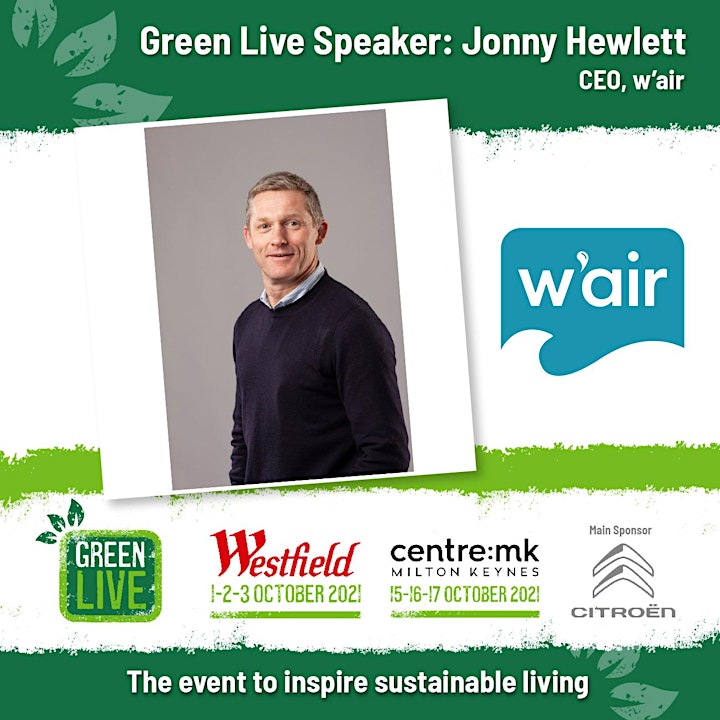 With around 90% of items not actually needing to go in a washing machine and 25% of clothing's carbon footprint coming from the way we care for them, it's time for w'air - the first significant eco-innovation in the laundry category in over a decade. Jonny Hewlett, CEO at w'air sustainable clothing care, talks about the journey leading up to the launch of w'air earlier this year and the potential that devices like this have to disrupt and change the way we think about laundry and fabric care forever.
Organiser of Re-imagining the Future of Sustainable Fabric Care | FREE talk by w'air
A new, live, FREE to visit event, promoting a sustainable lifestyle.
In October 2021, Green Live, with main sponsors Citroën, will host over 80 sustainable brands and speakers, at 2 of the UK's leading shopping centres, Westfield London and centre:mk Milton Keynes.
How we live and what we buy is going to have a decisive impact on the planet. It's time to start buying better, more eco friendly products and services.
We hope this FREE event will inspire you to live your life more sustainably.