About this Event

Join us as we reveal the Reach for the Stars, the Inverclyde Community Awards 2019 winners at our Big Screen Awards Night in the Waterfront Cinema Greenock on Thursday 21 November from 6.15pm.
We will be joined by our 15 finalists, along with their colleagues, family and friends, as well as awards sponsors, judges and local dignitaries, for this entertaining Big Screen Night. We will be in the very good hands of our host for the evening, Gerry McDade, writer, presenter, commentator and hairdresser!
The evening will feature films that showcase the great work of all our finalists – people who give so much to their local community - thanks to Creative Industries students at West College Scotland.
To ensure we get in the mood, there will be tasty treats including popcorn galore, hot dogs and nachos. We will round off the evening with a film treat courtesy of the Waterfront Cinema Greenock ...
Feature Film – a festive comedy romance Last Christmas (PG-13) – is a story by and starring Emma Thompson, with Emilia Clarke and Henry Golding.
Kate is a young woman subscribed to bad decisions. Her last date with disaster? Having accepted to work as Santa's elf for a department store. However, she meets Tom there. Her life takes a new turn. For Kate, it seems too good to be true! Review the trailer at:
Tickets for the night are just £5 per head including a bubbly reception.
Book your tickets by following the 'Tickets' link above and join us for the celebrations this November! More details coming soon.
Dress is smart casual for this Big Screen Awards Night at the flicks!
It's a great big THANK YOU to all our finalists and also to our awards category sponsors – Inverclyde Life, Inverclyde Council, Inverclyde HSCP, River Clyde Homes and the Waterfront Cinema Greenock – and to our Big Screen Awards Night partners, West College Scotland, Volunteer Inverclyde, Riverside Inverclyde and the Inverclyde Community Development Trust.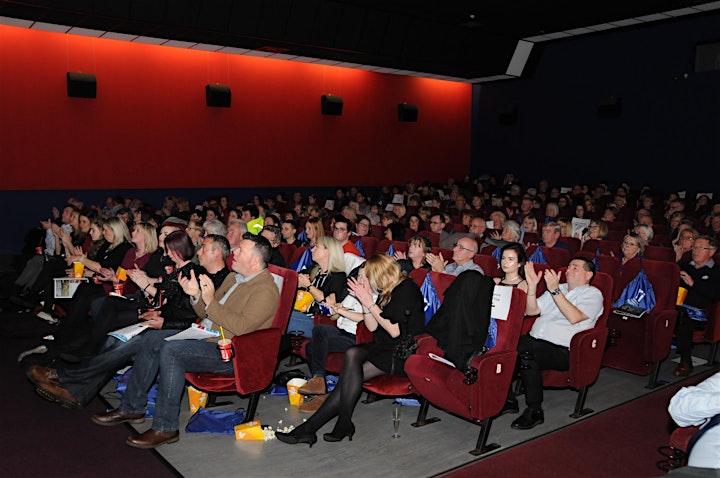 Our host for the evening, Gerry McDade
Gerry is a hairdresser, writer, presenter and commentator based in the west coast of Scotland. He has worked in both television and radio for companies such as BBC Scotland, TALK107, Setanta Sports, Radio Forth and Celtic TV.
As a writer, he has worked with Celtic FC, scriptwriting many Club DVD products and was the author of "Celtic-The Supersonic '70s!", and "The Last Line – My Autobiography – Packie Bonner".
As a presenter, he has hosted many events with a roster of former footballers including Gordon Strachan, John Hartson, Chris Sutton, Lubo Moravcik, Craig Brown, Joe Harper, Jim Craig, Leigh Griffiths, Scott Brown and many more. He has also hosted events for a range of companies, sporting and otherwise, including the NHS and Police Scotland.