Reflections on Peacebuilding from Northern Ireland and South Africa
About this event
An online dialogue event delivered as part of Interfaith Glasgow and St Mungo Museum's Faith to Faith series, in partnership with Cape Town Interfaith Initiative.
The late Archbishop Desmond Tutu said "If you want peace, you don't talk to your friends. You talk to your enemies."
But the work of talking to 'the other side' can be daunting, particularly where trauma is widespread, and injustice persists. When it comes to civil conflict, how do people reach across the 'divide'? And why is it that some attempts at talking are so much more successful than others?
More than twenty years on from the signing of the Good Friday Agreement in Northern Ireland and the transformative Presidency of Nelson Mandela in South Africa, these questions remain vital. The new political processes that brought an end to violent conflict continue to face criticism from communities that are still to a large extent divided. The power-sharing government of Northern Ireland has collapsed twice in the last 5 years and the so called 'peace-lines' (where Catholic and Protestant areas interface) are once again sites of tension and occasional violence. While in South Africa, racial inequality remains stark and many people are increasingly sceptical about the vision of the 'Rainbow Nation' presented by Archbishop Tutu and President Mandela.
Join us to hear from two speakers who bring a deep understanding of how divides can be bridged, and conflicts transformed.
This event is intended to offer a space where people from different backgrounds can share their thoughts respectfully, with the aim of learning from each other. There will be time to meet others for discussion in friendly, facilitated breakout rooms.
We look forward to welcoming you!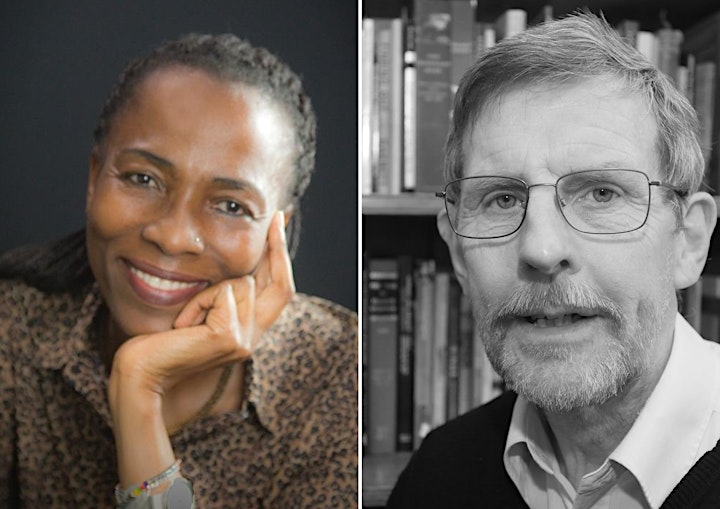 Speakers (left to right):
Nomfundo Walaza, South Africa
Nomfundo Walaza is a clinical psychologist who has worked as an activist in the human rights field for more than three decades. She served as the CEO of the Desmond Tutu Peace Centre (DTPC) for 7 years. She also served for 11 years as the Executive Director of the Trauma Centre for Survivors of Violence and Torture in Cape Town. In this capacity, she focused primarily on empowering and healing victims of torture, trauma and violence, many of whom suffered severely at the hands of the Apartheid regime in South Africa. She served the Truth and Reconciliation Commission of South Africa in multiple roles.
Since leaving the DTPC, Nomfundo Walaza has focused on mediation, conflict transformation, dialogue facilitation, peacebuilding and assisting academic institutions with engaging in difficult conversation around issues of transformation and decolonization. She co-founded the Unyoke Foundation with Chris Spies in 2017. She currently accompanies a group of aspirant young leaders in South Sudan and in the refugee camps in Uganda.
Dr Brian Lambkin, Northern Ireland
Brian Lambkin is an educationalist and academic based in Belfast. He is author of Opposite Religions Still? Interpreting Northern Ireland After the Conflict (1996), joint-author with Patrick Fitzgerald of Migration in Irish History, 1607–2007 (2008), and founding Director of the Mellon Centre for Migration Studies. His most recent book Calming Conflict: Northern Ireland, Metaphor, and Migration (2019) makes the case that 'hitting on the right metaphor' is of key importance if we are to get better at understanding conflict and finding agreement on solutions.
He was a founding teacher and subsequently the Principal of Lagan College, the first integrated school in Northern Ireland set up despite huge opposition in 1981. He has remained a firm proponent of integrated education and is also a long-standing member of the Northern Ireland Mixed Marriage Association. He is a board member of Healing Through Remembering, a community organisation that creates safe spaces to have difficult conversations on dealing with the past relating to the conflict in and about Northern Ireland.
Event Image: "Hands Across the Divide", sculpture in Derry/ Londonderry, Northern Ireland by Maurice Harron (1992)