React Live

Friday, 13 September 2019 from 09:00 to 18:30 (CEST)
Event Details
React Live
All Speakers, Topics and Event info under read more below.
React Live will take place at the best conference venue in the world Theater Amsterdam.
React Live is a unique opportunity to watch React & React Native experts Live Code on stage, working on a 500m2 screen.

13 Presentations from the World's React & React Native Leaders covering all the new terminologies, principles and tools to apply when building components with React such as React hooks, Render Props, Higher Order Components (HOC's), Context API, Webpack, SOLID and Styled Components.

React Live is a developer run and community driven conference brought to you by Frontend Love.

Join 700-1000 React Developers here in the wonderful city of Amsterdam looking to enjoy a great day of fun, learning, sharing knowledge and being inspired while being offered 5 star FREE catering during an epic lunch.
Take your chance to learn from the best React Developers on the planet as they talk through their experiences and whilst sharing their knowledge.
Join us on this spooky date Friday 13th September to watch coding take place covering a multitude of React topics. 
 
What to expect at React Live:
> Greatest Value Conference Ticket in Amsterdam
> "Most impressive Conference Venue I have ever been too" Evan You 2018
> Live coding on a 500 metre² screen
> Cinema Style chairs for maximising comfort and focus
> World Class Catering, described as "The best conference food ever"
> Learning from 10-15 amazing talks on topics such as React hooks, render props, HOC's and more
Speakers & Topics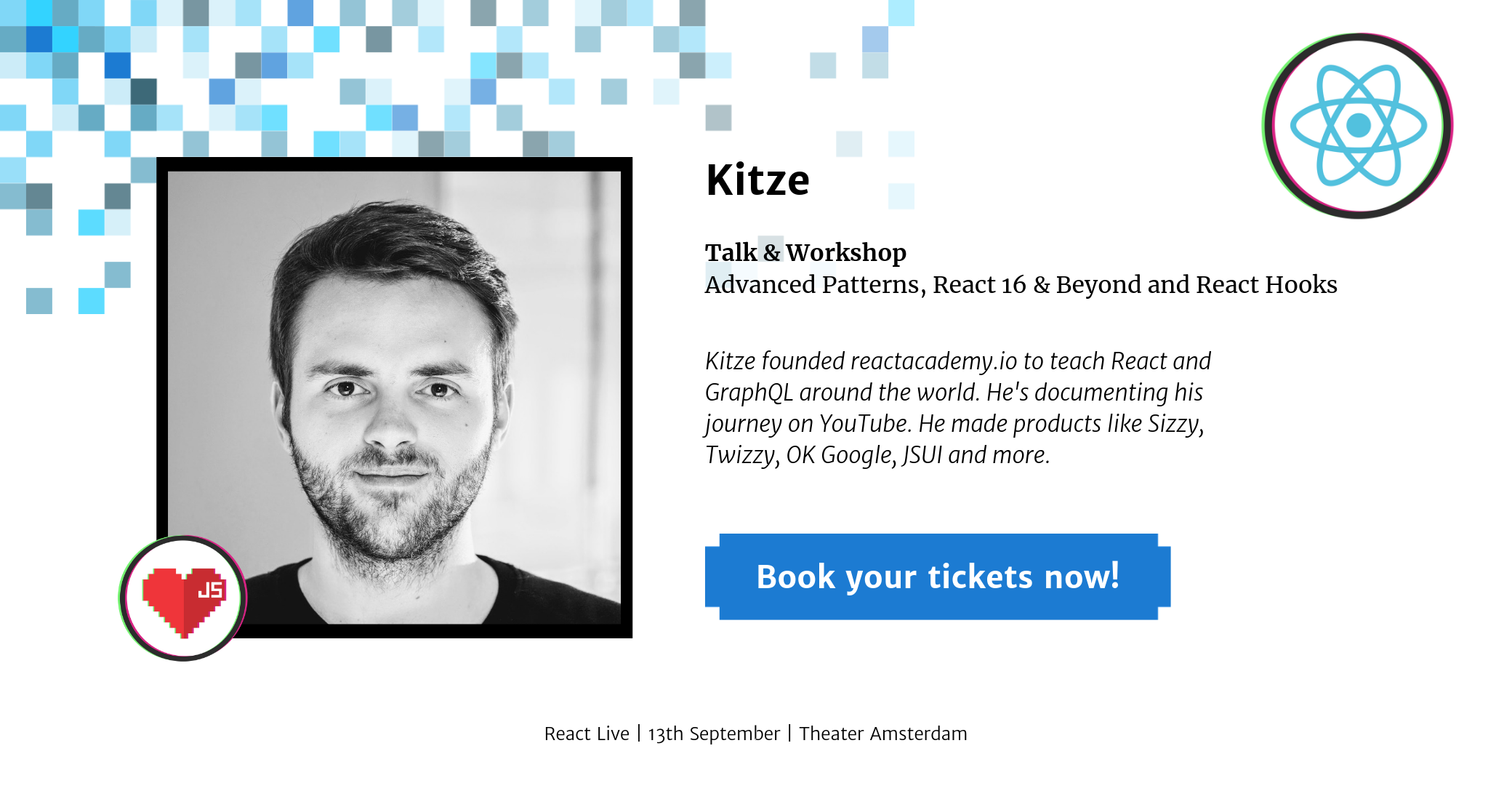 Kitze Live Coding & Workshop
React Academy
Fastest typer in the game
Advanced Patterns, React 16 & Behond and Hooks
Kitze founded React Academy to teach React and GraphQL around the world. He's documenting his journey on YouTube. He made products like Sizzy, Twizzy, OK Google, JSUI, etc. Kitze will be doing a talk as well as a workshop on Advanced React handling topics on; Advanced Patterns, React 16 & Beyond and Hooks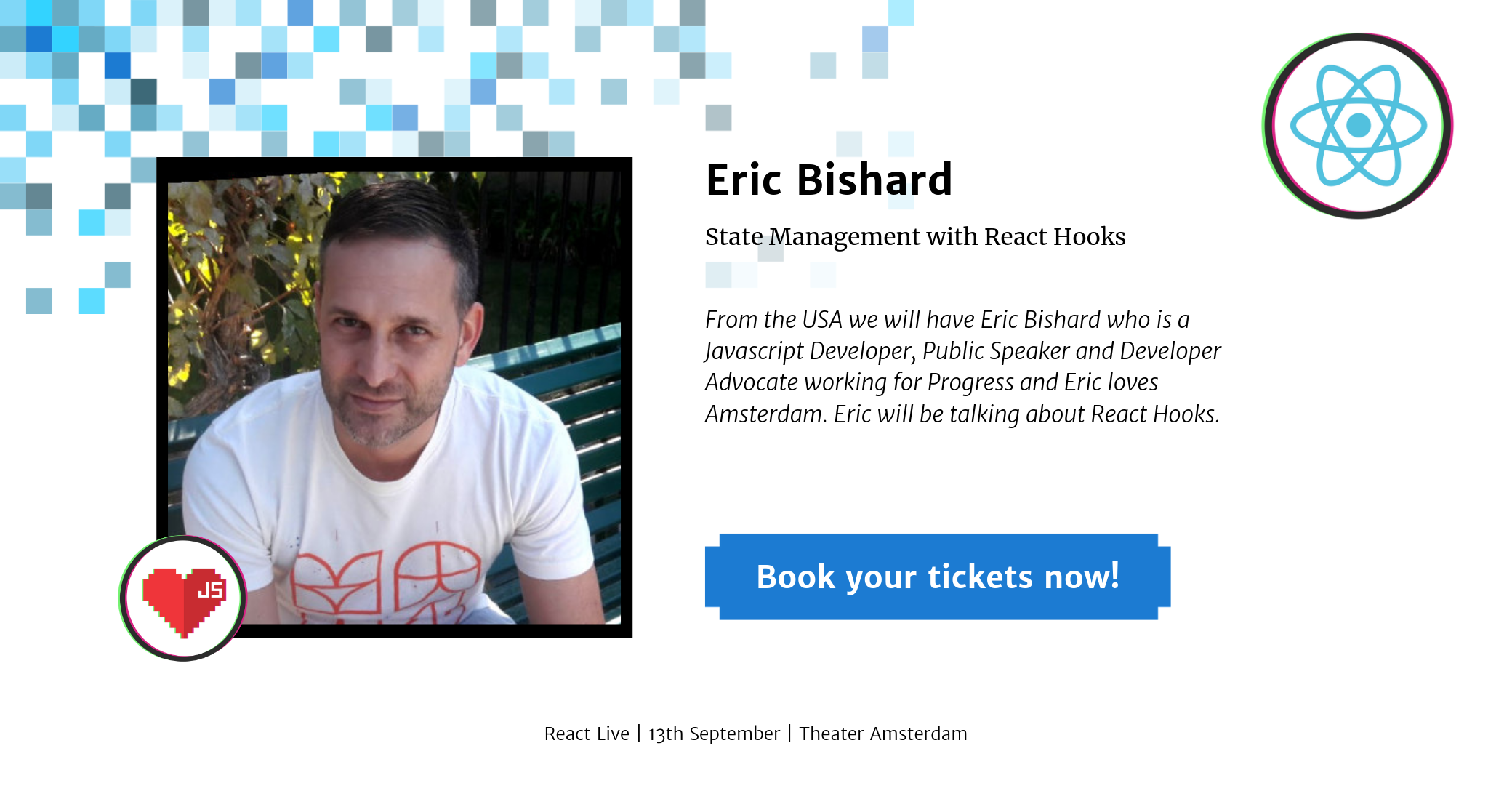 Eric Bishard
Progress Software
State Management with React Hooks
# React Hooks
From the USA we will have Eric Bishard who is a Javascript Developer, Public Speaker and Developer Advocate working for Progress Software and Eric Loves Amsterdam. Eric will be talking about React Hooks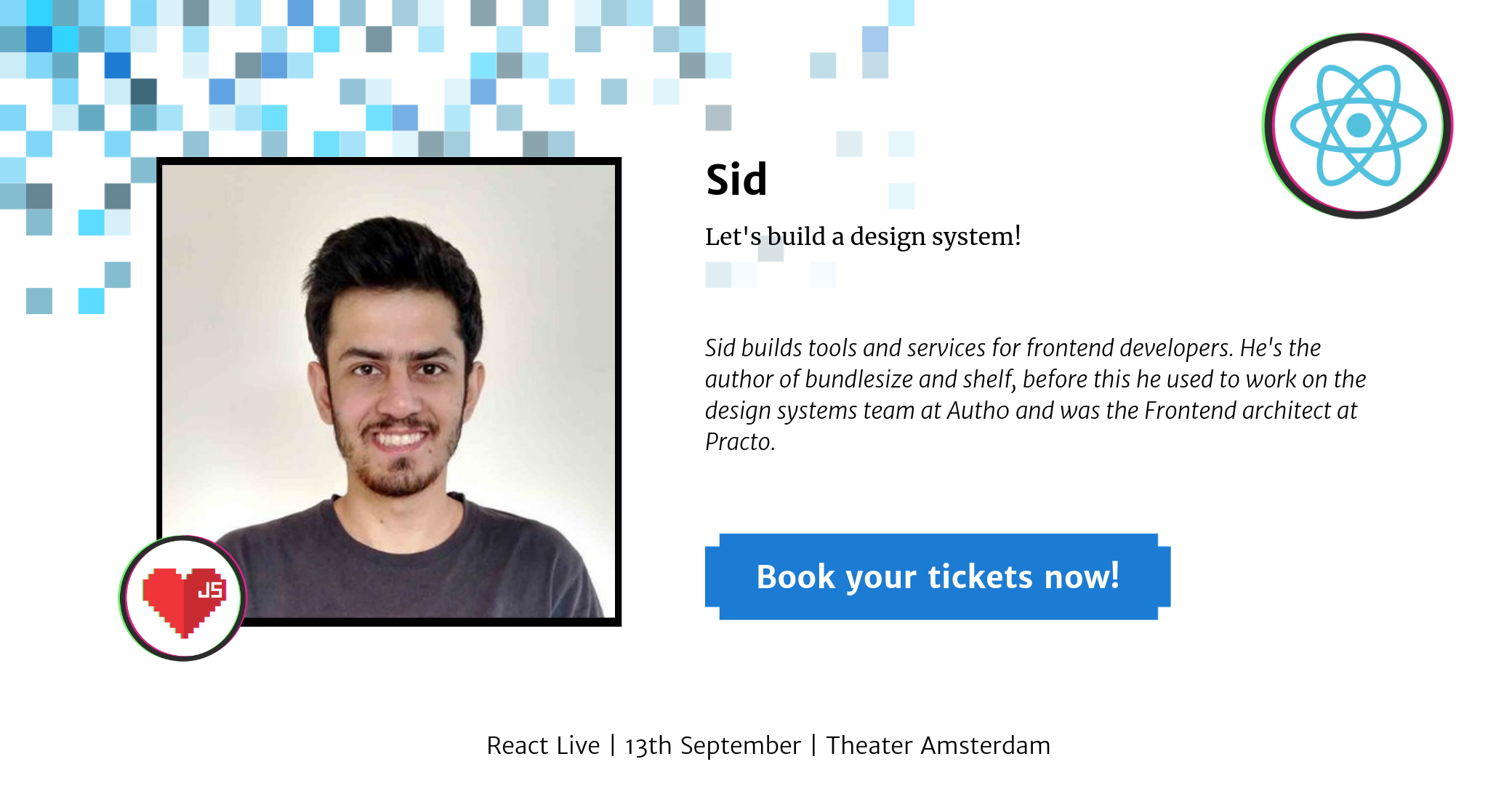 Sid
Building a desing system
# Design Systems, Design Tokens, API 
What goes into building a Design System? Sid builds tools and services for frontend developers. He's the author of bundlesize and shelf, before this he used to work on the design systems team at Auth0 and was the Frontend architect at Practo.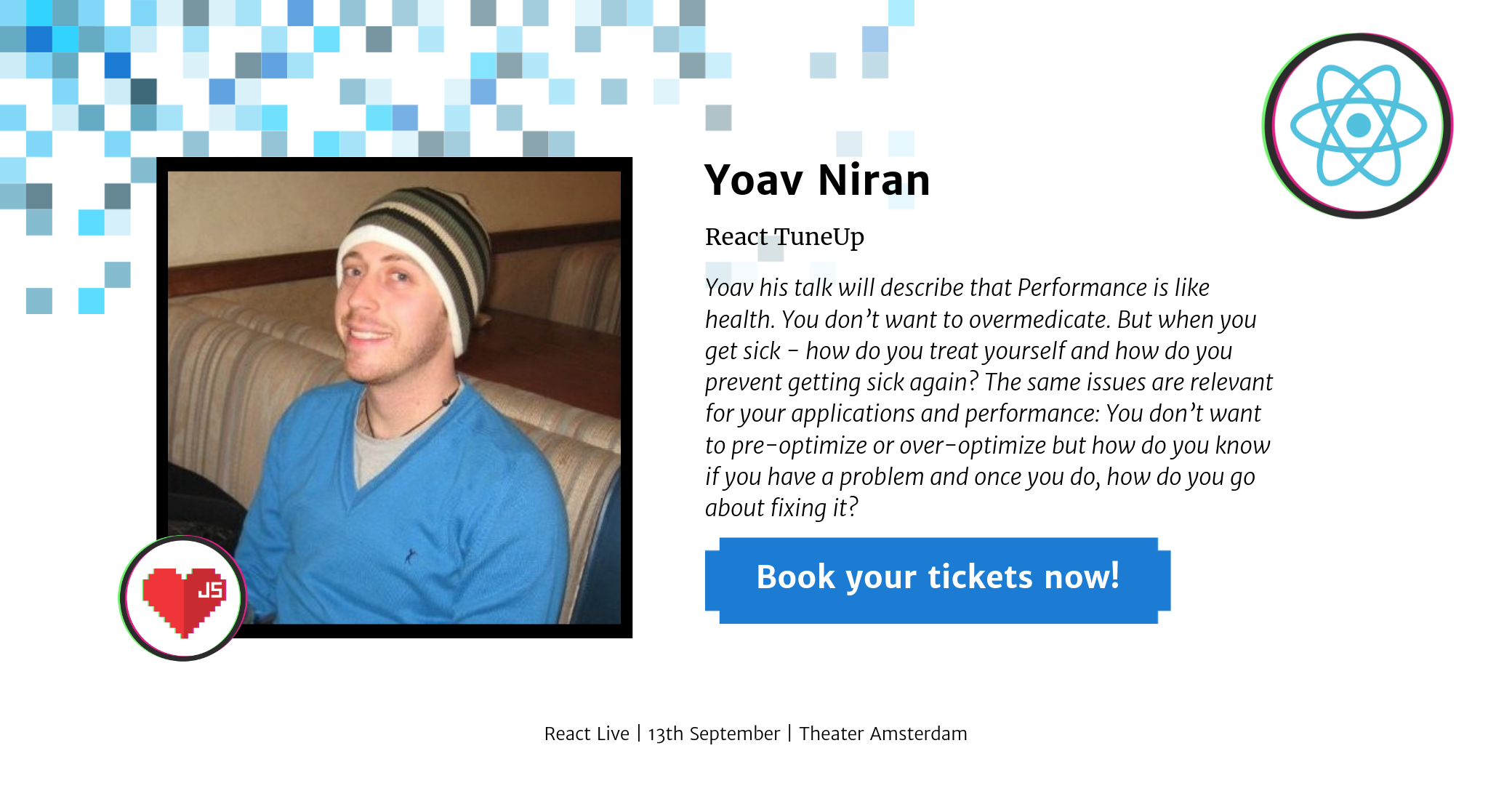 Yoav Niran
Cloudinary
React Tune Up - Measure your application's performance health, fixing performance and handle media at scale.
# performance
Yoav is a senior Frontend Developer at Cloudinary, when he is not writing code he is busy writing sci-fi novels. Yoav his talk will discribe that Performance is like health. You don't want to overmedicate. But when you get sick - how do you treat yourself and how do you prevent getting sick again? The same issues are relevant for your applications and performance: You don't want to pre-optimize or over-optimize but how do you know if you have a problem and once you do, how do you go about fixing it? This talk will focus on three major areas: How to measure your application's performance health, how to go about fixing performance issues and finally, how to handle media at scale.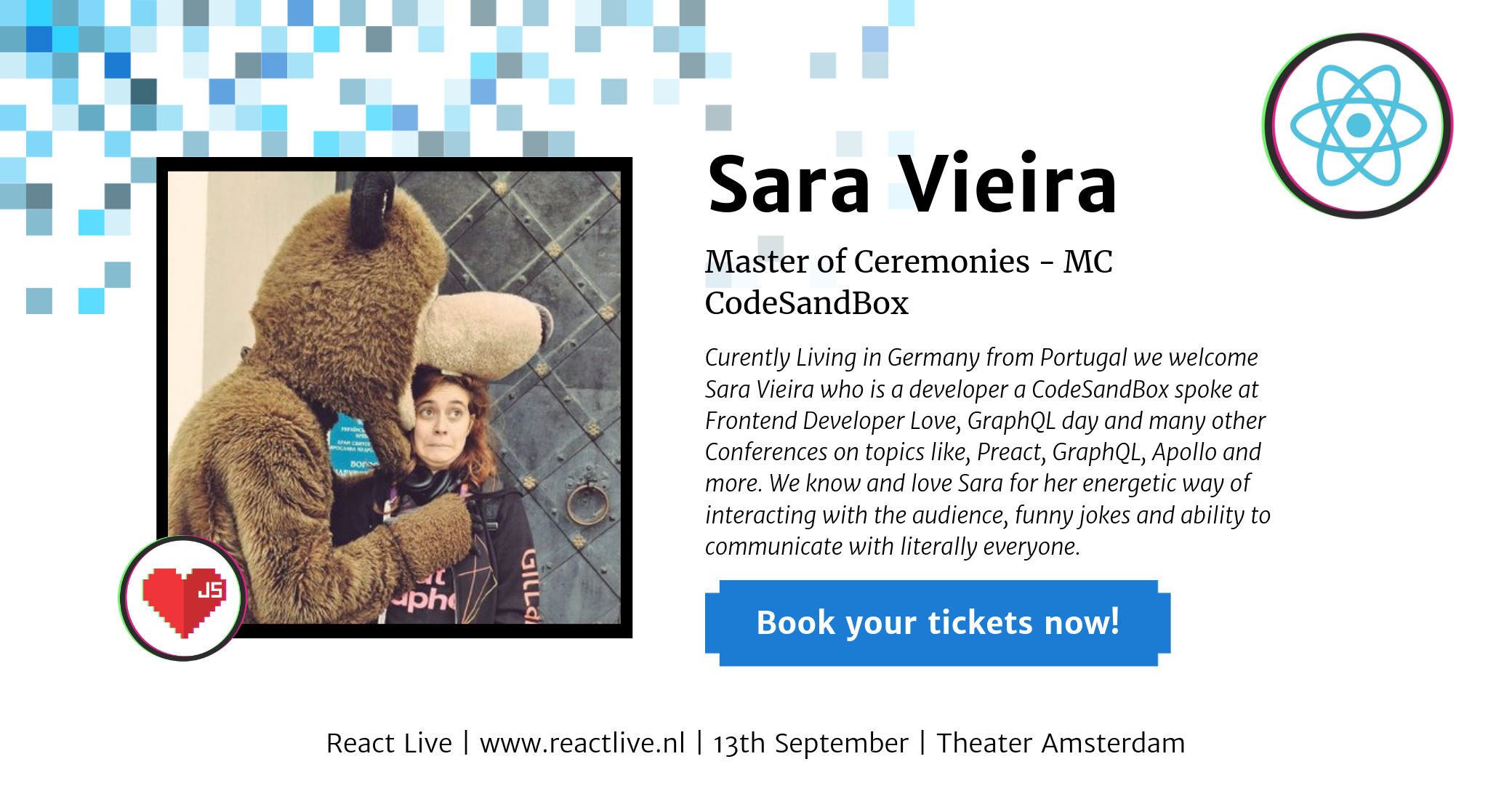 Sara Vieira
CodeSandbox
MC - Master of Ceremonies

Currently Living in Germany from Portugal we welcome Sara Vieira who is a developer at CodeSandBox spoke at Frontend Developer Love, GraphQL day and many other Conferences on topics like, Preact, GraphQL, Apollo, CodeSandBox and more. We know and love Sara for her energetic way of interacting with the audience, funny jokes and ability to communicate with literally everyone.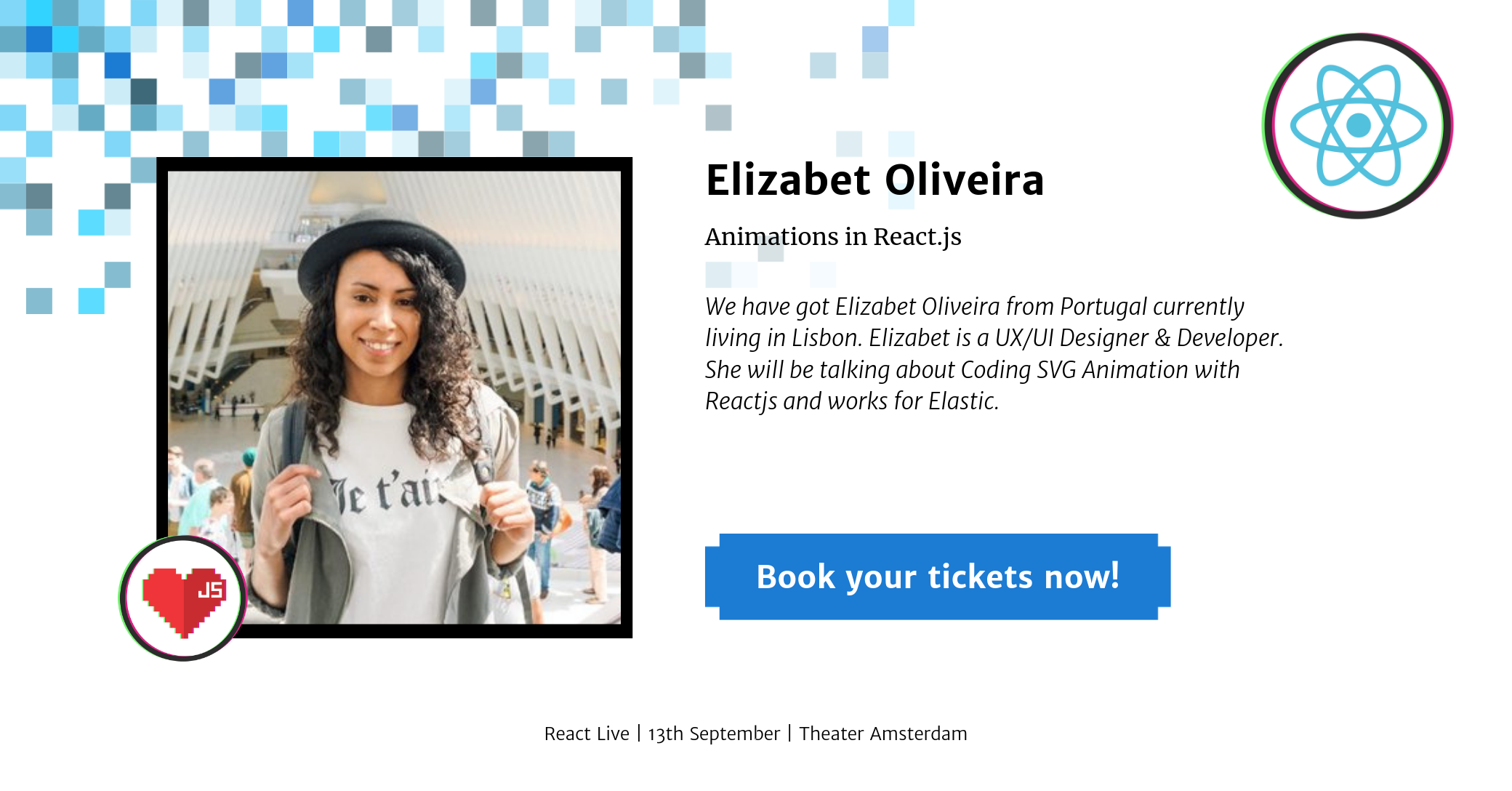 Elizabet Oliveira
Elastic
Coding an SVG Animated Cat with Reactjs
# Animation
From Portugal currently living in Dublin. Elizabet is a UX/UI Designer & Developer. Elizabet will show step by step on how to make an SVG Animated Cat with React.js. From design to javascript animation.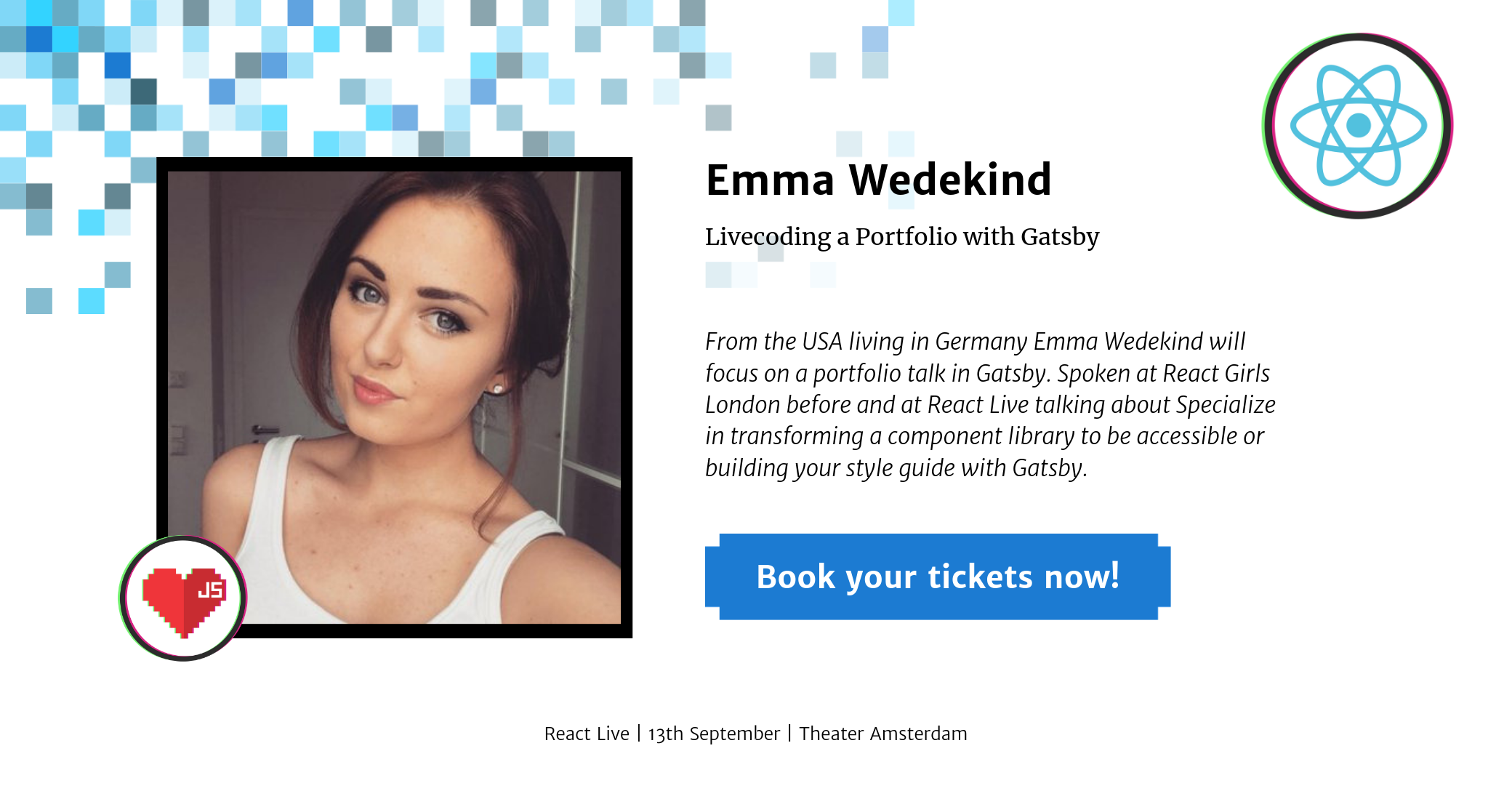 Emma Wedekind

LogMeIn
Live Coding a Portfolio with Gatsby.js
# Component Libraries, Gatsby.js

From the USA living in Germany Emma Wedekind will focus on Componant Libraries. Spoken at React Girls London before and at Reactlive talking about Specialize in transforming a component library to be accessible or building your style guide with Gatsby.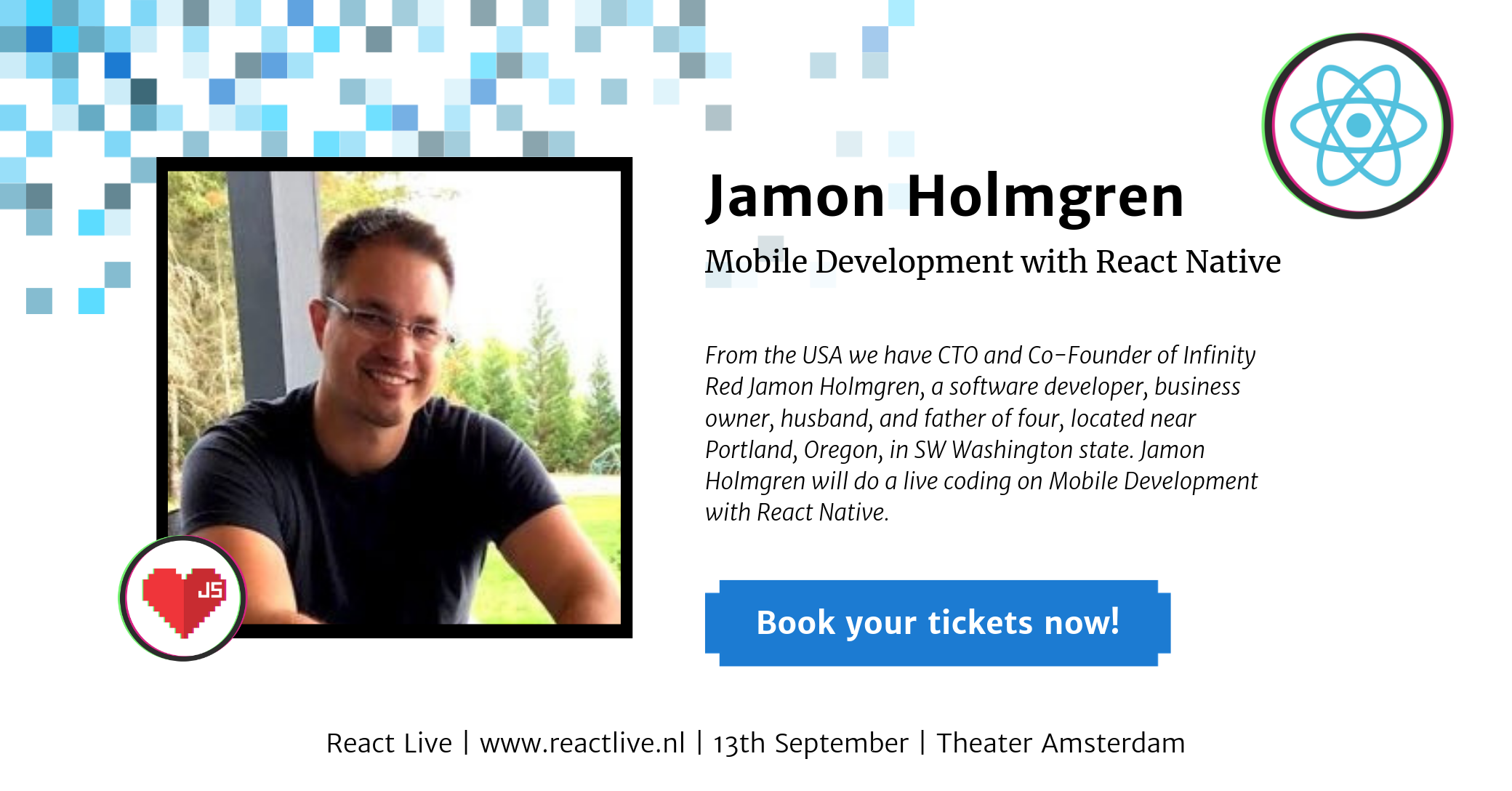 Jamon Holmgren
Infinite Red
Mobile Development with React Native
# React Native
From the USA we have CTO and Co-Founder of Infinity Red Jamon Holmgren, a software developer, business owner, husband, and father of four, located near Portland, Oregon, in SW Washington state. Jamon Holmgren will do a live coding on Mobile Development with React Native.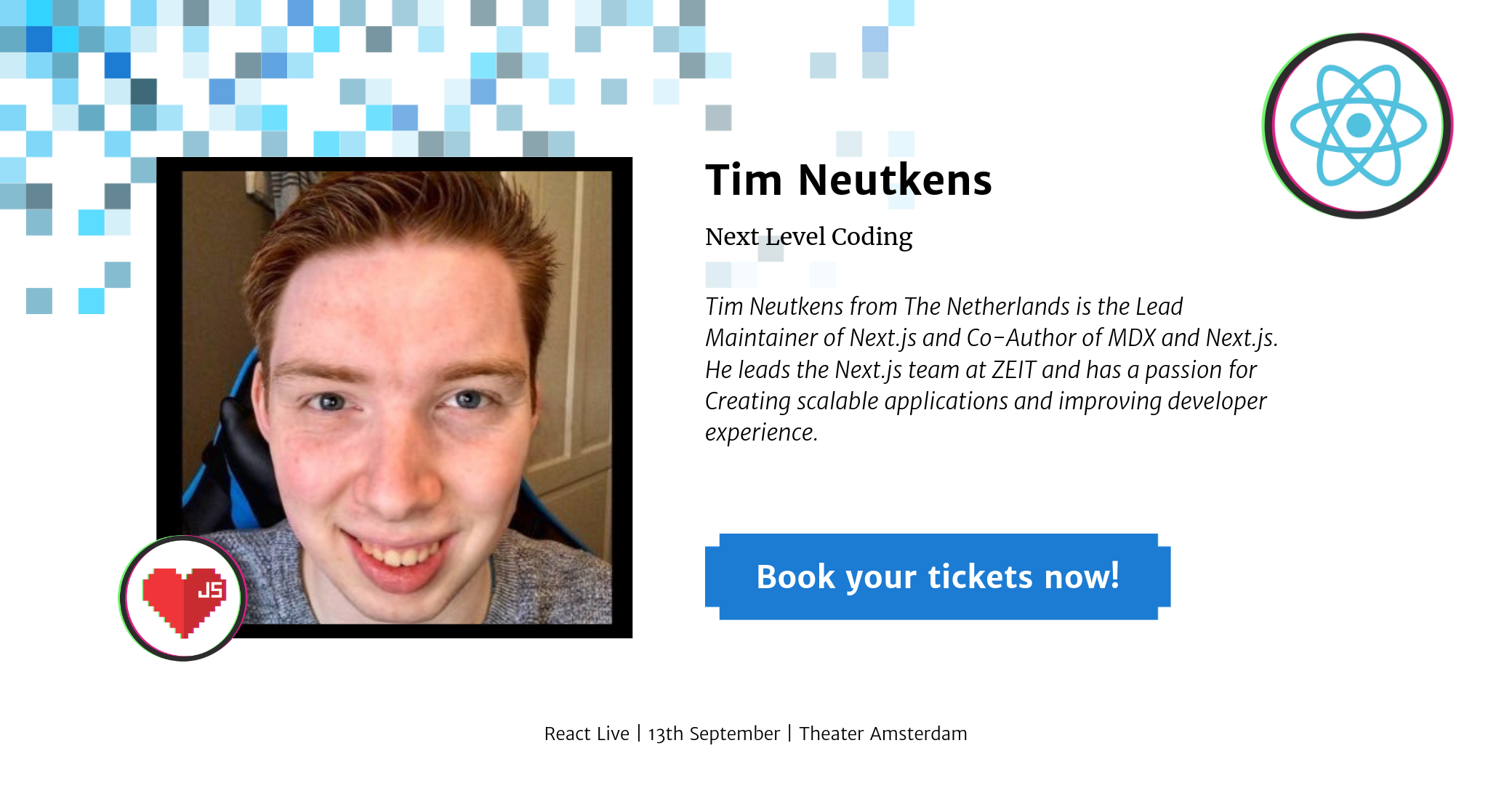 Tim Neutkens
Next.js
Next Level Coding
# Next.js

Tim Neutkens from The Netherlands is the Lead Maintainer of Next.js and Co-Author of MDX and Next.js. He leads the Next.js team at ZEIT and has a passion for Creating scalable applications and improving developer experience.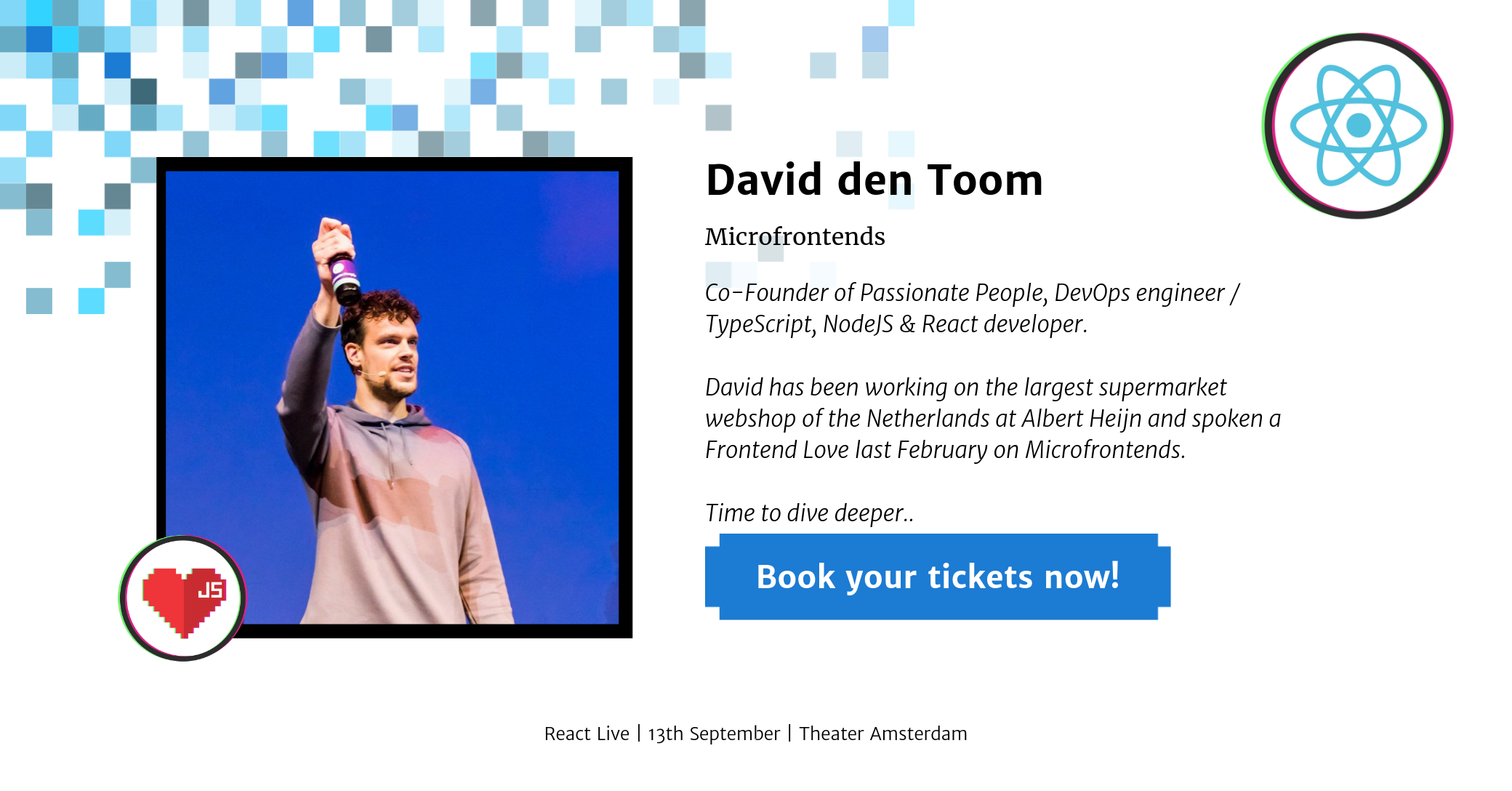 David Den Toom
Passionate People
How to implement Microfrontends at a large coorporations 
# Microfrontends

Co-Founder of Passionate People and Develops platforms based on a modern technology stacks to increase performance, ownership and development speed. Technologies used include Node.JS, React, TypeScript & Kubernetes.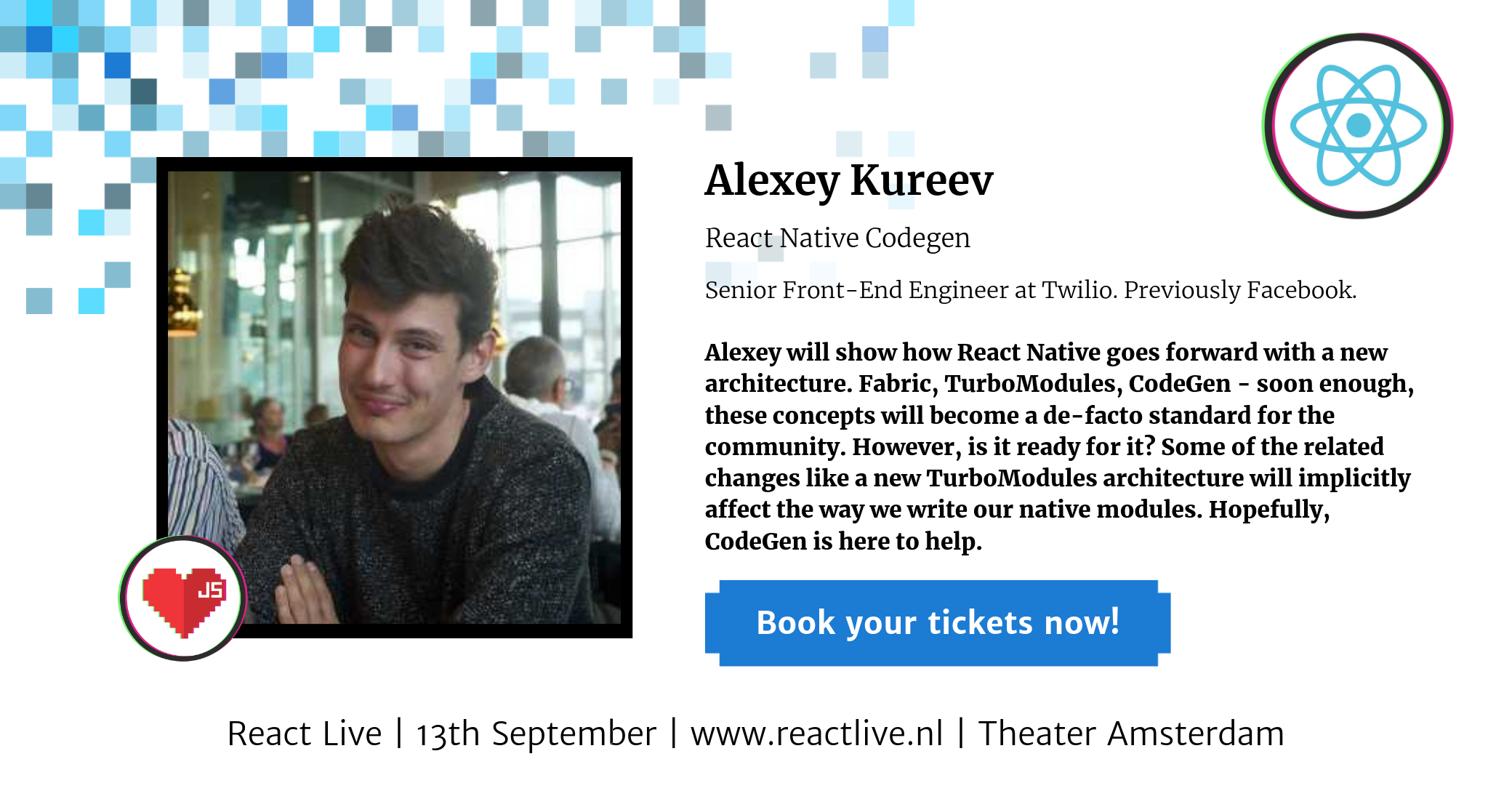 Alexey Kureev
React Native CodeGen
Twilio
# React Native
Senior Front-End Engineer at Twilio. Previously Facebook. Passionate about React, React Native and their ecosystem. Co-author of "react-native link". Occasionally blogging about React Native bridge, Apollo and React Native Network Layer. 
Alexey will show us how React Native goes forward with a new architecture. Fabric, TurboModules, CodeGen - soon enough, these concepts will become a de-facto standard for the community. However, is it ready for it? Some of the related changes like a new TurboModules architecture will implicitly affect the way we write our native modules. Hopefully, CodeGen is here to help.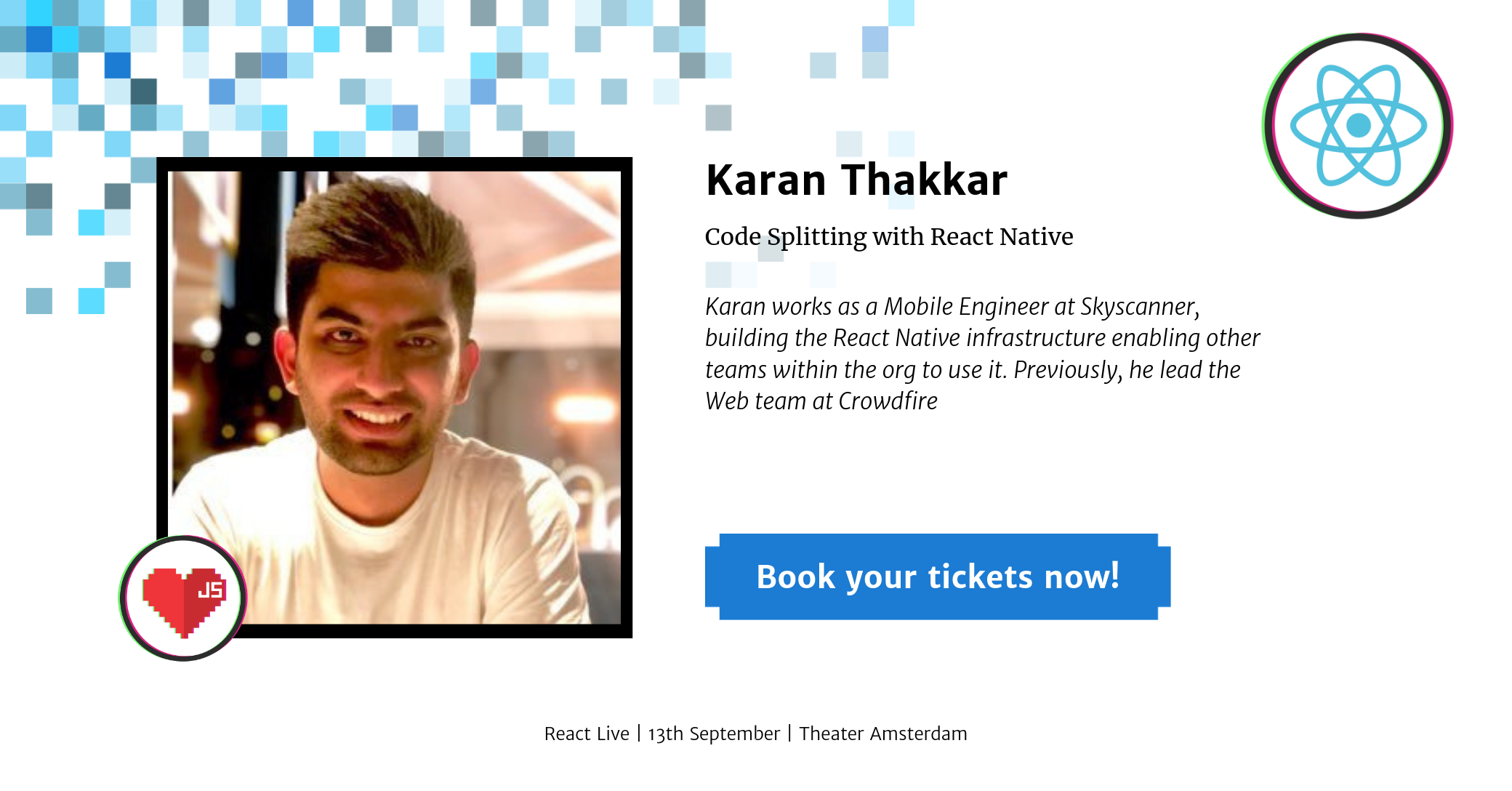 Karan Thakker
Skyscanner
Code Splitting with React Native
# React Native
Karan works as a Mobile Engineer at Skyscanner, building the React Native infrastructure enabling other teams within the organisation to use it. Previously, he leads the Web team at Crowdfire and will do a live coding session on Code splitting React Native.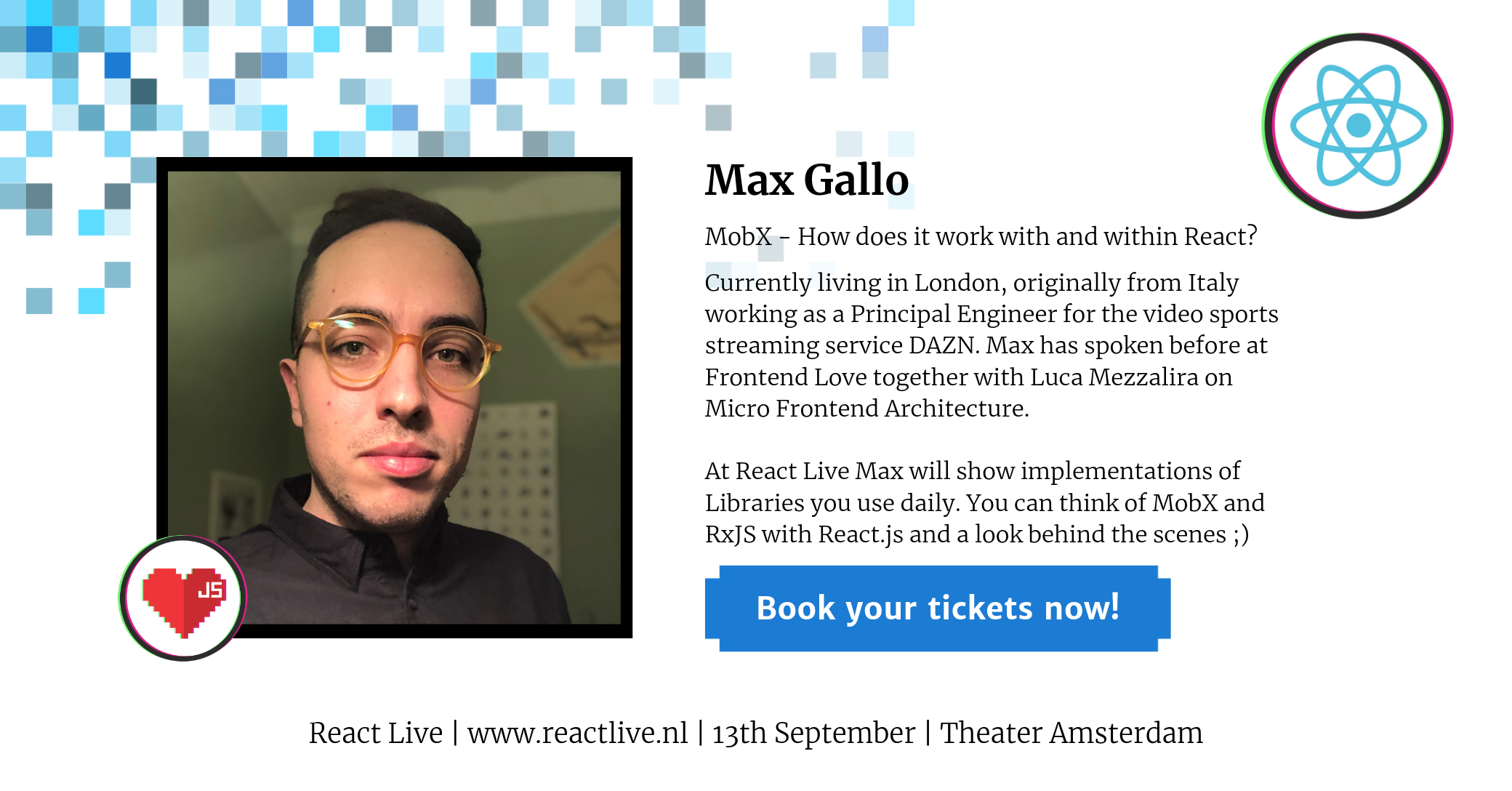 Max Gallo 
DAZN
Senior UX Designer & Developer
MobX - How does it work with and within React?
# Mobx, library implementations
Living in London and working as a Principal Engineer at DAZN and previously spoken at Frontend Developer Love with talk topics like RxJS, Microfrontends and more. At React Live Max will show implementations of Libraries you use daily. You can think of MobX and RxJS with React.js and a look behind the scenes ;)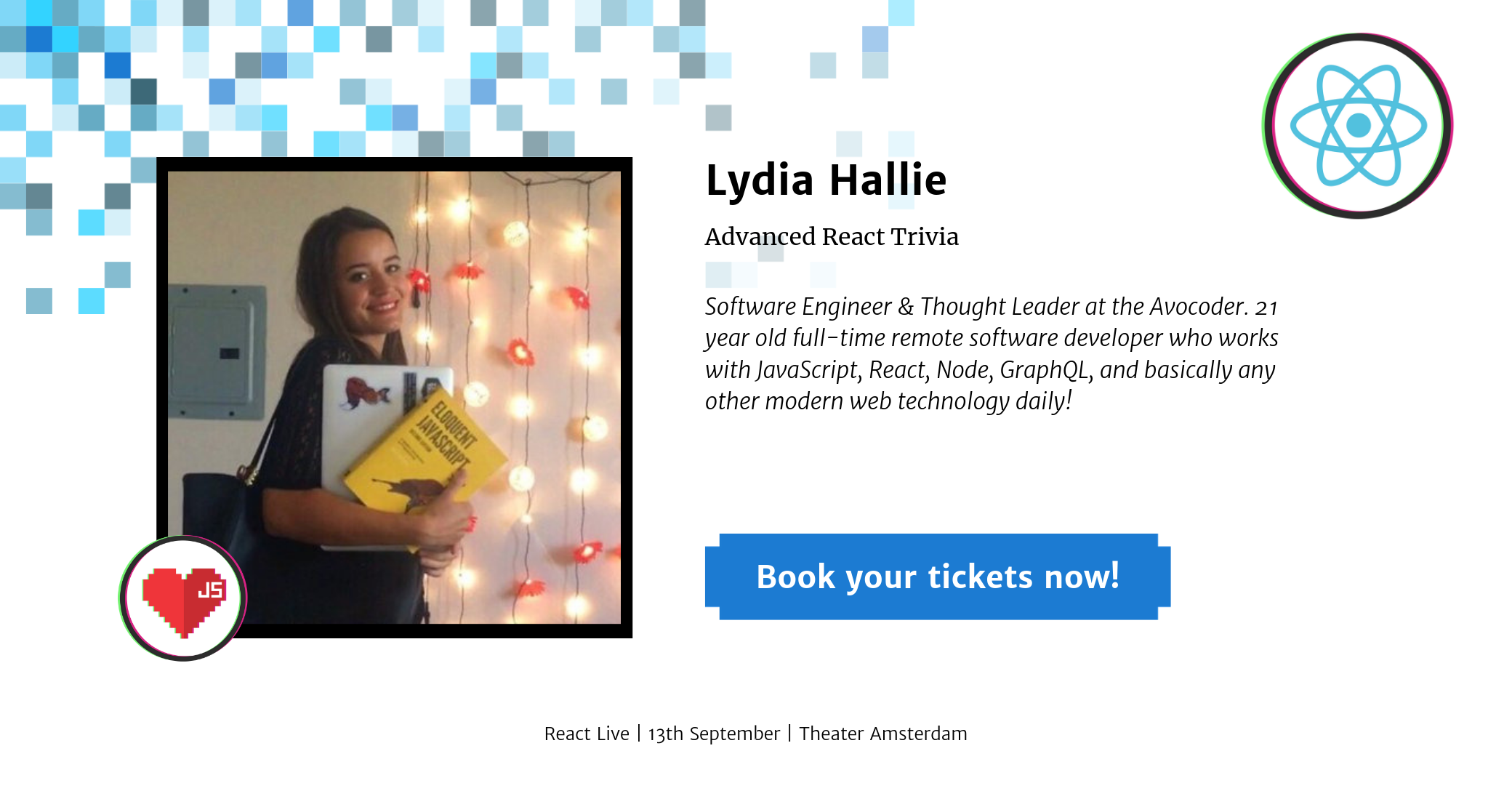 Lydia Hallie 
React Advanced Trivia
Software Engineer & Thought Leader
# Advanced React
21 year old full-time remote software developer who works with JavaScript, React, Node, GraphQL, and basically any other modern web technology daily! Lydia will be doing an Advanced React Trivia Live infront of the whole audience.

Keep up to date: https://twitter.com/reactlivenl
Website: www.reactlive.nl
Save This Event
When & Where

Theater Amsterdam
Danzigerkade 5
1013 AP Amsterdam
Netherlands


Friday, 13 September 2019 from 09:00 to 18:30 (CEST)
Add to my calendar
Organiser
Frontend Love organise the premier frontend developer, javascript conferences in Europe. www.frontenddeveloperlove.com, www.vuejs.amsterdam and now www.reactlive.eventbrite.nl.
www.frontenddeveloperlove.com - 19, 20 & 21 February 2020 with 30+ experts talking on top javascript frameworks (Reactjs, Angular, Vue) and more.. 
In 2019 with just under 3000 visitors across 3-days, arriving from 62 countries. Learning across 3-days with over 30 high level, javascript and Vue.js talks! With creators and contributors of Vue.js, Webpack, Nuxtjs and more...it was truly not an event to miss!