Description
Reading Fun Colour Rush 2018
Supporting
Sue Ryder - Duchess of Kent Hospice
Be prepared to get drenched in the rainbow and run, walk or dance the 5KM of happiness.
WHAT HAPPENS?
- Firstly, each wave will have some upbeat retro tunes to get you Warmed Up!
- Then thousands of awesome adults and children will dash through 5KM of colourfulness.
- And everyone will finish off by collecting their awesome Fun Colour Rush medal.
Limited Tickets - Wave Times Selling Out
Adult £23 Child £12 Family £48 (2 Adults + 2 Children)
For Large Teams (10+ Participants) Discount contact: engagecommunityevents@gmail.com
TIMINGS
Registration - 9:30am
Green Wave Warm Up & Go! - 10:00am (Sold Out)
Pink Wave Warm Up & Go! - 10:15am (Sold Out)
Blue Wave Warm Up & Go! - 10:30am (Sold Out)
Orange Wave Warm Up & Go! - 10:45am
Red Wave Warm Up & Go! - 11:00am
Purple Wave Warm Up & Go! 11:15am
Event Finish Time Approx - 12:30pm
WHAT YOU RECEIVE?
All of our wonderful participants receive:
- Sue Ryder Colour Rush T-Shirt
- Bottle of Water
- Finisher's Medal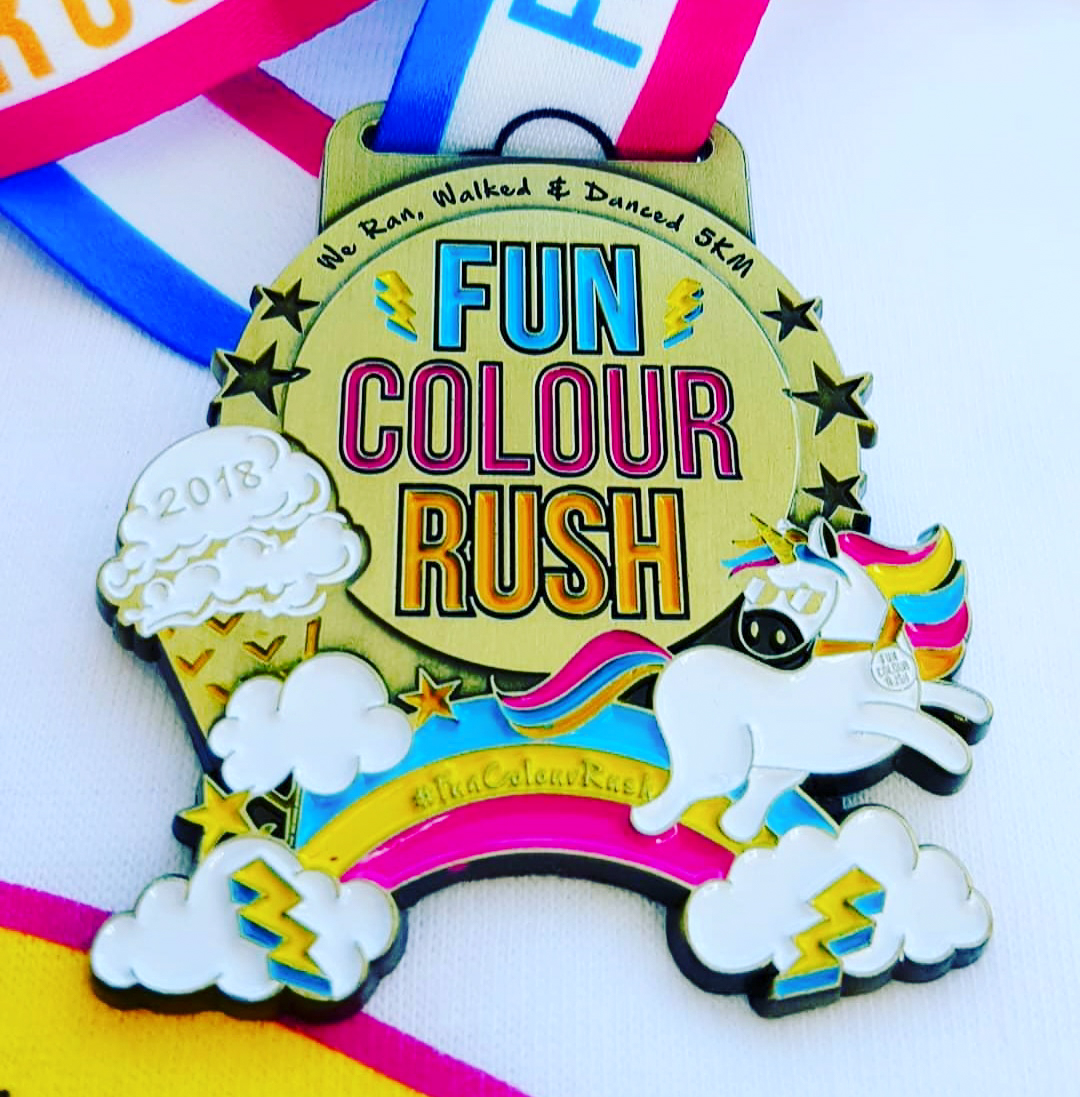 AGE LIMITED
People of all ages welcome! Under 5's can join for free, but please purchase a Child Ticket if you want them to receive a t-shirt & medal.
IMPORTANT: We strongly advise that adults wear sunglasses or eye protection, and all children are REQUIRED to wear sunglasses or eye protection.
THE COURSE
5KM. 4 Colour Stations. 1 Water Station
FAQS

Toilet Facilities
Port-a-loos are available in the event village
Route Accessibility
The route is part concrete part grassy and is accessible for wheelchairs.
Lost People
In the event of a person becoming lost, they should be taken to the Registration tent in the Event Village where they will be looked after by a member of staff who has been security cleared and removed to a safe and warm area. Please note that lost person will not be released to a member of the public until the member of staff is satisfied that their identity is genuine.
At The Finish
All finishers will be awarded an exclusive Fun Colour Rush exclusive medal.
Photography
With the event being held in a public place, you are welcome to take videos and photos of the day. When uploading to social media, make sure to use the hashtag #FunColourRush. Professional photos well put uploaded on our Facebook page.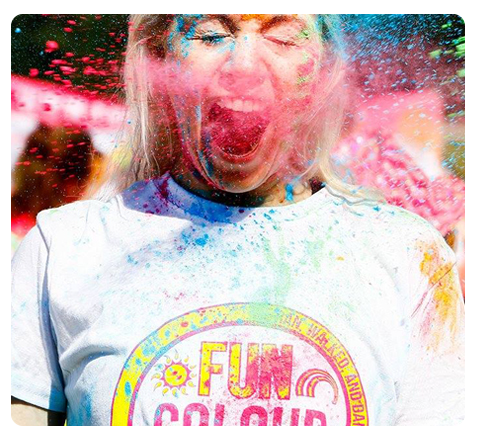 Raising Sponsorship
Sue Ryder - Duchess of Kent Hospice is the Colour Rush's chosen charity so we would love for you to take part and pledge to raise money for the care they provide.
Duchess of Kent is there for people aged 18 and over living with conditions like cancer, heart failure and lung disease. Their expert care team includes doctors, nurses, care assistants, physiotherapists, occupational and complementary therapists, social workers, bereavement support workers and volunteer befrienders. Having your support will help to ensure patients and their families across Reading and the surrounding areas receive all the care and support they need to spend the time they have left in the way they choose.
"The staff at Duchess of Kent are just fantastic; they made my wife's stay at the hospice warm, upbeat and comfortable. The care they gave my wife as well as myself and my family was brilliant."
Sponsorship target £50 per entry. Please note sponsorship is not mandatory, every penny raised will make a real difference to the vital work Sue Ryder does within your community!
So get in touch with the Duchess of Kent fundraising team who can help with advice to pull on the purse-strings whilst you're testing your hamstrings! dokh.fundraising@sueryder.org / 0118 9550 434.
Further Questions
If you have any questions that are not answered on this page, please contact engagecommunityevents@gmail.com

Alternatively, check out our website, http://www.funcolourrush.co.uk/