Real Food for Health: explore what Real Food is, and how it grows healthy people, and a healthy planet
About this event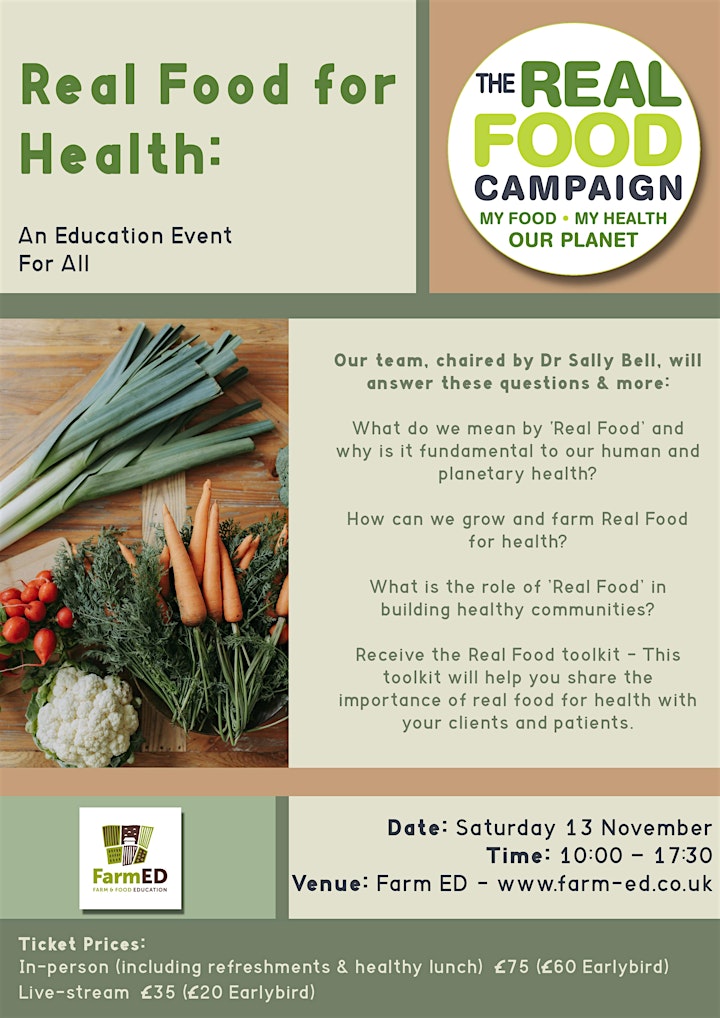 Join us on Saturday 13th November 2021, where our team, chaired by Dr Sally Bell, will answer these questions and more:
What do we mean by Real Food and why is it fundamental to our human and planetary health?
How can we grow and farm Real Food for health, and nutrient density?
What is the role of Real Food in building healthy communities?
Bring your own samples of fruit or vegetable to measure them for nurtient density
Discover the Real Food Toolkit – get to share the importance of Real Food for health with your community.
Agenda:
10am: Arrive for refreshments
10:30: Welcome to the Real Food Campaign and FarmED with Dr. Sally Bell
11am: Farm Walk with FarmED
12pm: Communities with Philip Sharrat, and Food Equity with Ped Asgarian
12.45pm: Catered Lunch
2pm - 3.30pm: Nutrition with Dr Sally Bell, Alex Laird, Lucy Williamson, and Lawrence Woodward
3.30pm: Break
3.45pm: Is it Food? with Emma Chase & In the Kitchen with Izabella Natrins
4.20 pm: Thank you and Goodbye
4.30 - 5.30pm: Tea coffee cake and networking
Speakers:
Ticket Prices:
In-person (including refreshments & healthy lunch) £75
(£60 Earlybird tickets available until 18th Oct)
Live-stream £35
(£20 Earlybird tickets available until 18th Oct)