Join a panel of experts in the field of Afghanistan to discuss communities and marginalised populations.
About this event
Please join us for a seminar with Dr. Ahmad Qais Munhazim, Dr. Homira May Rezai and Dr. Mariam Safi, experts in conflict, communities and marginalised populations in Afghanistan.
Tuesday, 7th of December 2021
15:00-17:00
We will only be accepting the first 100 participants so please get your tickets quick!
There will be 25 to 30 minutes set aside for questions. In order to facilitate this discussion please send your questions in advance to hhub@soas.ac.uk
Speakers Biographies:
Dr. Ahmad Qais Munhazim
Dr. Ahmad Qais Munhazim, genderqueer, Afghan, Muslim and perpetually displaced, is an assistant professor of global studies at the Thomas Jefferson University in Philadelphia. Munhazim was born and raised in Kabul, Afghanistan. As an interdisciplinary scholar, de/colonial ethnographer and community activist, Munhazim' work troubles borders of academia, activism and art while exploring everyday experiences of displacements and war/conflicts in the lives of queer and trans Afghans in Afghanistan and its diasporas. Munhazim holds a Ph.D. in political science from the University of Minnesota.
Dr. Homira May Rezai
Dr. Homira May Rezai is the Chairperson of Hazara Committee in the UK (HCUK), the Operations Lead at MirZyme Therapeutics and holds a PhD in Medicine from Aston Medical school.
In addition to her specialised work in the field of medical research and drug development, Homira is one of the leading human rights and women's rights activists in the Hazara Diaspora and leads the British Hazara community through HCUK. Her human rights work focuses on the situation of Hazaras, women, and ethnic and religious minorities in Afghanistan and Pakistan.
Dr. Rezai has also made extensive efforts to draw the attention of the British government and the international human rights organisation to the situation.
Dr. Mariam Safi
Dr. Mariam Safi is an International Relations advisor and expert on Afghanistan, holding key research interests in state building, security and conflict management. She is the founding Director of the Organization for Policy Research and Development Studies (DROPS), a Kabul-based research institute, and a lecturer at the American University of Afghanistan. She is also the co-founder of The Afghanistan Mechanism for Inclusive Peace (AMIP) which aims to ensure the Afghan peace process is inclusive by acting as a transfer mechanism for civil society voices to the peace table.
She writes regularly for regional and international journals, is a member of the Afghanistan Policy Group, and started the first peer-reviewed journal titled Women and Public Policy in Afghanistan. Among the many positions she holds, she is a member of the Afghanistan Policy Group, is a senior fellow at the Institute of National Security Studies Sri Lanka, is a local peace-building expert for Peace Direct. She is on the editorial board of Peace Prints, and is a member of the Board of Directors of the Afghanistan Women Chamber of Commerce and Industries.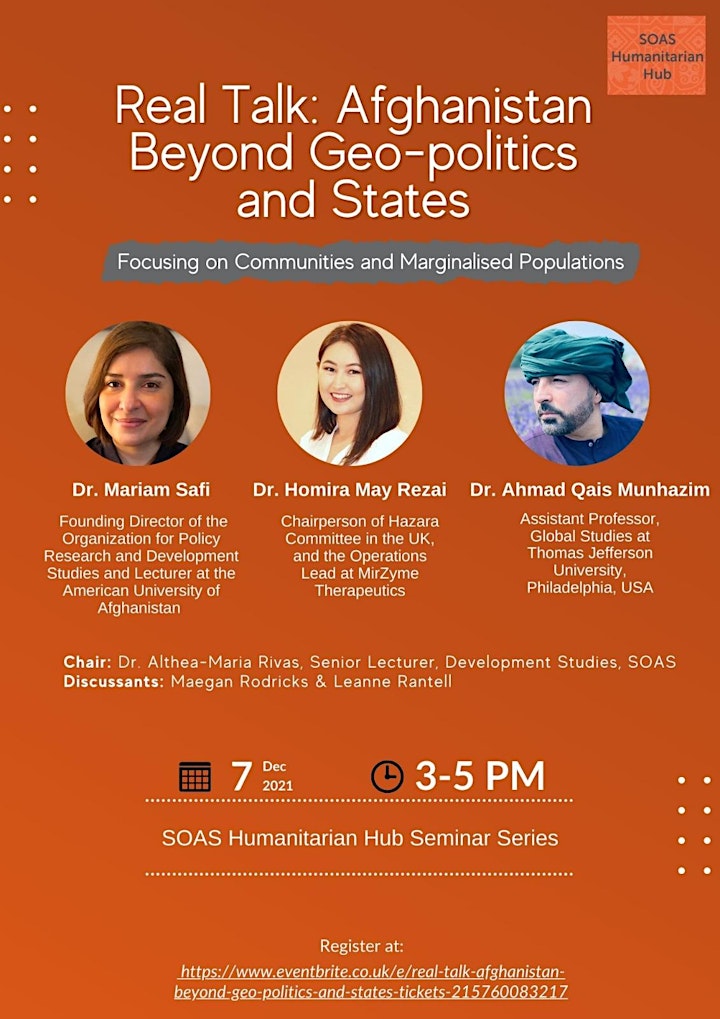 Organizer of Real Talk: Afghanistan Beyond Geo-politics and States
The SOAS Humanitarian Hub is the university's forum for research, collaboration and information on contemporary developments within the humanitarian sector. The Humanitarian Hub has been developed to meet the needs of people working, or hoping to work in international agencies, humanitarian organisations, and NGOs. We challenge mainstream conceptions of humanitarian action, aid, and development by framing debates and discussions through a decolonial lens.