Real Talk: Join us for a networking event supporting men's mental health with guest speaker and York City first team player Scott Barrow.
About this event
An evening deliberately designed to debunk the taboo of men's mental health. Real stories, real men, real talk.
Suicide is the biggest killer in men under 35, with an average of 191,000 men a year reporting stress, depression or anxiety caused or made worse by work [1].
Following the events of the last 18 months, it has never been more important to talk openly and candidly about mental wellbeing, both inside and outside the workplace.
Show your support for #mensmentalhealthmonth and join us from 6-8.30pm on Thursday 18 November at York City Football Club for a networking evening with meaning. The event will be ticketed, and the only entry fee we ask is a voluntary minimum £10 donation for the men's health charity Movember. The evening will also include a tour of the YCFC stadium.
Please note this event has limited spaces and will be ticketed on a first-come-first-serve basis.
Hear from:
YCFC first team player, Scott Barrow, opens up about what men's mental health means to him, the importance looking after a team's mental wellbeing and the impact it can have on performance.
Aaron Devitt, Managing Partner at Partners& and men's health advocate on why we need to remove the taboo of talking about mental wellbeing in the workplace
Jason Jones, Sales Director at InBusiness Ninjas and The Brotherhood founder on identifying different types of mental health and understanding different coping mechanisms
Grant Phillips, founder and owner of GPC Group Limited, will be talking about the importance of speaking to likeminded people, his coping mechanisms and how that may help you, and the power of positivity
[1] https://www.menshealthforum.org.uk/key-data-mental-health
Your guaranteed takeaways include:
1. How to balance a business and your personal wellbeing
2. A tour of the York City Football Club stadium
3. Meet with likeminded people and local business owners in an informal setting
Let's get candid about men's mental health and help make a difference to individuals and businesses.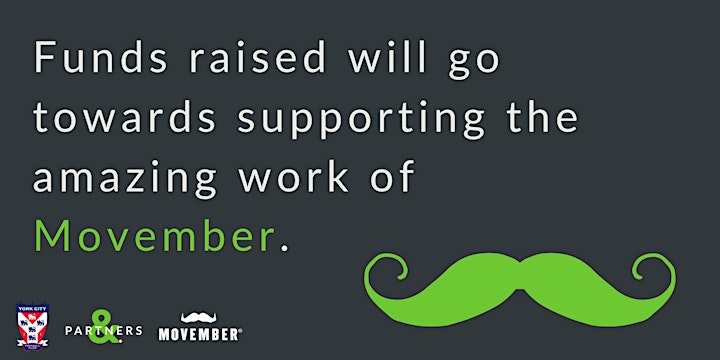 Register today and all donations raised will go towards supporting the work of Movember.
Organiser of Real Talk: Networking event supporting men's mental health