Sales Have Ended
Registrations are closed
Registration for this event has closed. If you need assistance please contact decarbon8@leeds.ac.uk
Sales Have Ended
Registrations are closed
Registration for this event has closed. If you need assistance please contact decarbon8@leeds.ac.uk
International online conference focused on Paris-compliant place-based decarbonisation for transport. All sectors and disciplines welcome.
About this event
The DecarboN8 Conference brings together researchers, practitioners and activists from around the world to look at what works where (and why) for decarbonising transport, and what will need to be done to deliver the transition at the pace required.
Register now to join us (online!) for 5 days of keynotes, panels, workshops, networking and exhibitions.
Who is this conference for?
This conference will include contributions from speakers from around the world, including academics, policymakers, industry professionals, third sector organisations and activists. You can participate in the conference as an audience member if you are interested in decarbonising transport: all are welcome. The conference sessions will be delivered in English.
About the conference
The conference includes contributions from across the spectrum of interests and interventions required to deliver the radical change needed. It looks upstream to whole life-cycle implications, across to the integration with wider energy systems, as well as addressing how we move people and goods and how much mobility that might entail. It welcomes analysis of people, communities, activities, businesses and governments as key actors.
Two elements mark out this conference as different from other decarbonisation events. First, is the emphasis on place-based thinking. This is about understanding how rapid decarbonisation is actually going to work on the ground. The second (related) emphasis is on societal readiness. How can transport decarbonisation be delivered in ways that enhance, rather than detract from, human wellbeing and flourishing? What about people, communities, cultures and generations who are often forgotten in discussions about transport? How do different people experience and interact with different mobility systems and expectations – past, present, and future – and how can such understandings inform action?
The DecarboN8 International Conference's framing is 'Real Zero'. Many nations have set 'Net Zero' targets which allow creative carbon accounting: promising that today's carbon overspend will be paid off by future generations through expensive and as-yet unproven (at scale) negative emissions technologies. For us 'Net Zero' can imply inaction and the privileging of emissions for aviation, which has huge equity implications. Our focus is on how to reduce emissions from transport to 'Real Zero' to prevent catastrophic climate change.
Programme
Confirmed Keynote Speakers:
Rachel Maclean MP
Professor Greg Marsden
Dr Mimi Sheller
Professor Rebecca Willis
Paola Jiron Martinez
Group Captain Blythe Crawford, RAF Leeming
More to come...
See the attached preliminary programme. More sessions to be announced. For a full schedule with session timings please visit the conference website: https://decarbon8.org.uk/decarbon8-conference/
Technical details
Conference sessions will be held on Zoom. To avoid any difficulties gaining access to the conference please ensure that all participants are registered with the email address that they will use to join the Zoom calls. A bandwidth of a least 2mbps will be required to join the online conference.
Further information
For more information about the conference streams and FAQ visit the conference website: https://decarbon8.org.uk/decarbon8-conference/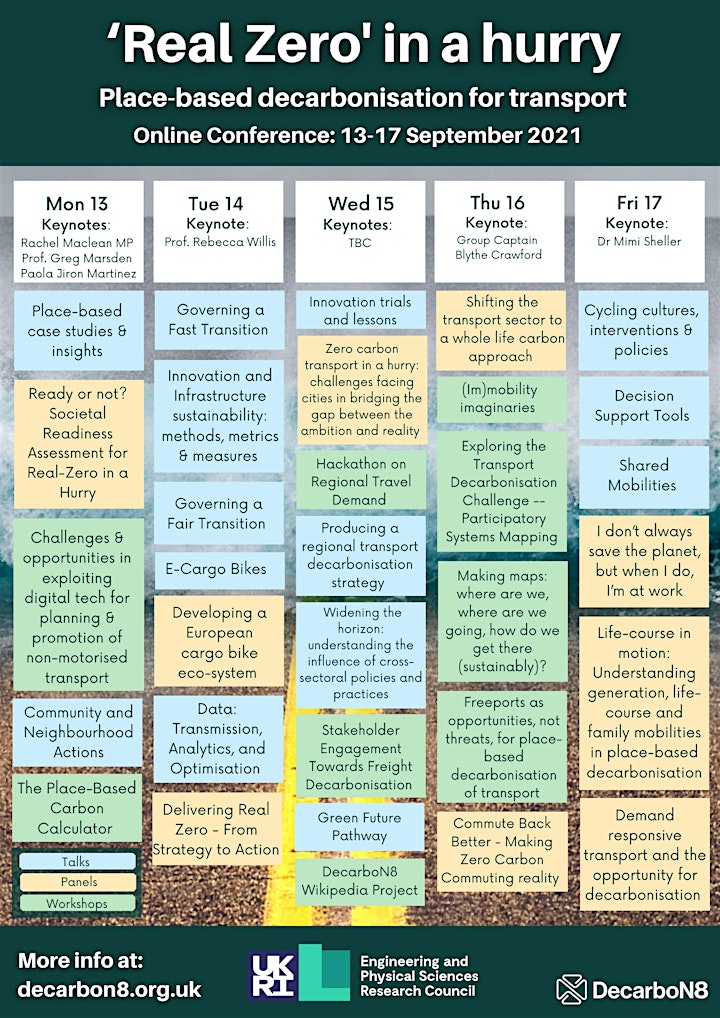 Organiser of 'Real Zero' in a Hurry: place-based decarbonisation for transport