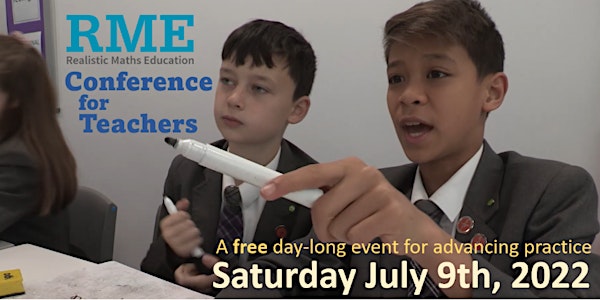 Realistic Mathematics Education Conference for Teachers
Location
Manchester Metropolitan University
All Saints
All Saints Building
Manchester
M15 6BH
United Kingdom
Join us in Manchester to explore the impact Realistic Mathematics Education (RME) can make in your teaching practice and school community.
About this event
Saturday July 9th, 2022 (10:00 - 16:00)
This event is free and open to all.
RME Conference for Teachers
Realistic Mathematics Education (RME) is an approach to learning mathematics that promotes:
strong problem-solving skills,
independent thinking,
resilient learners,
and democratic classrooms.
Who is this event for?
Teachers who are new to RME: Find out about our free RME materials for Years 7 and 8, and how they work in the classroom. Learn from other teachers who are using RME, and how they have developed RME in their schools' schemes of work.
More advanced practitioners: Dig into the details of the RME bar and ratio table, and what it is to "know" your students. Discuss how to run productive discussions and work with mixed attainment groups.
Sessions will explore:
pedagogical strategies that emphasize understanding
RME approaches to modelling (especially the bar model and ratio table)
helping students make connections across the curriculum
implementing RME in a whole school context
Lunch and refreshments will be provided as part of the day.