Join critical game studies scholars Amanda Phillips and Bo Ruberg to explore the politics of contemporary games
About this event
The Sussex Humanities Lab and the Sussex Centre for Sexual Dissidence are excited to be hosting leading critical game studies scholars Amanda Phillips and Bo Ruberg in a seminar exploring the politics of contemporary games.
Games are major cultural form. In recent years, a "ludic turn" has also seen many techniques and concepts associated with games spilling out from entertainment and the arts into many different areas of life, from the gamification of social relations through social media, to the increasing use of AI and automation in policy and decision-making.
Meanwhile, the proliferation of game engines and other game development tools, and vibrant indie design culture on platforms such as Itch.io and Discord, have opened game-making up to a wider constituency of creators, creating space for new ludic avant-gardes.
So what are the politics of contemporary gameplay and game-making? Do games have a part to play in the framing and pursuit of social justice? What might it mean for design and play practices to be queer, speculative, utopian, and/or avant-garde? What kinds of normativities, performativities, and ludic affordances circulate in and around game cultures? And what happens when the often rule-constituted realm of games collides with queer studies and queer activism, and with the desire to question so many of the dominant rules of reality?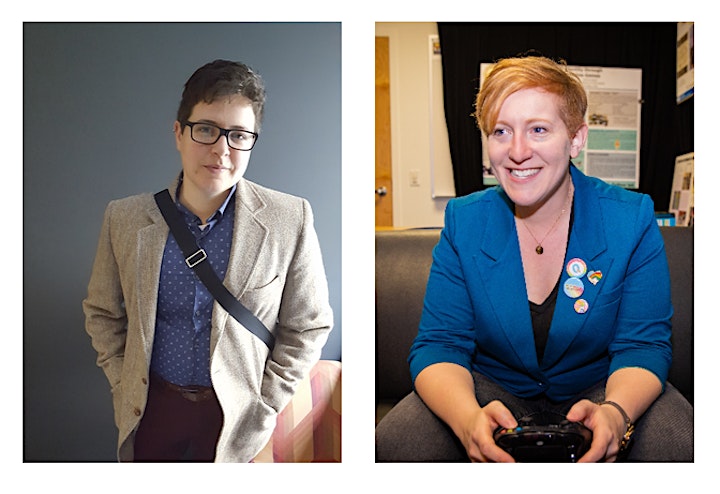 Amanda Phillips Ph.D. (they/he/she) is an Assistant Professor in the Department of English and Film and Media Studies at Georgetown University. Amanda is the author of Gamer Trouble: Feminist Confrontations in Digital Culture, as well as the co-editor of Ada: A Journal of Gender, New Media, and Technology; the Queer/Trans/Digital book series with NYU Press; and the Game Studies special issue on "Queerness and Video Games." Their other publications can be found in Feminist Media Histories, Queer Game Studies, Games and Culture, Digital Creativity, Debates in the Digital Humanities, and The Fembot Collective.
Previously, Amanda was the IMMERSe Postdoctoral Fellow in the ModLab at the University of California, Davis. They also served as chair of the American Studies Association Digital Humanities Caucus and were involved in the #transformDH Collective's efforts to encourage and highlight critical cultural studies work in digital humanities projects.
They received their Ph.D. as a Mellon/ACLS Dissertation Completion Fellow in the Department of English at the University of California, Santa Barbara, with an emphasis certificate from the Department of Feminist Studies.
Amanda writes about sex, death, identity, and politics in video games, with a particular emphasis on centering the insights of queer women of color feminism in the study of technology. Their interests more broadly are in issues of racial and gender justice in and around technoculture, popular media, and the digital humanities.
Amanda is a butch/transmasculine, Latinx, first-generation college graduate who is here to leverage their white-passing privilege and institutional resources for the revolution. @ them to collaborate or make trouble.
Bo Ruberg, Ph. D. (they/them) is an assistant professor in the Department of Film and Media Studies and a core faculty member for the graduate program in Visual Studies at the University of California, Irvine. They are also an affiliate faculty member in the Department of Informatics, where they co-run the CATS (Critical Approaches to Technology and the Social) research lab.
Professor Ruberg's research explores gender and sexuality in digital media and digital cultures with a focus on queerness and video games. They are the author of The Queer Games Avant-Garde: How LGBTQ Game Makers Are Reimagining the Medium of Video Games (2020, Duke University Press) and Video Games Have Always Been Queer (2019, New York University Press) and the co-editor of Queer Game Studies (2017, University of Minnesota Press). Ruberg is also the co-founder and co-organizer of the annual Queerness and Games Conference.
Professor Ruberg received their Ph.D. in Comparative Literature from the University of California, Berkeley, with graduate emphasis certification from the Berkeley Center for New Media and the Department of Women and Gender Studies. They served as a Provost's Postdoctoral Scholar and member of the Society of Fellows in the Interactive Media & Games Division in the University of Southern California's School of Cinematic Arts. Prior to entering academia, they worked as a journalist, reporting on gender, sexuality, and culture in technology and video games.
Jo Lindsay Walton (he/him) is a Research Fellow in at the Sussex Humanities Lab, whose research explores speculative design, speculative fiction, and speculative economies.
Note: If tickets are sold out but you really really want to come to this, please get in touch with j.c.walton@sussex.ac.uk.