RealTruthGroup discussion: Sunday or Shabbat? (Replacement Theology)

Friday, 15 May 2015 from 19:00 to 21:30 (BST)
Event Details
The RealTruthGroup debate on 15th May 2015 7pm
Should we be keeping the 7th Day Sabbath? how does replacement theology affect this discussion?  Guest speaker Kenny Russell from 'Bulldozer faith' has travelled all the way from Israel to join Michael Stephens from Man at Arms (Birmingham) for a live discussion.
Hosted by Floyd Stewart the discussion will be recorded in front of a live ordinance where all are able to join and participate in the discussion.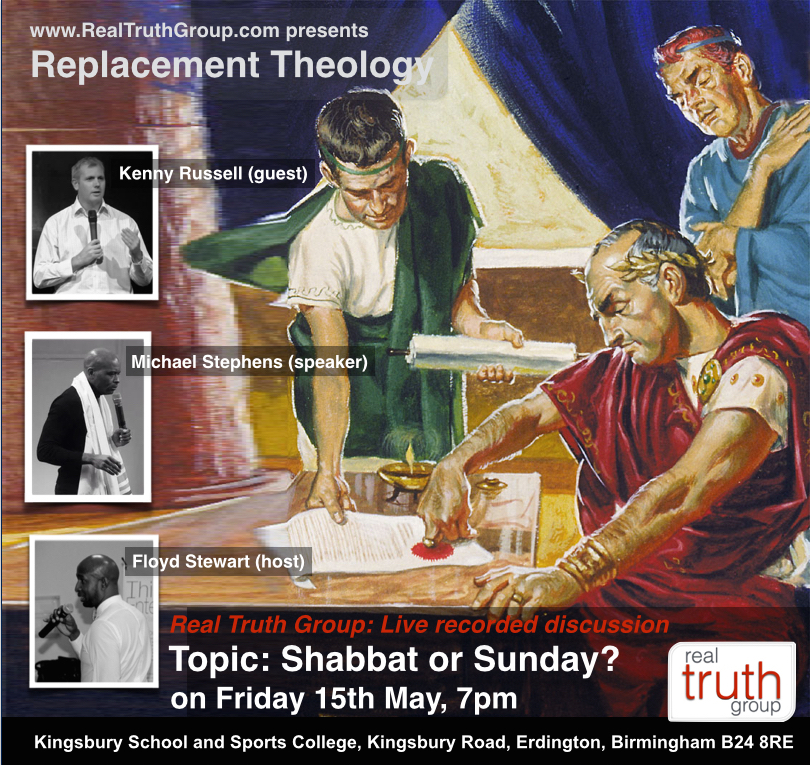 This will be the big question that will be discussed in depth.
ThirdAngelEntertainment presents 'real truth' where we delve into the roots of Replacement Theology and it's origin in respect of the Sabbath and Sunday with our main guest Kenny Russell. 
The event will be pre recorded live for TAE tv and will be hosted on Youtube.
You have been invited to attend this life changing event to participate and find out the 'REAL TRUTH' for yourself.
**** seats and tickets are limited, make sure you purchase your tickets early ****
(Dont forget that Kenny will also be speaking on Saturday 16th at the same address as the main guest speaker at Birmingham Messanic Fellowship.)
When & Where

Kingsbury School and Sports College
Kingsbury Road
Erdington
B24 8RE Birmingham
United Kingdom


Friday, 15 May 2015 from 19:00 to 21:30 (BST)
Add to my calendar
Organiser
ThirdAngelEntertainment
Third Angel Entertainment C.I.C
Our Vision
"By 2017 to be the first independent self financed universal premier Yahweh Fearing entertainment charity outreach from the Midlands, with a minimum of 1,825 individuals being saved for the Kingdom of Yahweh."

Values
1) what Yahweh gives is for free, therefore ThirdAngelEntertainment is committed to offer goods and services free of charge where applicable.

2) to lead by example when dealing with each other and with the public as taught by Yeshua in the New Testament 'love thy neighbour as thyself'.

3) create jobs helping to provide an income for children of Yahweh who are less privileged to find work.

4) educate and promote the teachings of the bible paying particular reference for the need to understand in context 'Fear Yahweh and give Him glory'.

5) to enable Yahweh to shape and mould this ministry providing a turnover which ensures that ThirdAngelEntertainment is financially independent and self sustainable through the generosity of donations and sponsorship from those who share the same vision and values.

6) using the internet to form a worldwide community network of ThirdAngelEntertainment 11th hour workers to help drive its mission, vision and values.

Mission statement
"We offer life changing 'enlightening' entertainment to provide advice, support, and relief services with a goal to win a minimum of 1,825  for Yahweh within the next 5 years. Through a series of exciting outreach programmes and projects we will amplify the Third Angels message according to the book of Revelation 14. Our mission is to provide an honest, reliable charitable service across the globe for 'people in need' and for 'those who are looking for an alternative lifestyle of complete rest'."
 
Why ThirdAngelEntertainment?
'ThirdAngel' is based around the angels messages in Revelation 14, this is a messages for todays generation warning mankind on all four corners of the earth of what is to come.  Also, Hebrews 13 tell us not to be forgetful to entertain strangers: for thereby some have entertained angels without knowing.

'Entertainment' came in to place because people seem to use the media (TV) as a form of entertainment in the home, this entertainment is not good for the spirit, you will be surprised when you find out who is behind it all.  So the concept is to provide spiritually edifying entrainment that will save lives.

How did it all begin?
ThirdAngel Entertainment began in May 2008 through a monthly event called Jumpp which stood for 'Jesus Understands My Problem Praise God'.  The event was a gospel night club setting where Christians can invite the unsaved to come along to sing, listen and dance to gospel music (which is where the facebook name originated from 'David Danced').  It was during this time that it was apparent that gospel music seemed to have crossed the secular line which posed more questions than answers.  jumpp is no longer running and is under review until further notice but ThirdAngelEntertainment continued to thrive.  

In 2010 ThirdAngelEntertainment decided to publish videos and host conversations about the controversial movement that seemed to be sweeping through the gospel field and secular world. YouTube statistics recorded 60,000 hits during 2010 and  217,000 hits during 2011 drawing international attention.

Despite the mixed feelings it became very apparent that mind sets were changing and souls were being saved.  The decision was then made to revisit and reshape the plan which will now be delivered as Phase 2 which was  officially launched on May 6th 2012 as a formal private invite only event to mark the occasion.

The problem
We all at some stage look to engage in some form of entertainment; whether it is tv, radio,reading a book, surfing the Internet, using game stations or simply going out to socialise. We are concerned about the power of the media and the way it can negatively influence thoughts, emotions and behaviour patterns whether directly or indirectly. Consequently the social implications that follow have the ability to directly affect you, the community you live in and the lifestyle you live.

 
ThirdAngelEntertainment - the solution
Based upon Revelation 14 ThirdAngelEntertainment began in 2008 and was launched as a Community Interest Company (C.I.C) on Sunday 6th May 2012 to deliver a charitable biblical based solution to a range of life's challenges in and around the world through the provision of enlightening entertainment.
RealTruthGroup discussion: Sunday or Shabbat? (Replacement Theology)